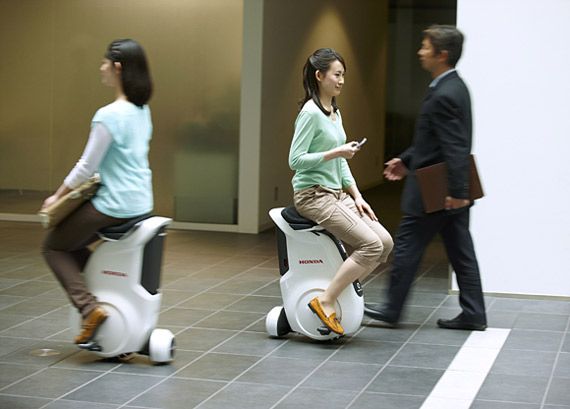 Photo Courtesy of Honda
The Honda UNI-CUB is an all-electric, self-balancing vehicle that cruises at three miles per hour and folds up for easy storage when not in use. This is the evolution of the U3-X personal mobility device that Honda introduced in 2009, when it was defined as a ?self-balancing unicycle.?
The UNI-CUB is comparable to a Segway except that it has a saddle so the driver sits while operating it. A proprietary balance-control technology and the world?s first omni-directional driving wheel system enable a rider to control speed, move in any direction, or turn and stop by shifting their weight.
While the company has not announced any production plans for its Uni-Cub, Honda will begin conducting demonstration tests on it with Japan's National Museum of Emerging Science and Innovation. The objective of the testing is to determine the feasibility of using the personal vehicle indoors. The saddle on the Uni-Cub also is designed so that the rider will be near eye-level with most standing adults.
Along with that top cruising speed of three miles per hour, the Uni-Cub can travel up to three miles on a single charge. The technology deployed in the balance-control system of the all-electric personal vehicle came from Honda Robotics, which originated from the firm's research into humanoid robots. A new website for the Honda Uni-Cub opened last week. For more information, visit
World.Honda.com
.