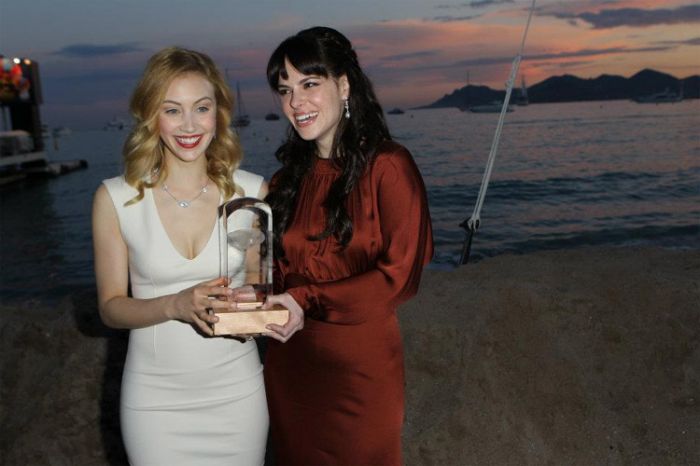 Photo Courtesy of Birks Jewelers
Canadian actresses Sarah Gadon and Emily Hampshire are the first recipients of a Birks Canadian Diamond award. The debut ceremony took place at the Cannes Film Festival during Telefilm Canada's Tribute to Canadian Talent press event and reception on May 23, 2012. A 3D etching, "BIRKS AMORIQUE DIAMOND," appears on the Birks Canadian trophy, which is made of crystal and a Birks' proprietary diamond and sets on a frame of Canadian cherry wood.
"It is a great honor to present the first Birks Canadian Diamond to two young and successful Canadian actresses, Sarah Gadon and Emily Hampshire, who have both made their mark on the film industry with exceptional acting performances," said Jean-Christophe Bedos, president and CEO of Birks, at the awards ceremony. "Today their achievements bring them to the Cannes Film Festival as they both star in films selected by the Festival."
Mr. Bedos also added that the Canadian actresses' talent can now be celebrated worldwide, pointing out that both Ms. Gadon and Ms. Hampshire are assets to the Canadian film industry. Birks is among the industry leaders with 58 luxury jewelry stores in North America.
The firm operates under the Birks brand in most of Canada's major markets and aligns with the Mayors luxury brand in Florida and Georgia as well. The deluxe jeweler also has two retail locations under the Brinkhaus brand and a retail location in Orlando, Florida, that is under the Rolex brand. For more information, visit
Birks.com
.