Babe Ruth's Bat & Ball Top Sellers at $4.5+ Million Sports Auction
Aug. 14th, 2012 | Comments 0 | Make a Comment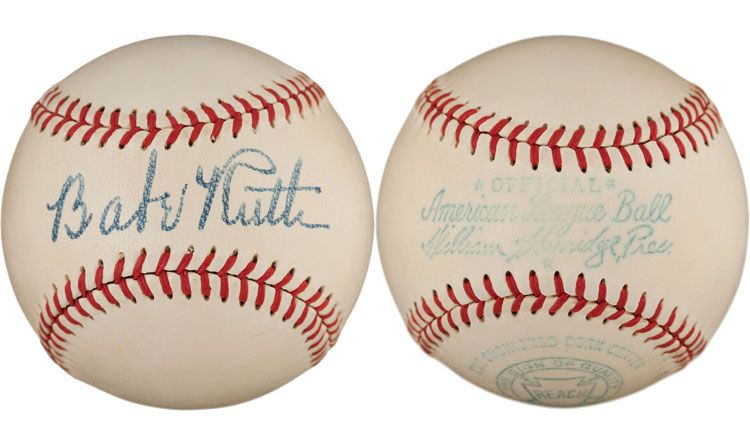 Photo Courtesy of Heritage Auctions
The legacy of George Herman "Babe" Ruth, arguably the greatest baseball player to have ever lived remains a home run in the field of sports memorabilia and collectibles. Two items associated with Ruth, a game-used bat from 1927 and the highest graded Babe Ruth-signed baseball known were the highest priced lots sold at Heritage Auction's Platinum Night Sports auction at Camden Yards in Baltimore, Maryland, last week. It was a double play of sorts, as both ball and bat sold at $388,375 apiece.
"The Babe is still the gold-standard in the hobby," said Chris Ivy, director of sports auctions for Hermitage. "It's not surprising that these pieces would bring such a premium. They're among the ultimate Ruth artifacts."

A 1910 E98 baseball card bearing the image of Honus Wagner, a PSA-rated "Gem Mint 10," sold for $239,000. The card, which cites Wagner as "Hans Wagner," is the highest graded one known to exist. Honus Wagner, like Babe Ruth, is a member of the inaugural group enshrined into the National Baseball Hall of Fame in 1937.
The Honus Wagner card is among a collection of more than 700 cards that were found in the attic of a farmhouse in Defiance, Ohio, earlier this summer. A near-complete collection of 1910 E98 baseball cards, a set of 30 of 33 cards, sold at $286,800. A set tabbed "the color variation set" from the collection sold for $40,332.

"You can't ask for a more exciting atmosphere in an auction room," said Ivy. "The place was packed, there was a buzz in the air and the excitement was palpable."
A bat used in a game in 1888 by legendary ballplayer Adrian "Cap" Anson 1939 fetched $179,200. Anson is also known as one of the game's most notoriously flagrant racists of his era. A biography on Anson reports that he was involved in the greatest number of negative incidents involving black players. On several occasions, Anson refused to take the field against teams whose rosters contained black players. Major League Baseball was a segregated league that banned black players until 1947.

The Platinum Night Sports auction at Camden Yards also featured noteworthy collectibles from the world of boxing with a focus on Muhammad Ali. Two lots stemming from boxing matches between Muhammad Ali and Joe Frazier were sold at $155,350 apiece.
The boxing shorts worn by Ali when he went up against Joe Frazier in the fight known as "The Thrilla in Manila" sold at $155,350. An eight-foot tall painting of Ali by LeRoy Neiman Ali done in 1971 to promote the boxers first match against each other, "The Fight of the Century," also sold at $155,350.

For more information, visit HA.com.
You might like :
$10.5 Million Comics & Comic Art Auction