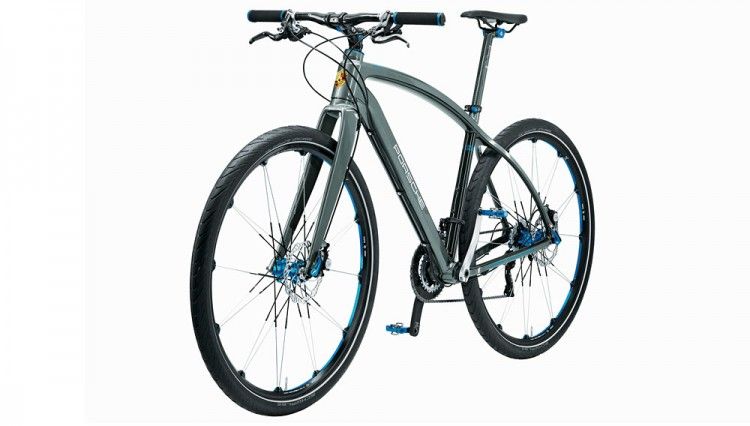 Photo Courtesy of Porsche
Luxury auto brand Porsche is known for speed and it's new Design Driverís Selection Spring collection is no exception. The newly announced collection is called The Speed of Sports, and features two new Porsche city bicycles, the Bike RS and S.
The designs of the new Porsche bikes are taken from the sleek curves of the classic Porsche 911 car. For Porsche enthusiasts looking for an alternate mode of transportation, these bikes could be just the thing. Cycling enthusiasts will be pleased to know that just like Porsche cars, the bikes are built with the finest materials to make them both lightweight and safe, including Magura hydraulic disc brakes for strength, speed and responsiveness. The bikes have been designed for riders of all sizes and come in small, medium and large models. These bikes seem like a great choice, whether the rider is headed for an urban commute or just blowing off steam.
The Bike RS is the 29-inch Racing Sport edition. Built for performance, the bike has numerous carbon features in the frame, forks, handlebars, brake levers, stem and seat post. Weighing in at less than 20 pounds, the Bike RS comes standard with a premier 20-speed Shimano gear system and custom pedals, both with an exclusive Electric Blue finish to complement the RSís black frame color.
The Porsche Bike S is a slightly heavier model, weighing over 20 pounds. The S combines a hydro-formed aluminum frame with carbon fiber forks for a more stable ride. The bike also has a low-gear belt drive and Shimano 11-speed Alfine internal hub gear system for a smooth, low-maintenance ride. It is available in Carrera white.
Other highlights from The Speed of Sports are new Martini Racing accessories and apparel. Porsche Design Driverís Selection items are available at Shop3.Porsche.com or from an authorized Porsche retailer.
For more luxury bikes visit: Our 5 Picks for Best Luxury Bicycles