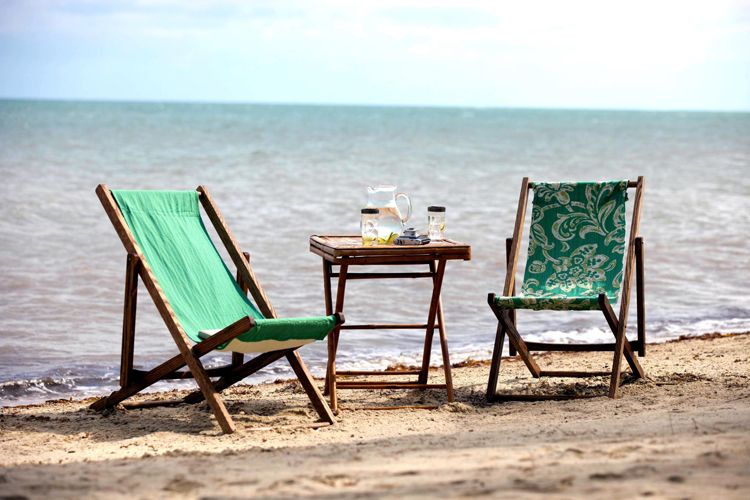 Photo Courtesy of Tommy Bahama
Somewhere around grade school, people learn to sigh and curse as August draws to an end. And many never grow out of it. For them, September signifies a return to duty and an end to fun.
But for others, September's nothing to fear. For those whose lifestyle and attitudes are tuned to the right settings, life is an endless cycle of adventures and treasured downtime, challenge and reward. Since all you're hearing right now might be that disturbing "back to the cubicle" buzz, we've gotten three lifestyle brands who epitomize the "Endless Summer" lifestyle to share their secrets. We hope they inspire you to give up the daily grind and look for a sunnier forecast.
The Margaritaville Philosophy
Nobody's made a beach bum image into a more successful brand than Jimmy Buffett, whose classic song "Margaritaville" now lends its name to restaurants, bars and casinos all over the US and Caribbean—many of which are owned by Buffett, others of which pay a hefty licensing fee. He's proven that you can be "Gone fishin'" for most of the year and still make millions in business, as long as you play the game right…and for this reason, we look to Margaritaville first for endless vacation wisdom.
What's the Margaritaville definition of "the man who has everything?"
This doesn't necessarily mean personal possessions. After all, no man (or woman) can truly have everything. Having everything speaks to balance. Balance between work, family, play and relaxation. The man who has everything feels good about his contributions, and when it is time to relax, he knows he's earned it.  
How do you set your watch to Key West time? How do you know you're on it?
It doesn't matter what your watch says, because in Margaritaville it's always "5 O'Clock Somewhere!" Its' a feeling --  something in the air. When your mind drifts to the beach and you can almost feel the sand between your toes, you know you're there. When the corners of your mouth begin to turn up and time just passes without your knowledge or care… it's 5 o'clock somewhere.
Name three reasons to love a rainy day. 
You might find inspiration for your next escape by listening to music, reading a Hemingway novel, or watching old surfing movies or the Discovery channel.
Your favorite television culinary personality might inspire a dinner menu.
Rain isn't a problem when you have an umbrella in your drink! 
"Champagne, Si, Aqua No. Let it rain, let it blow." - Jimmy Buffett
Photo Courtesy of Jimmy Buffet and the Coral Reefers
When do you know it's time to trade in the corporate life for a beach shack with a boat slip out back?
Maybe you don't need to trade it in; you just need to make sure you chill out once in a while. Escape for a bit, have some fun with your family and friends. Travel to places that feed your sense of adventure and soothe your soul.
"When it stops bein' fun, I"ll quit!"  - Jimmy Buffett 
What's the cure for "too busy?"
Have you ever noticed how many Friday deadlines that you push yourself to make that are not  responded to until Monday? Whatever you are too busy with can often wait. Put some R&R time on your calendar, if only for a weekend. Grab a margarita or cold beer, hang out with some friends, go to the beach, fire up the gril--and the blender of course.  Change your surroundings, and a day and a half break can refresh you like a vacation.
"Go fast enough to get there, but slow enough to see. Moderation seems to be the key" - Jimmy Buffett 
Photo Courtesy of Margaritaville Hotel
America's Cup Inspiration
Sailing off into the sunset is one of the dreamiest clichés of all time—but when it comes to piloting your own destiny, discipline, strength and teamwork all come into play. And who would understand that better than the stellar sailors on the America's Cup circuit? Here, ORACLE TEAM USA Navigator and Olympic Silver medalist John Kostecki shares his priorities and personal reward system.
What are three life lessons you learned from America's Cup racing that could be applied to anyone's life?
John Kostecki: First, work hard for yourself: Remember your personal goals and strive to make them a reality.
Second, strive for success with your team – they count on you just as much as you count on them. It's our entire crew that crosses the catamaran across the finish line.
Finally, remember to have fun!
As someone whose job is other people's idea of vacation, what's your idea of vacation?
JK: Anytime I get to spend quality time with my loved ones, no matter the location, is what I look forward to after a long day of training.  

As someone whose job is physically and mentally strenuous, what do you do to reward yourself after a win?
JK: Training for and participating in the America's Cup can be a whirlwind. I reward myself by really taking a moment to slow down and reflect on my accomplishments.
Photo Courtesy of Gilles Martin-Raget | America's Cup
Tommy Bahama 's "One Long Weekend" Wisdom
While we say "Endless summer," famous island lifestyle brand Tommy Bahama says life should be "one long weekend." Nobody's sweating semantics though. It's the spirit behind it that matters… and to get into that spirit, we came up with a few common autumn conundrum and asked brand representatives, "What Tommy would do?"  
On the occasion that a thunderstorm threatens to rain out your game, what does Tommy do?
There's no stopping Tommy. Get right out there and play. It's like the saying goes: "Why wait out the storm, when you can dance in the rain!"
What are three outdoor spaces that can be used as alternatives to a conference room?
Tommy Bahama is all about an active outdoor lifestyle, so anywhere outdoors would be a great setting--from working on the beach surrounded by palm trees, to sailing on a boat, to a picnic on a sunny field. It will lift your team's spirit and help you relax to be more productive.
The dress code says formal, and you're the only one not wearing a tie. What would Tommy say you should do?
Smile, relax, and enjoy yourself. Life is too short to sweat the small stuff.

When a hurricane hits his island, where does Tommy Bahama go?
He doesn't go anywhere—he stays and makes the best out of it. He invites some friends over and has a hurricane party with some amazing rum cocktails to beat the storm.
Photo Courtesy of Tommy Bahama