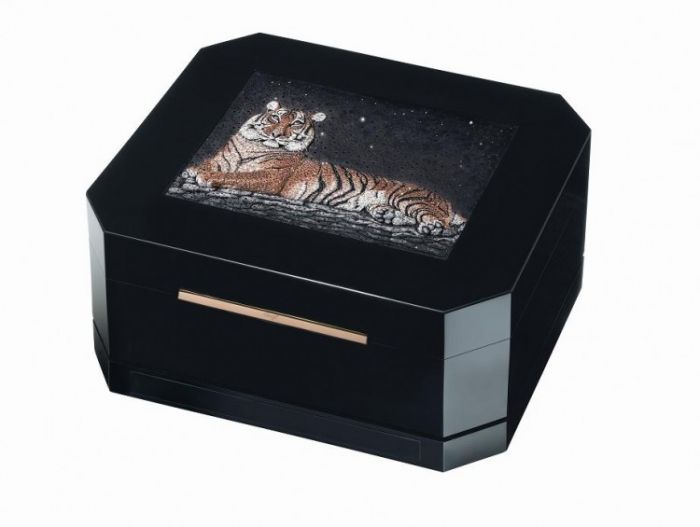 Photo Courtesy of Davidoff
Exclusivity is what life is all about, right? Getting on the best lists, having one of only a few classic cars ever produced, showing off a limited edition
cigar
humidor...you know what it's like.
We are letting you in on a little secret – now is your chance to get your very own extremely limited edition Davidoff / Swarovski humidor. So limited, in fact, there is only one left for purchase at the Davidoff boutique located at 515 Madison Avenue in New York.
Imagine your most beautiful high-gloss black lacquer humidor and then envision it with a luxe Swarovski tiger staring back at you from the beautiful cover. This handcrafted humidor is made of 8,500 Swarovski crystals secured on a special Ceralun backing material to create an impressive tiger.
Sure, you can make one of your own if you have more than 100 hours to spare, and that's before the mosaic is inlaid in the humidor lid. A total of 12 different shades of original Swarovski crystals were used to create this impressive humidor, helping to make it one-of-a-kind.
Costing $21,725, only five limited editions of the Davidoff humidors in the Octagon Luxe Collection "Tiger" were ever produced, so now is your chance to snatch the last one and get in that exclusive circle.
For more information, visit
DavidoffMadison.com
.