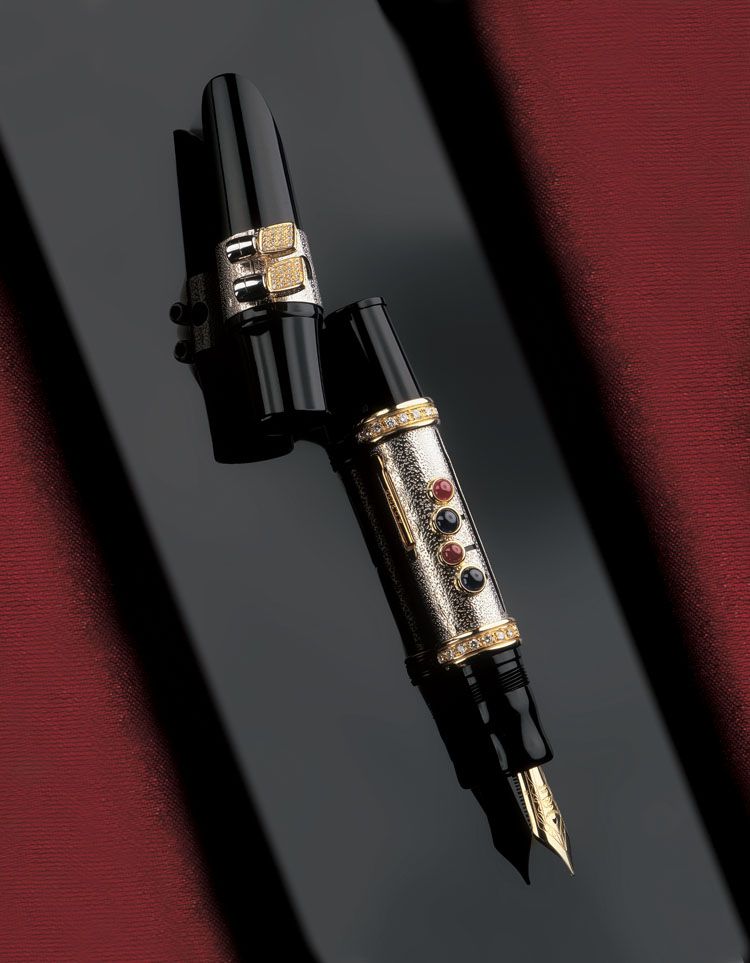 Photo Courtesy of Delta Pen Company
Letter writing may have declined since the uprising of email, but if you had a luxury pen to scrawl those love notes, you may find yourself willingly taking the longer route to get your point across. Established in Italy in 1982, Delta Pen Company produces some of the most beautiful pens you can find, each with a distinct look and attitude.
Each pen is crafted in Delta's facility in Southern Italy and reflects the company's dedication to quality and creativity. According to the company, they were the first to introduce carbon fiber and titanium to writing instruments, which was reflected in their Extrema Collection in 1992. They also take credit for bringing a reliable lateral lever filling system back to the world of pens.
The 25th Anniversary Collection features three different versions that vary in terms of celluloid colors, solid gold (yellow, rose, or white) winding sculptures that surround the pens, and the precious stones present. Delta's insignia is present, as usual, on the top of the cap and is enhanced by black diamonds, diamonds, or sapphires. Available in blue, black, and orange, these pens are inspired by the company's journey since its inception.
The Romeo and Giulietta fountain pen seems great for those love notes and stories of star-crossed lovers. With only 25 made, the pens are hand painted in solid gold and celluloid. "The body and cap are enriched by miniature hand paintings and mother of pearl inserts that portray scenes relating to Romeo and Juliet," says Delta. The cap's top-end features an 18 kt gold ring that has the company logo pressed in it, as well as 25 diamonds that total .075 carats.
The price for these luxury writing tools range anywhere from around $64 to $18,050. For more information visit
DeltaPen.it
.