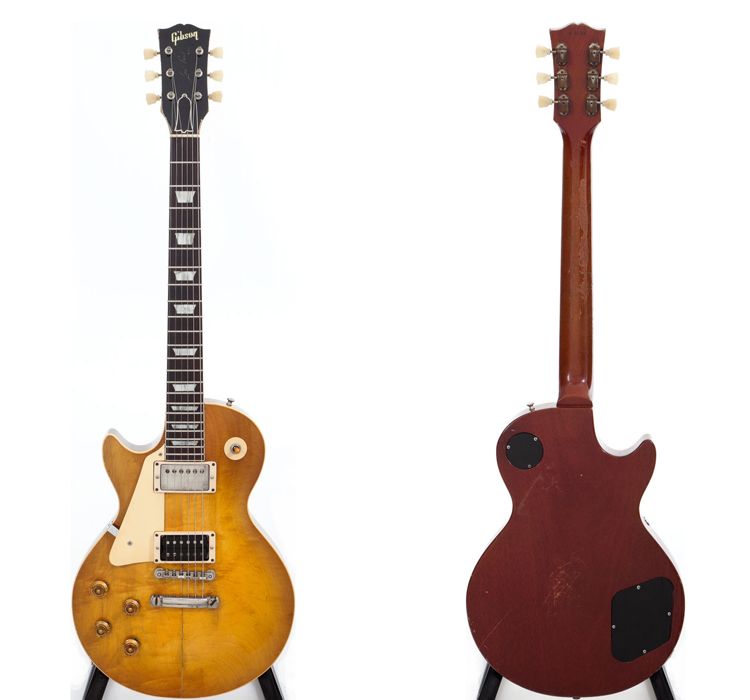 Photo Courtesy of Heritage Auctions
A rare left-handed 1959 Gibson Les Paul Standard Sunburst guitar is expected to fetch more than $125,000 at the upcoming Vintage Guitars and Musical Instruments Signature Auction on October 26, 2012. Only four left-handed Les Paul Standard Sunburst solid-body guitars are known to exist.
Heritage Auctions reports that the Gibson Les Paul Sunburst models are the most sought-after electric guitars in the world. While the company manufactured 1,600 of those from 1958 to 1960, only four total were made for left-handed players. Two of these guitars were made in 1959 and two more in 1960. The whereabouts are unknown for the other 1959 guitar.
The auction house itself is the owner of one of the left-handed guitars made in 1960. That guitar, which will be auctioned off at the same event, is expected to sell for more than $60,000. The owner of the other left-handed, Les Paul Standard Sunburst guitar known to exist is legendary musician, songwriter, Sir Paul McCartney.
"Of the two '59 left-handed 'bursts, only the whereabouts of one of them is currently known," said Mike Gutierrez, a consignment director for Heritage Auctions. "It's in the vault at Heritage waiting for a new owner to come and claim it after the auction. Talk about a 'Holy Grail' piece, this one has it all; rarity, beauty, a story and unquestioned value."
Heritage is participating with the U.S. Marshals Service office to sell off these rare guitars to benefit victims of the Aspen Energy Oil and Gas investment scheme. The law enforcement agency also has other collectible guitars that will be featured at the Vintage Guitars and Musical Instruments Signature Auction held by Heritage Auctions.