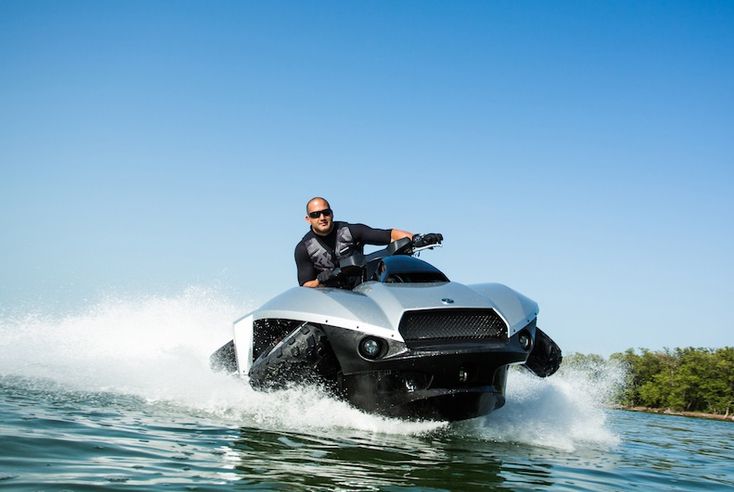 Photo Courtesy of Gibbs Sports Amphibians Inc
The Quadski is a multifaceted luxury toy that performs on both land and water, as it is defined as a one-person, all-terrain quadbike and watercraft. The amphibious vehicle will be for sale in the U.S. by the year's end and is expected to be available worldwide by 2014. The Quadski is capable of delivering 45 mph by land and water, according to its manufacturer, Michigan-based Gibbs Sports Amphibians Inc. 
The amphibious vehicle is perhaps the most ambitious version of its kind to hit the market, and being able to travel so swiftly in either land or water mode adds to its uniqueness. A four-cylinder engine supplied by BMW powers the ATV. When the vehicle enters the water, the driver depresses a button that tucks the wheels inwardly in five seconds.
Alan Gibbs, the founder of Gibbs Sports Amphibians, conveyed in an interview with the Associated Press that you just drive straight into the water and keep on going. "It's sort of magic," said Gibbs.
According to a story in the Red Orbit, Alan Gibbs has more than 300 patents and has built nine prototypes while spending more than $200 million in developing the Quadski over his company's 16-year history.
The super ATVs will be produced at the former Daewoo Group parts plant in Auburn, Michigan. The firm is hopeful to sell 1,000 units during its first year and to expand globally thereafter. There are also plans to introduce other high-speed amphibians, the Phibian and the Humdinga. The former is a 30 feet long model and the latter is a 22-foot version.