Mila Pantovich View Profile

Lifestyle Editor | JustLuxe
Avoid Valentine's Day Gift Clichés and Give Her Something Special
Jan. 22nd, 2013 | Comments 1 | Make a Comment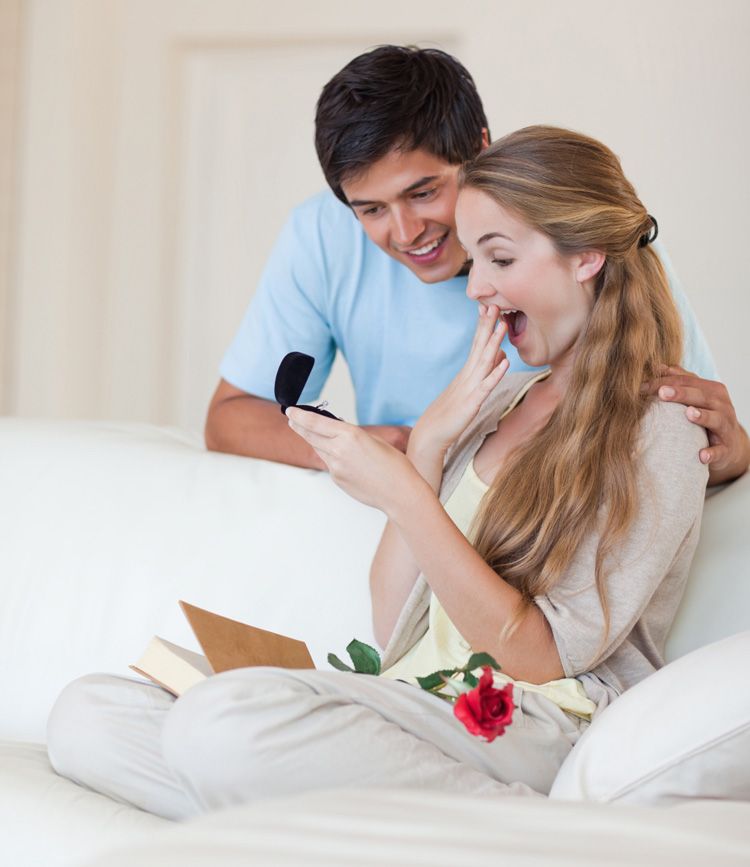 Photo Courtesy of Thinkstock | Wavebreak Media
February 14 is rapidly approaching, meaning that many people are having problems figuring out the perfect Valentine's Day gift. With so much pressure put on the romantic holiday, you have to make sure you get it right this time. That means stay away from the clichés of chocolate and teddy bears and go with someone unique and memorable. This quick and easy list is meant for all you men out there who want to stray from the gift of jewelry and surprise your ladies with something unexpected.

TWG Gold Teapot from Harrods

A lot of people take their tea very seriously and if your lady is one of those, this 18k gold teapot may be right up her alley. With a simple design, this teapot has a built-in filter and a polished gold plated warmer, with a white spout, handle, and feet. Able to keep tea warm for an hour, this little pot (£348.50 or around $551) is a simple and beautiful way to serve her tea in bed. If you really want to impress her, pair this gift with an invitation to high tea at a nearby luxury hotel. (Photo Courtesy of Harrods)

Agent Provocateur Lingerie

Some luxury lingerie is a great gift if you know your lover's size and personal taste. While the gift is really for the both of you, you should consider her style and tastes before your own to ensure picking out the perfect ensemble. For a soft romantic look that has some edge to it, try the Caitlin collection which pairs subtle bondage with a romantic gothic style. With a vintage silhouette, the soft pink is made from French Chantilly lace and is paired with black rouleaux strapping, which brings forth strength. The bra is priced at $190, the boned waspie at $220, and the two styles of briefs are priced at $190 and $120. (Photo Courtesy of Agent Provocateur)

Bed and Breakfast at Captain's House Inn

Staying at a bed and breakfast is a great way to share a romantic holiday, giving both of you a relaxing weekend at an establishment that doesn't feel like a hotel. Small inn's are generally cozier and far more personal than larger hotels, and the Captain's House Inn in Cape Cod definitely proves the point. Sitting on two acres in Chatham, Massachusetts, your romantic getaway will be among beautiful gardens, wood-burning fireplaces, antiques and reproduced Williamsburg furnishings. The Lydia Harding Suite (around $315 a night) is made up of two rooms with a four-poster king bed, double whirlpool tub, a fantasy shower, and a private balcony that's the length of the suite. (Photo Courtesy of Captain's House Inn)

Opera at Teatro alla Scala

As possibly the most famous opera house in the world, taking your significant other to Teatro alla Scala in Milan, Italy for Valentine's Day would definitely be unforgettably unique, especially if you have to hop on a plane to get there. There are two pretty amazing performance options in February depending on whether you both like opera or ballet more. If opera, Giuseppe Verdi's Falstaff (which was played for the first time ever in 1893 at La Scala) will be playing on the February 12, which tells the story of Falstaff, a minor character who appeared in three plays by Shakespeare. If ballet is preferred, check out the romantic Notre-Dame de Paris, which will be playing on Valentine's Day. For both performances, tickets range from €11 (around $15) to €210 (around $280). (Photo Courtesy of Teatro alla Scala)

Hot Air Balloon Luxury Tour from Another Side Tours

Sipping champagne while floating over Del Mar, California in a hot air balloon seems like a great way to spend a romantic afternoon. Starting in Del Mar and drifting along the Pacific Coast, this private tour only launches for the sunset so you can be assured of the romantic setting. The package comes with a round-trip stretch limousine service and drinks during the drive. While there is a four guest minimum, it can be reserved for just the two of you for a flat rate of $2,595. (Photo Courtesy of Another Side Tours)
You might like :
Leisure News
Finding the best in luxury can be a daunting task, which is why we've taken it on for you.
LET'S CONNECT LUXURY NEWS & MORE