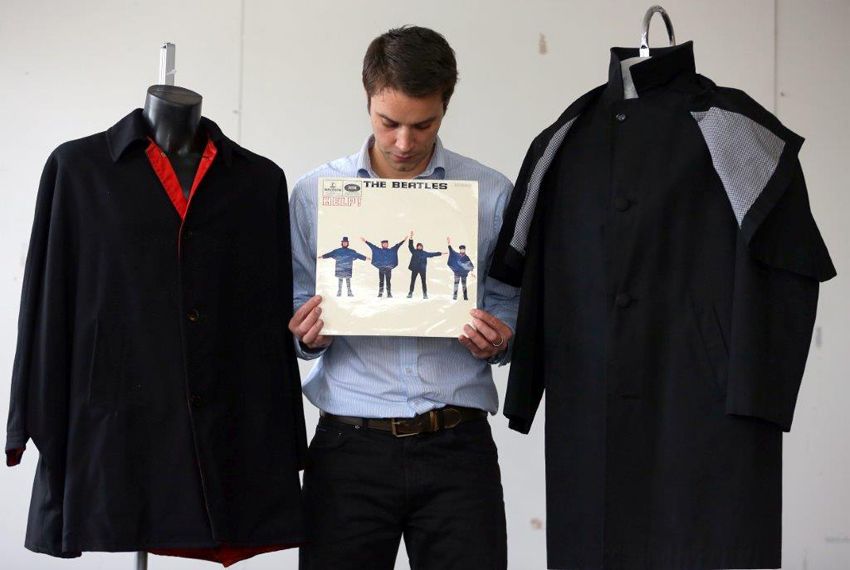 Photos Courtesy of Omega Auctions
The 50th anniversary of the release of Can't Buy Me Love is coming up on March 20, and to celebrate the occasion, Omega Auctions is holding a one-off auction for all you Beatles collectors. Included in the some 200 offerings will be rare vinyl and a wide array of memorabilia, but the real star of the event are the jackets worn by George Harrison and Ringo Starr in the 1965 film Help!, which they also wore on the cover of the film's soundtrack album.
Help! (which was directed by Richard Lester) follows the band as they go up against an evil cult, eventually running away to the Austrian Alps to hide out. The rare jackets, which were worn "throughout the five days of filming in the Alps," come from the Lester's private collection and are expected to pull in between $82,000 and $115,000.
"As Beatles clothing goes these have got to be amongst the Holy Grail for any Beatles collector. They feature on one of their most recognizable album covers and I have a feeling these could really fly off the block!" says auctioneer Paul Fairweather. "The coats are tailored and very stylish and if I had the money to afford them I would wear them without hesitation."
Paul McCartney handwritten lyrics
According to Rolling Stone, another notable item to be auctioned is a chunk of wall from The Ed Sullivan Show that was signed by the entire band in 1964. Their talk show appearance came on the first night of their epic three-day American debut, and the piece of wall is expected to bring in between $800,000 and $1 million.
When talking with the music magazine last month, Ringo reminisced about their first trip to America, saying, "It was Ed Sullivan, and it was a big show, and we didn't know while we were playing that 70 million people were watching, but it was being in America that was so exciting. All the music we loved was in America; it came from America to England. Where we come from, Liverpool, it was great because it was a port, so all of the guys from New York would bring the tracks over. Vinyl in those days, the LPs, and it was just great. I could feel the buzz, even on the plane, it was so exciting. I went, Aaaaah!"
The auction will not only be live at the Adelphi Hotel in Liverpool, but it will also be broadcast over the internet so you can bid on items no matter where you are in the world. A catalog will become available on February 28.