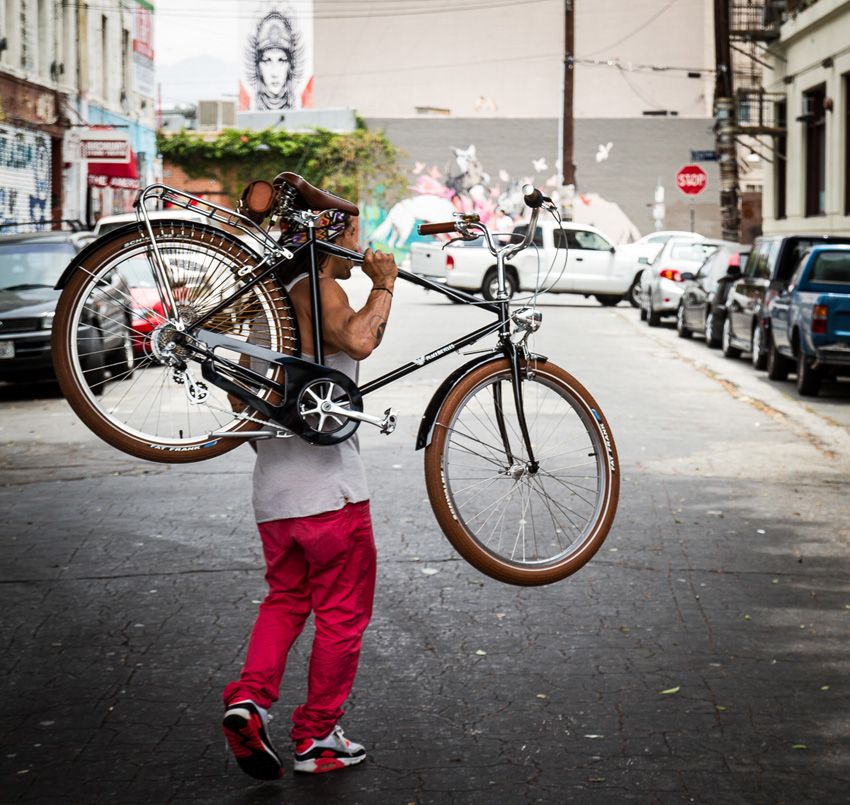 Photos Courtesy of Peace Bicycles
In Imagine, John Lennon famously sings, "You may say I'm a dreamer, but I'm not the only one. I hope someday you'll join us. And the world will live as one." That lyric has inspired countless people to pursue their dreams, one of whom is Ilya Pikus, the founder of Peace Bicycles. Wanting to know what made the Netherlands the "happiest country on earth," he traveled there and immediately noticed how many people chose bicycles as their source of transportation. Not only does biking help your health, it connects you to the world and people outside. Wanted to bring that feeling to America, Pikus created Peace Bicycles to offer classic bikes that live up to Dutch standards, calling their first product the Dreamer.
Based in Los Angeles, Peace Bicycles offers fully-loaded urban commuters. They come with everything you could want, including front and back LED lights, reflective strips on the tires, a bell, rear rack, and chain and spoke guards that let you wear whatever you want — even a dress or a suit. The "fast 7-speed transmission, pot-hole friendly balloon tires" and "upright-riding-position frame design" makes the Dreamer a great cruising bike for day-to-day life. If you live somewhere with steep hills, the bike uses V-brakes instead of coaster brakes, making it easier and safer. Plus, the company promises that it's super comfortable thanks to the spring-loaded saddle and riser handlebar, while the rubber padded pedals allow you to even bike barefoot if you want.
Modeled after traditional Dutch roadsters, you can buy the Dreamer in a variety of fun colors and can choose between a straight-bar (for the sportier folk) and step-thru style (for that great vintage look). Regardless of which one you choose, the bikes weigh in at just 34 pounds — including the rear rack — which was achieved by using alloy whenever possible.
The company's "do good, give back" program promises that part of every sale is donated towards buying a bike for someone in need. They plan on doing this through participating bike co-opts across the country and around the world. "When we were young the bike was our first sense of freedom and possibility. We hope to give this 'fresh start' to those who need it the most. To those that deserve to experience the feeling of riding a bike for the first time — to those who don't know that there's an outside world other than their 5 blocks in every direction — to those who need to get to interviews but are without transportation. The bike for us is a symbol of hope and freedom and possibility."
The bikes have been two years in the making and now that Peace Bicycles are finally ready to kick production into gear (see what we did there?), they're looking for people to help them out on their Kickstarter campaign. With 38 days to go and $13,860 of their $30,000 goal raised (at the time of this article), they still need some backers to step up.
For $699 you can get whichever bike you want or you can spend $1,299 and get two bikes (saving you $299). If you want three, pledge $1,859. The bikes come in a box, 95 percent assembled, with a manual to help you put it all together. Peace Bicycles can also ship your order to a nearby bike shop if you'd rather have an expert do it for you. Assuming they get the funding needed, the bikes will be delivered in September.