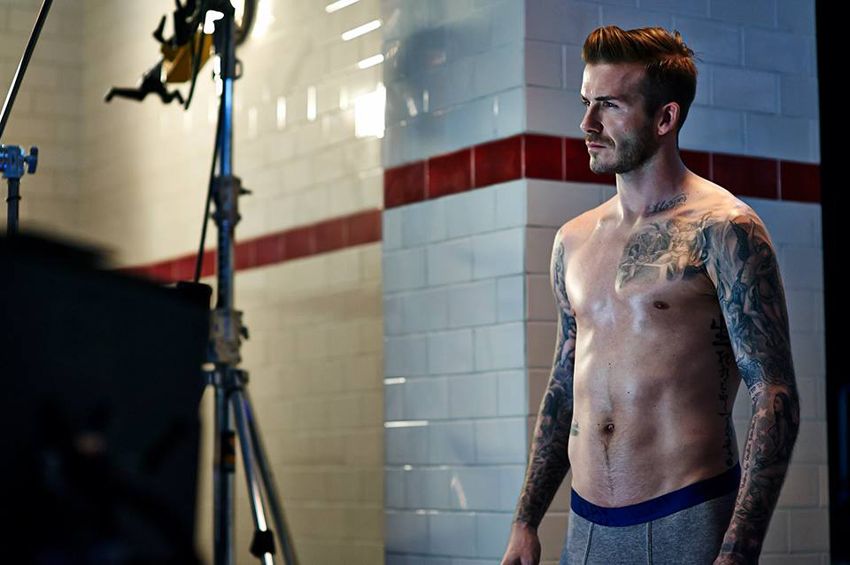 Photo Courtesy of David Beckham Official
We all know that David Beckham is uncomfortably attractive, but he's not the only good looking soccer (or football, depending on where you live) player out there who makes you want to suddenly take the sport up. To celebrate the 2014 FIFA World Cup (because it's nice to have an excuse to look at these players), we've found the hottest guys out there who make a living kicking a ball around and looking attractive (though being attractive may or may not be part of their contracts).
Cristiano Ronaldo
We don't know how he does it, but Cristiano always has perfect hair during games. Seriously, do a quick search and you're met with images of his body flying through the air and perfectly coiffed hair. It's mystical and maybe even a little annoying. The Portuguese player also has a bit of a bad boy streak in him (or at least he used to) and threw a chair at his teacher when he was a kid because the teacher "disrespected" him. From Portugal, the 29-year-old is a pretty pricey player with his $132 million dollar transfer from Manchester United to Real Madrid in 2009 — meaning he's talented. Really talented.
David Beckham
Of course, David Beckham is on the list. Look at him. It's like he's looking right into your essence and seducing it. Stop it, David! You're married! (P.S. Never stop, we didn't mean it.)
Xabier "Xabi" Alonso
When Xabi wears a suit he can rival James Bond, when he grows a beard he looks like he'll build you the log cabin of your dreams — two very important traits. He's also a redhead (score!) and he's the only one on this list our fashion editor really approves of (double score!). From Spain, the 32-year-old plays for Real Madrid (meaning he and Cristiano up there are probably besties ready to take us on the double date of a lifetime) and tends to put family ahead of the game, having skipped a match to be present at the birth of his first child. Swoon.
Neymar da Silva Santos Júnior
As Brazil's shining star, 22-year-old Neymar is just as attractive as he is talented. Plus, he photographs pretty well and even rivaled Gisele Bündchen on a recent Vogue Brazil cover. Playing for Barcelona, the player is known for his speed, acceleration, dribbling, and is quick on both feet, making him a pretty big deal and someone other players call the future best in the world.
Sergio Ramos
When guys who look like Sergio are on the field, it's really hard to root for one team only. You may even find yourself getting jealous of all the high-fives and tackles he doles out. In 2013, at the age of 27, he became the youngest player to ever reach 100 caps and not surprising, he's in a relationship.
Olivier Giroud
If you drool over Beckham, it's pretty safe to say that Olivier Giroud will be your next crush. Playing for Arsenal, the dreamy Frenchman has everything you need: fantastic jawline, tattoos, blue eyes and perfect hair.
Carlos Bocanegra
Helming from Alta Loma, California (the only American on this list), Carlos went to UCLA and was offered scholarships for American football and soccer — it's obvious which he chose. We've noticed that Carlos is often dirty and half naked in photos, something which none of us mind, and he also posed nude for ESPN magazine's Body Issue.
Gerard Piqué
This stubbled 27-year-old plays for Barcelona (his hometown) and played an important role in the 2010 FIFA win and the UEFA Euro 2012 win. Okay, so Gerard may currently be dating Shakira and the two may have had a child together, but we are trying to ignore that. Let us live in our dream world!
Glen Johnson
Sure, Glen is a total dreamboat, but he's also got heart. Going from being homeless and living in a hostel with his mom to becoming a major sports star and setting up his own soccer school for kids, this London-born 29-year-old is a serious catch.
Benny Feilhaber
Brazilian-born Benny has eyes that make us want to dive right in and sure, the lip biting definitely doesn't hurt. Born in Rio de Janeiro, he moved stateside when he was six and went to UCLA to play soccer, currently playing for Sporting Kansas City. Not too much is known about his personal life, so we're going to assume he's single. It's better that way.
Ezequiel "Pocho" Lavezzi
29-year-old Ezequiel has this awe shucks appeal that we just cannot get over. Not only does the Argentinian have an adorably infectious smile (and sometimes the facial hair of a pirate), but he also looks pretty darn great running around without a shirt (the tattoos probably don't hurt).
We know we've missed quite a few sexy soccer players, but we just can't include them all! If you feel like we missed a big one, make sure to share your favorites with us — or you can just sound off on the hunks above.