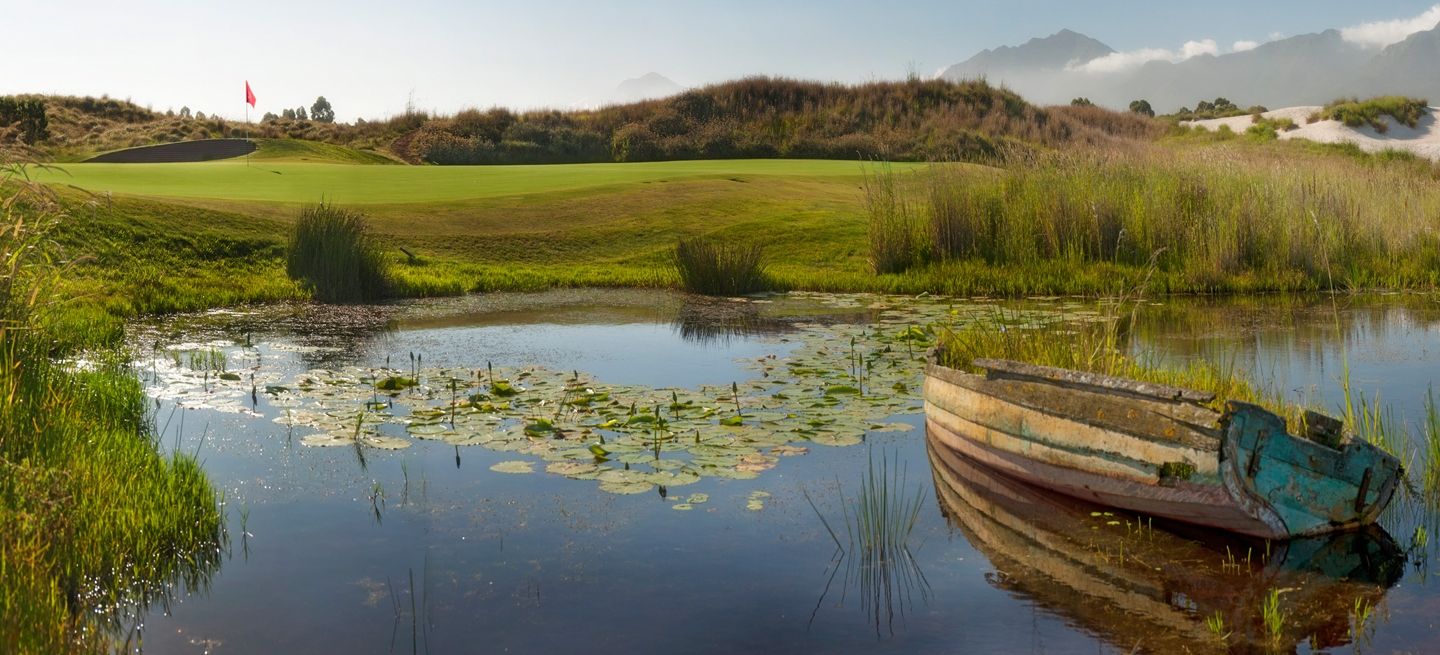 Photo Courtesy of Fancourt
Discerning golfers demand perfection from their golf vacations. These travelers have a keen eye for detail and enjoy not only the golf itself, but the surroundings and amenities as well. They will travel near and far in order to fuel their passion, and with thousands of golf resorts throughout the world from which to choose, golfers have a plethora of options. We've come across some pretty amazing golf courses in our time, but these exotic four are by far some of our favorites:
Photo Courtesy of Marriott International
Los Suenos Marriott Ocean & Golf Resort
Costa Rica
Located within a lush rainforest and several micro-climates, golfers at Marriott's La lguana Golf Course can spot monkeys, macaws and iguanas throughout the greens—which are set on a 1,100-acre rainforest overlooking the Pacific Ocean.
The 18-hole, par-72 championship La Iguana golf course (rated 73.4, par 72, slope 145) offers not only a challenging layout but also a spectacular gallery of vistas. The course was landscaped to include exotic native plants, banana trees, orchids, monkeys, over 150 species of birds, and other abundant local wildlife. We're not saying a monkey will steal your golf ball on the fourth green, but maybe you should keep an eye out anyway. And hey, if it does happen, maybe your friends will allow mulligans so you can have a do-over.
Photo Courtesy of Punta Espada Golf Club
Punta Espada Golf Course
Dominican Republic
Guests staying at AlSol's Sanctuary Cap Cana will have easy access to the Punta Espada Golf Course, a shore-lined course featuring a hole that requires a 249-yard shot over the water to a green surrounded by the Caribbean Sea—eight holes play along (and over) the ocean, so you should bring some extra balls just in case. Of the golf courses developed at Cap Cana, three of them are exclusive Jack Nicklaus signature designs and Punta Espada is listed among the world's best, with Golfweek ranking it as the top golf course in the Caribbean and Mexico.
From all points of Punta Espada, golfers are blessed with fantastic views of the Caribbean, where the sea is set against the sandy shores and the perfect greens to create photos that look almost fake. Challenging play and beauty are combined in this outstanding par 72 course, which hosted the inaugural PGA Tour's Champions Tour in April 2008—The Cap Cana Championship.
Photo Courtesy of Wyndham
Wyndham Grand Rio Mar Beach Resort & Spa
Puerto Rico
As you can see from the above, few places in the world offer golf experiences as amazing as the Caribbean. Wyndham Grand Rio Mar Beach Resort & Spa is the only hotel property in Puerto Rico with two golf courses, both fantastic pieces of art and design in every respect. Neighboring Puerto Rico's El Yunque Rainforest, the resort's courses offer Atlantic panoramas, ocean breezes and sand iguanas.
The Ocean Course was designed by Tom and George Fazio and its signature 16th hole is considered by many to be one of the best in the Caribbean. PGA legend Greg Norman created the River Course along the Mameyes, allowing the island's landscape to dictate the holes. Great for all skill levels, the River Course features shallow bunkers and generous fairways. When you're done with the game, check out the 35,000-square-foot Rio Mar Clubhouse, which is considered to be one of the most prestigious country clubs in Puerto Rico—it even has its own pub.
Photo Courtesy of Fancourt
Fancourt,
South Africa
Once an airfield, The Links at Fancourt is located along South Africa's Garden Route surrounded by mountains and native plant life. Though Fancourt has three courses all designed by Gary Player (The Links, Montagu and Outeniqua), he apparently considered The Links as his "greatest design feat." Player and his team spent months studying Scotland and Ireland's classic links golf courses before they embarked on their own design. All three of Player's designs were chosen by Golf Digest as South Africa's top courses, but The Links earned the number one spot.
Montagu and Outeniqua both opened in the early 90's and quickly became two of the best 18-hole courses in the country. The Links wasn't added until 2000 and was created to be the most challenging of the three, offering players the chance to really prove their merit. No stranger to high-profile championships, the course hosted the 2003 Presidents Cup, the Women's World Cup of Golf and the South African Open in 2005, the 2010 Berenberg Bank Senior Masters, and the Volvo Golf Championships in 2012.
Photo Courtesy of Fancourt
Photo Courtesy of Fancourt
Photo Courtesy of Punta Espada Golf Club
Photo Courtesy of Marriott International