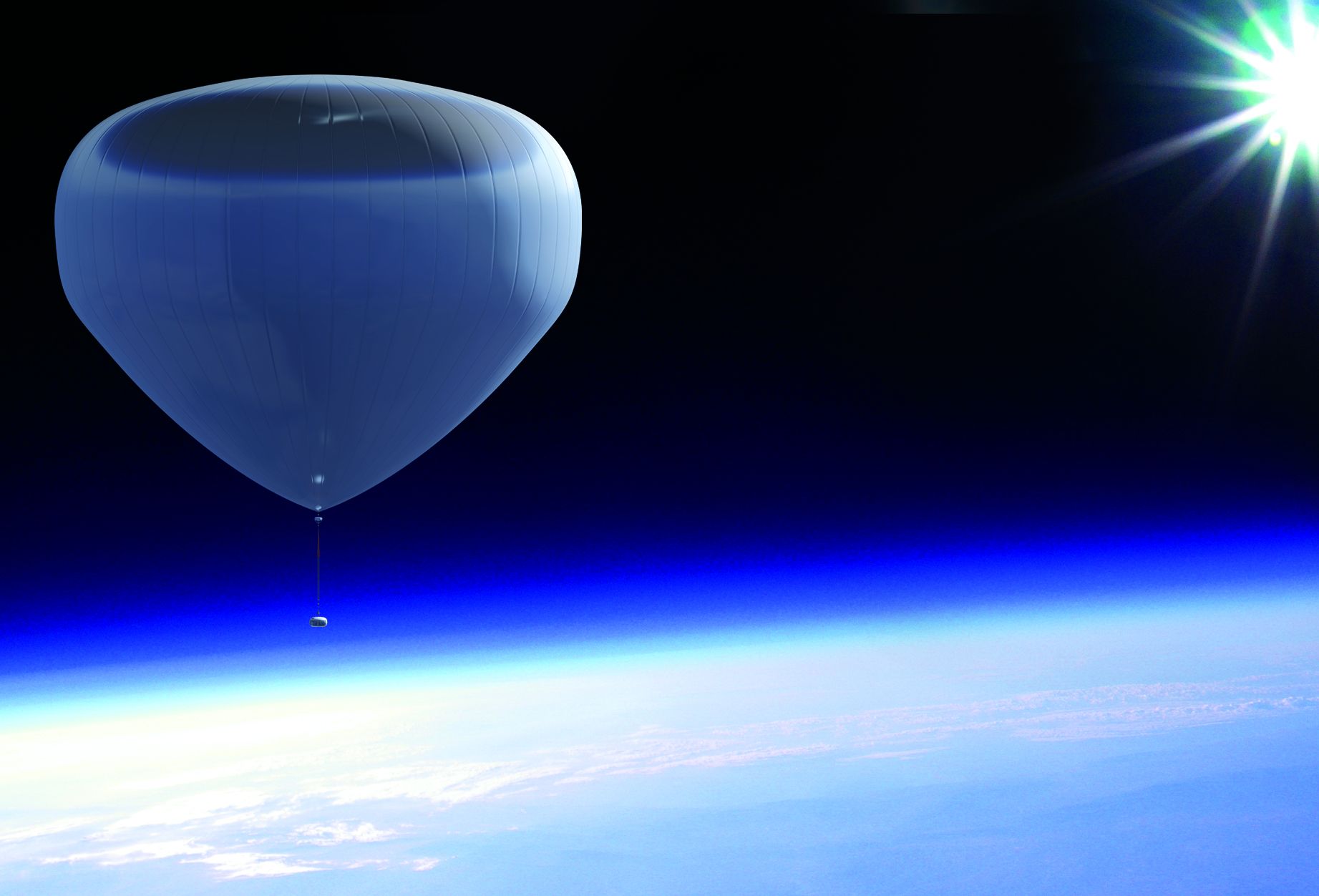 Photo Courtesy of Bloon
If you've been having a hard time scoring your spot aboard Virgin Galactic's space plane, or just want to double up on luxury experiences, you can float around near-space in a giant balloon. Created by the team at Zero2Infinity, Bloon takes you up around 36km above the earth (which is around 22 miles high) and gives a view of approximately 1,400km in diameter—meaning that you'll be able to see Paris and Rome at the same time.
Photo Courtesy of Bloon
"Imagine you are flying near space through the ozone layer and beyond till the edge of our atmosphere, bluish and thin—a delicate protection from the harshness of the Cosmos, but all caring for it. The most amazing views of our planet in her true glory from the edge of our world. Imagine the change to see how the stars and Sun blaze day and night," says Zero2Infinity.
Photo Credit: Abaco Digital/Ignacio Ferrando
Promising a ride that is clean and safe, Bloon uses inert helium gas for lift and doesn't employ any dangerous substances—like combustible fuels. Eight vented airbags and a guided parafoil with conical backup are used for descent and landing. Since there aren't any engines, the design is also really quiet and slow moving (i.e., no crazy accelerations to cause motion sickness). Thanks to the lack of noise pollution and the launch structure being portable, you can actually take off from anywhere you want.
Photo Courtesy of Bloon
The pod is designed to hold a maximum of four guests (and two pilots) in various arrangements, either in clustered in a group or separated two by two for more privacy. When on board, you'll get to relax, have some dinner and sip on your favorite drink, all while "knowing that the trip not only did no harm, but helped protect [your planet]."
Of course, this isn't the first company to put forth a day-long space trip—we reported on World View earlier this year and even interviewed the CEO, Jane Poynter. While both experiences are pretty similar in design, it seems like Bloon may be a little faster in its ascent and a bit pricier.
Photo Courtesy of Bloon
If interested (who wouldn't be?), TRULY offers a pretty great Private Near-Space Flight Experience for £380,000 (around $651,770)—pre-bookings for 2014 and 2015. The package, which is open to all ages, includes all four seats aboard the customizable flight and is set to take off at around four in the morning so as to take advantage of the "amazing colours of dawn at the apex of the trip." According to TRULY, you can even dictate how you want the cabin to look—"if you're a fan of Hermès, they'll deck it out with Hermès fabric [and/or] leathers, etc." If you want to nibble on gourmet food, the company will even have Michelin-starred cuisine made by world-class chefs brought in for you. Of course, this is all for an additional cost, but if you're going to be gazing down on earth, you'll probably want everything to be perfect.
Pre-flight preparations take around four hours, after which you will start the one hour ascent and float around gazing out through panoramic windows for two additional hours before heading back down to earth.
Photo Courtesy of Bloon
Photo Courtesy of Bloon
Photo Courtesy of Bloon
Photo Courtesy of Bloon
Photo Courtesy of Bloon