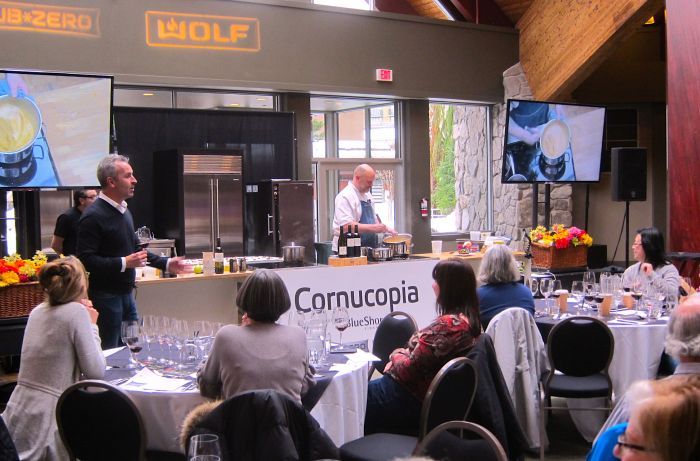 Photo by Michael Reiss
Whistler is full of surprises. This iconic mountain resort, consistently ranked Number One in North America and home of the 2010 Olympics, actually receive more guests in the Summer. While it is known for its casual, active, outdoors lifestyle, its high-end residences and resorts hint at the affluent, global denizens that require the best available in goods and services. Among its many year-round special events, easily searched on Tourism Whistler, the annual gourmet festival, aptly called "Cornucopia," celebrates all of the finest in food and drink that Whistler has to offer.
Held in mid-November, the eleven days and nights of the Cornucopia event include a seemingly unending schedule of offerings under these headings: "Chef Table Luncheons," "Drink Seminars," "Industry and Educational Workshops," "Parties," "Signature Tasting Events," "Culinary Series," "Restaurant Events" and "Nourish Health and Wellness Seminars."
At Cornucopia repeat attendees assert that the choices and quality increase yearly, so the biggest challenge is to plan ahead and make your selections early, as most events do sell out quickly.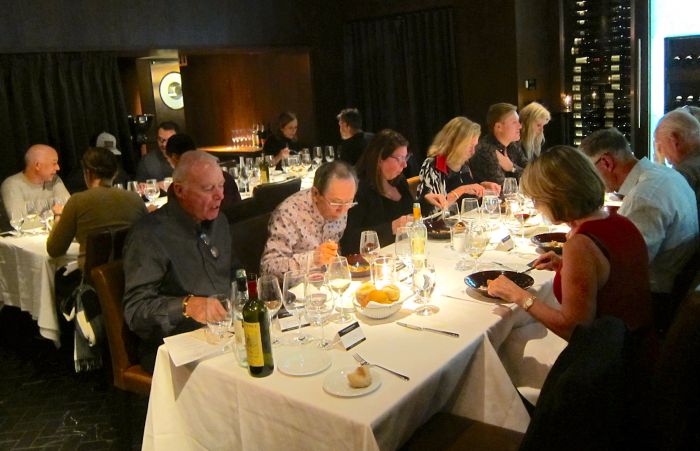 Photo by Michael Reiss
As first timers, we attended "The Cellar by Araxi Intimate Wine Dinner Series: Ruffino, Italy." Influenced by his time in Tuscany, Araxi 's Chef James Walt, designed his dishes to compliment the finest wines of Ruffino's famed estates including Greponne MazziBrunello di Montalcino, For this pairing with the 2011vintage, he offered his signature "Beef Cheek Raviolo Roasted Maitake Mushrooms and Pemberton Kale with a Pecorino Toscano Foam." This impeccable combination was matched by the other six food and wine pairings of the evening.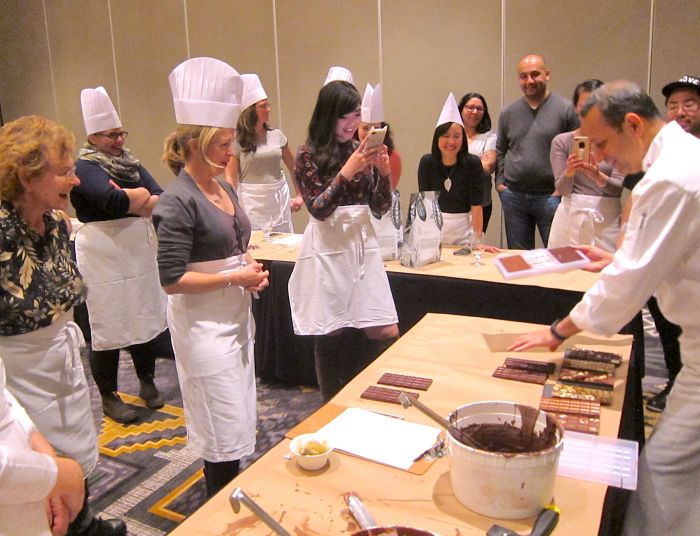 Photo by Michael Reiss
We awoke to a glorious snowfall and a 10AM "Experiential Chocolate Making Workshop: Cocoa Couture" held at the Fairmont Chateau Whistler. Internationally trained Fairmont Executive Pastry Chef, Anup Chaubal, revealed his passion, knowledge and secrets to successful creations, as we each made, wrapped and labeled our own bars to savor and share back home.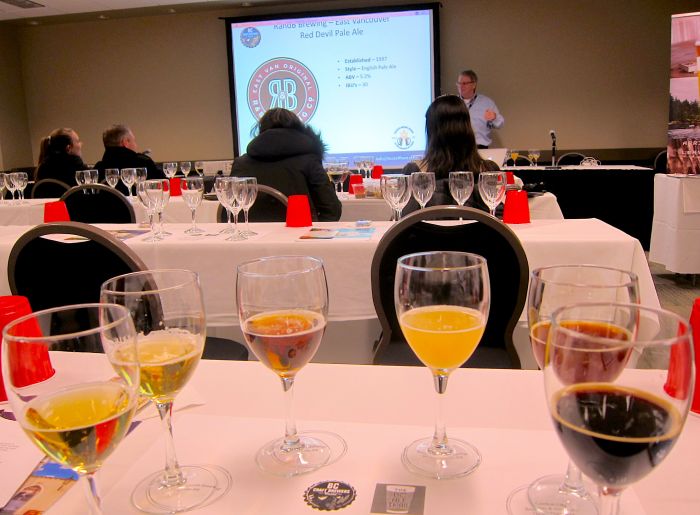 Photo by Michael Reiss
"Best in Glass: Award-winning BC Craft Beers" was next on our agenda. Ken Beattie, Executive Director of the BC Craft Brewers Guild, lead a guided tasting of some of the gold medal winners that highlighted the 2016 Canadian Brewing Awards.
Then onto the "Culinary Stage Series: Cicerone vs. Sommelier" held at the Whistler Conference Center. This highly interactive, engaging and delicious event put beer vs. wine in a multi-course match up with guest judges and attendees deciding the winner. The dishes were creatively designed and prepared by Chef Luis Valenzuela Robles Linares from Toronto. The wines were thoughtfully selected and described by Sommelier Claire Saksun. The beers were chosen by Cicerone, Brian Grills, and the winner, for the first time in many years, was wine.
Our final daytime selection was "Slice Advice: Pizza Pizzaz." Just imagine sipping and sampling eleven international wines and an endless variety of slices from Caramba! Restaurante. Mama Mia was that delizioso!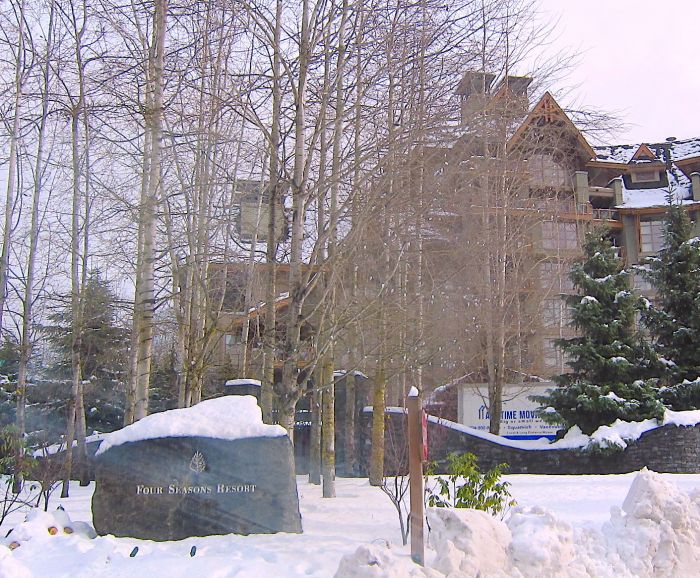 Photo by Michael Reiss
With all this gourmet gallivanting, there's only one place to stay, and that is the Four Seasons Resort & Residences Whistler. Besides being the premier property in the area, with its large, comfortable rooms, its amenities make it a value proposition. Review the Four Seasons' "Resort Guide" and take advantage of the many complimentary services that will make your stay memorable. Their private cars (newly acquired Mercedes 4-wheel drive SUV's), as well as shuttles, are at your disposal and make getting there, wherever you're headed a breeze.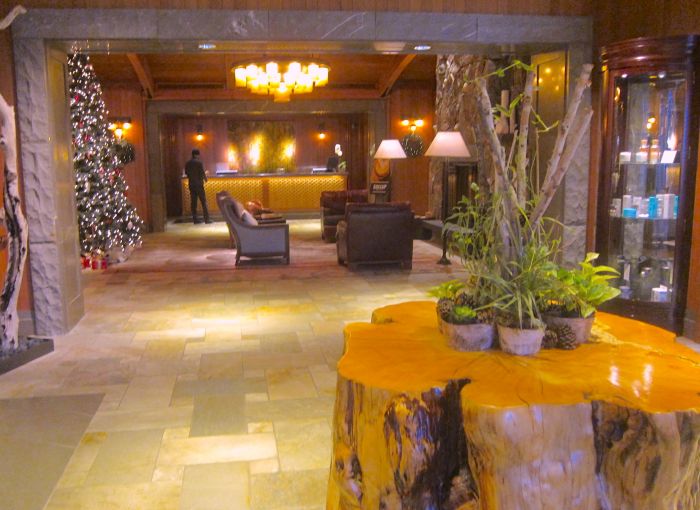 Photo by Michael Reiss
At the Four Seasons Daily Wine Tastings, Family Movie Night, S'morehes by the Fire Pit, petting Maola, the resort dog, and perusing the on-site art gallery are just a few of our favorites.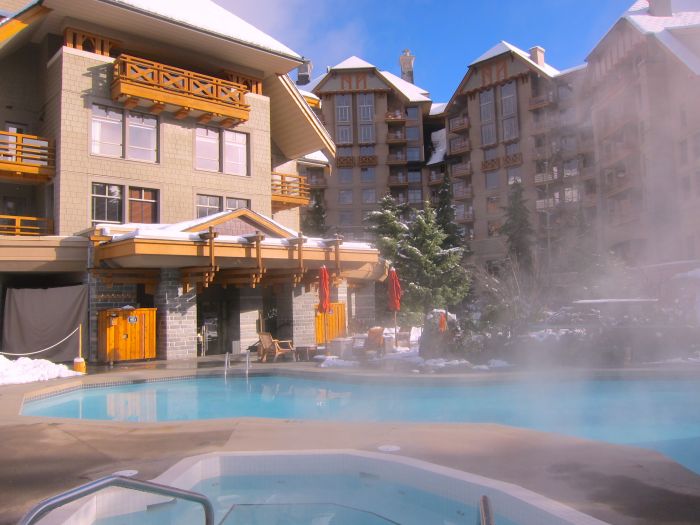 Photo by Michael Reiss
Perhaps nothing is more luxurious than doing your laps in the luxuriously heated outdoor pool or lounging in the hot tubs, with an attendant at the ready, warmed towel at hand, so you can stroll back to the spa super cozy.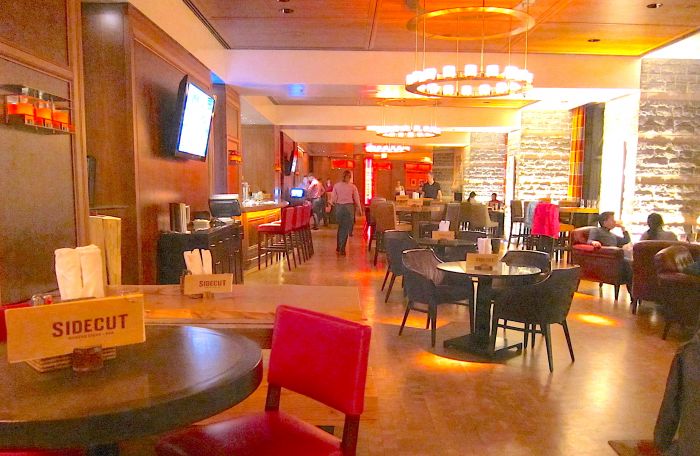 Photo by Michael Reiss
Don't miss a meal at SIDECUT. Their bar is famous for its cocktails and bar bites. The restaurant is billed as a "Modern Steakhouse." Although the menu is limited, every item is selected for its premier quality in class. The preparation highlights the ingredients without masking their authentic flavors. Sauces and rubs are on offer to personalize your preferences.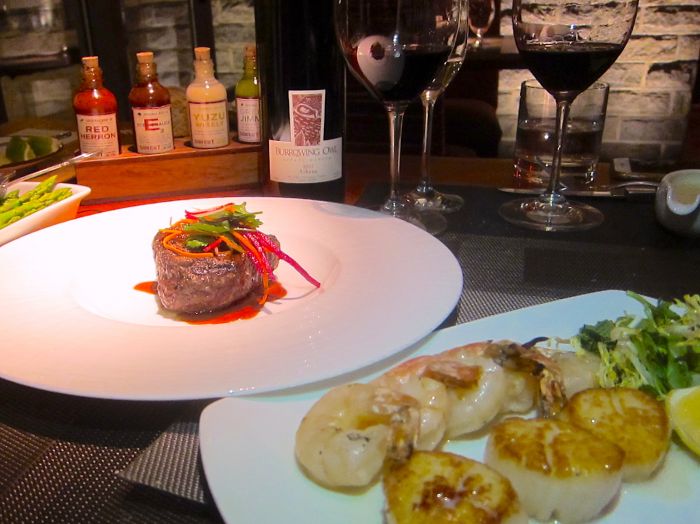 Photo by Michael Reiss
The "Rocket and Beet Salad with Goat Cheese, Pine Nuts, and Mustard Vinaigrette" was perfectly paired with an Orofino Hendsbee Vineyard 2015 Riesling, Similkameen Valley The "Mixed Seafood Grill with Sable Fish, Salmon, scallops, Prawns and King Crab" was accompanied by a Blind Creek Valley Chardonnay and the "Tenderloin" was paired with a cabernet-syrah blend, Burrowing Owl 2014 Athene, Okanagan Valley, BC.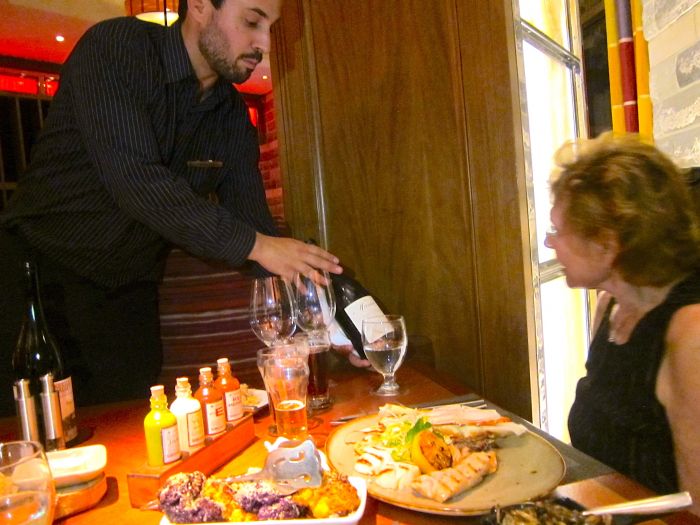 Photo by Michael Reiss
The wine list is impressive for its depth and breath, and most valuable is the knowledge of Assistant Sommelier Damien, who will introduce you to little known BC wines and suggest spot-on pairings to compliment your selections.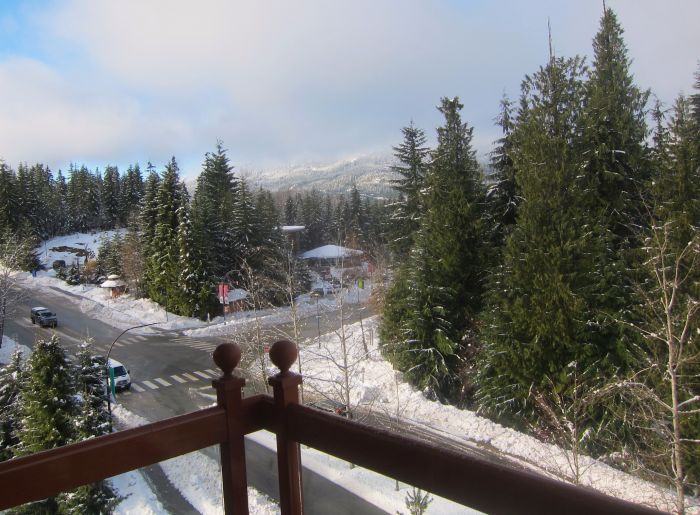 Photo by Michael Reiss