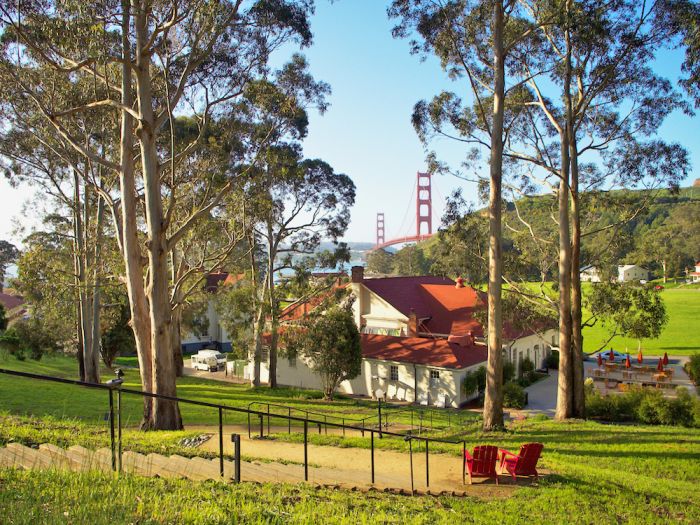 Columbia Hillen
Once called Fort Baker, a military outpost built in the late 1800s to protect the port of San Francisco, Cavallo Point is now a historic property of Colonial Revival-style houses nestled inside a 45-acre national park on the north side of Golden Gate Bridge.
Located in a horseshoe design around a 10-acre grassy former parade ground that slopes down to the bay and its iconic bridge, every house - refurbished officers' quarters - is divided into separate suites.
Columbia Hillen
By chance, this tranquil setting matched perfectly the mood of a novel I had taken on my travels – 'Lake Wobegon' by Garrison Keiller – namely a homey, rural community atmosphere, an ambience enhanced by flowing waves of creeping red fescue, clusters of calla lilies, lines of Monterey cypress, eucalyptus and young redwoods and white Adirondack chairs fronting the houses.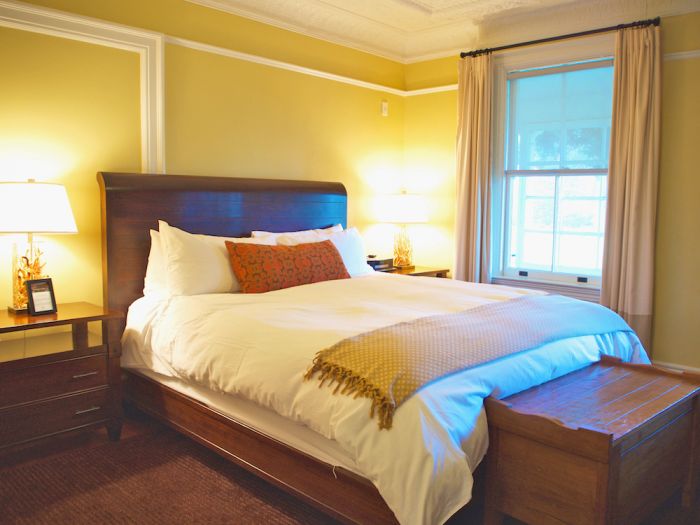 Columbia Hillen
We stayed in building 606, constructed in 1902 and named 'Bunker House' after Colonel Paul Bunker who led a long and eventful military life, including stints in the Philippines and Panama, and as a Japanese prisoner during the Second World War.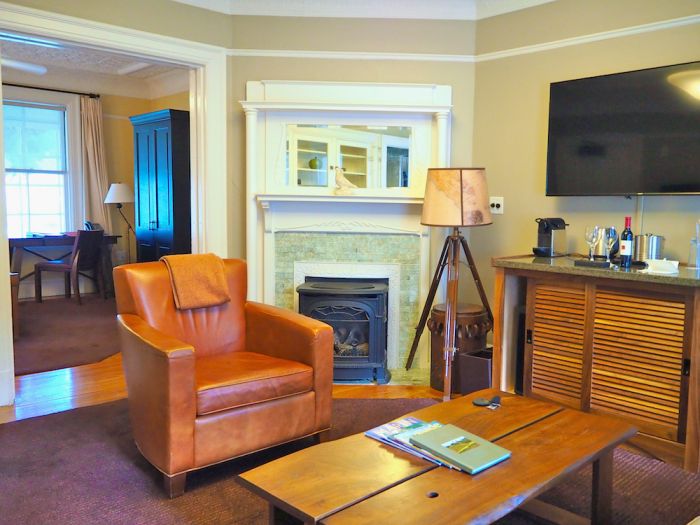 Columbia Hillen
A member of Historic Hotels of America and listed as a Historic District in the National Register of Historic Places, the houses at Cavallo Point can best be described as 'understated luxury,' its historic houses, primarily of redwood, featuring spacious rooms, painted tin ceilings, first installed as a cover to prevent bits of plaster falling on to the carpet from the thud of cannons, and vintage heritage fixtures including nautical themed lamps on surveyor equipment tripod legs, a gas-burning fireplace with a beautiful white marble surround and antique cast iron radiators.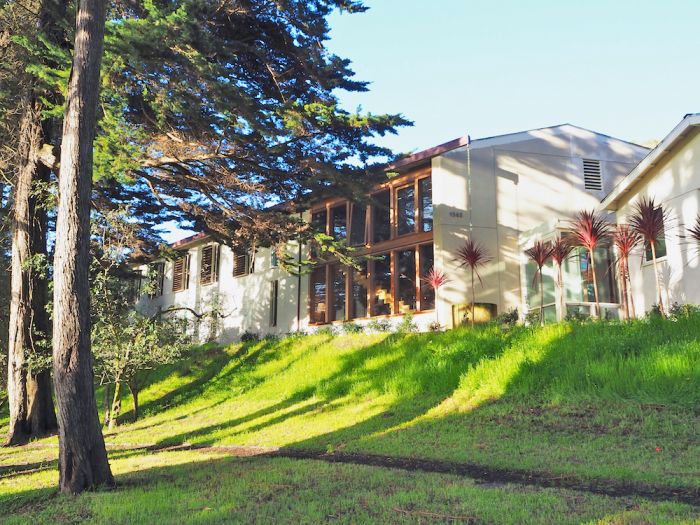 Columbia Hillen
Winding roads and pathways link the houses with decorative shrubs and bushes creating a quiet bucolic setting. If you're lucky – as we were – you might spy a mission blue butterfly, an endangered species, fluttering sensuously from flower to flower.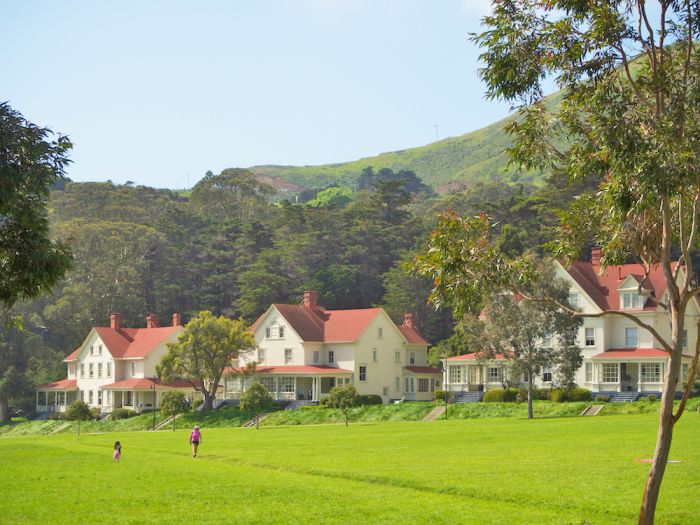 Columbia Hillen
A delightful way to pass a leisurely sunny afternoon at Cavallo Point is to sit outside on the terrace of its Murray Circle restaurant directly across from the majestic arches of the Golden Gate Bridge and watch people playing Frisbee, flying kites or simply strolling through the verdant grass of the former parade ground.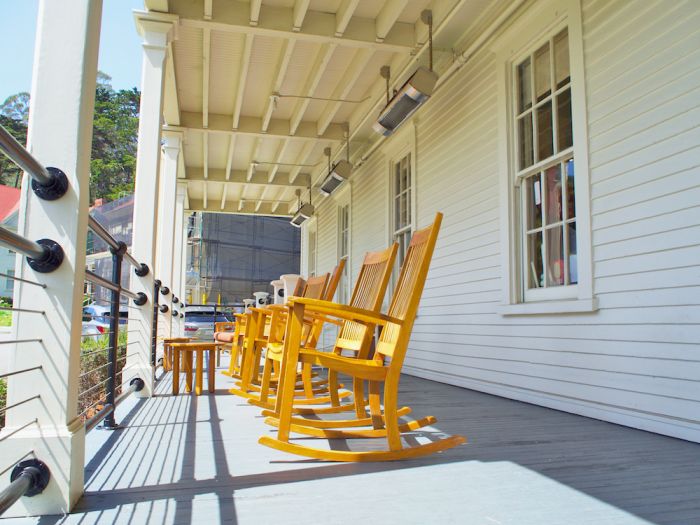 Columbia Hillen
Sipping on a favorite tipple from the nearby 'Farley's' bar with its impressive 200 selections, including house cocktails such as 'Officers Club,' (Glenmorangie, Laphroaig, yellow Chartreuse and Amaro) and 'Peter Rabbit (Ford's gin, carrot, orange hibiscus, lemon and grapefruit), help make the scene all the more delightful. The bar is named after a nationally-syndicated comic strip character by Phil Frank for 'The San Francisco Chronicle.' Framed strips and a photograph of the artist at work adorn the walls.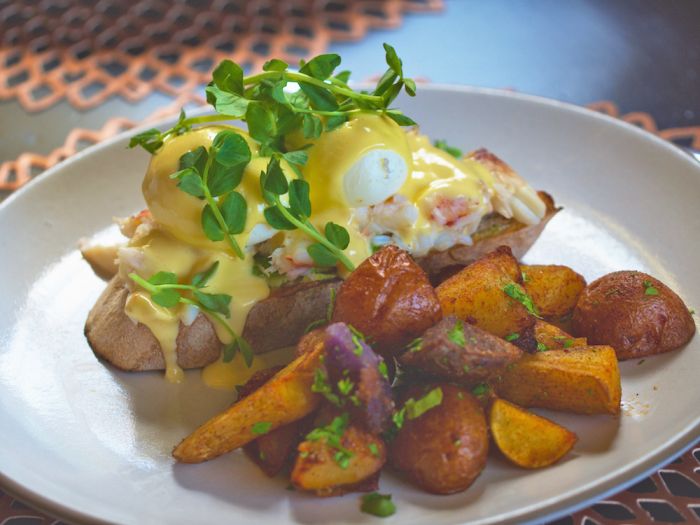 Columbia Hillen
Meals throughout the day are served at the Murray Circle restaurant with menu items such as seafood stew and wood-fired chicken on the lunch board and dishes including Pacific swordfish and black cod steamed en papillote for dinner.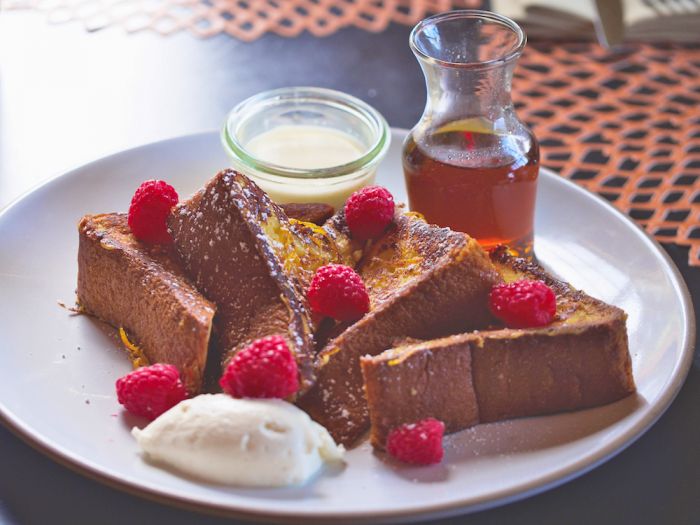 Columbia Hillen
Being there over a weekend, we enjoyed the property's special brunch, combining sweet and savory – citrus French toast of kumquat preserve with crème anglaise and fresh berries with homemade bagel and lox and Dungeness crab Benedict.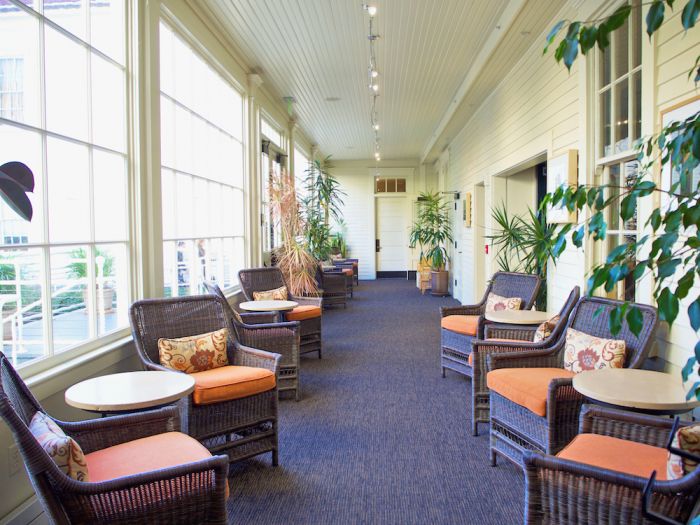 Columbia Hillen
An added attraction to Cavallo Point is its Healing Arts Center featuring outdoor meditation pool and separate men and women's Jacuzzi and hammam, as well as massage, aromatherapy, body treatments and water therapies.
A sense of style is provided through chauffeur-driven Lexus cars that shuttle guests to their rooms. The property also offers a daily complimentary bus service to and from San Francisco and the nearby ferry terminal in the charming coastal town of Sausalito.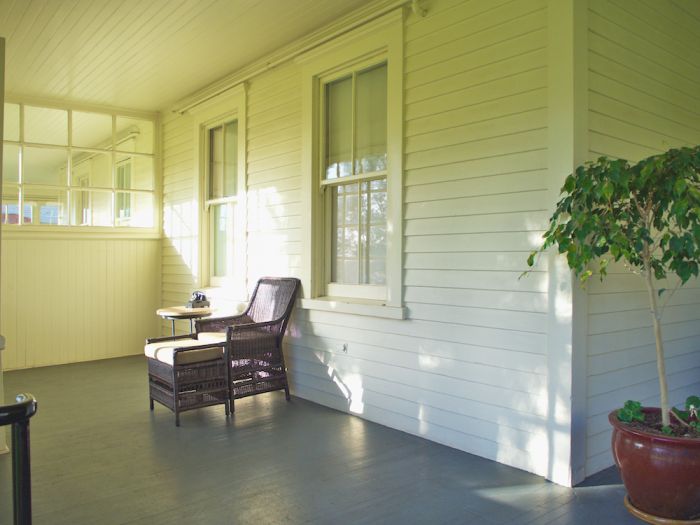 Columbia Hillen
Meeting space both indoors and out caters to most corporate demands, with the benefit of panoramic views of the Golden Gate Bridge and San Francisco Bay. Eco-friendly indoor facilities can accommodate between 10 and 300 people, with diverse options for breakouts, food and beverage functions, and pre-event space. State-of-the-art technology includes high-speed Internet, drop-down screens and built-in sound. Outdoors are 12,500 square feet of space framed by stately trees and views of the bridge, bay, and city.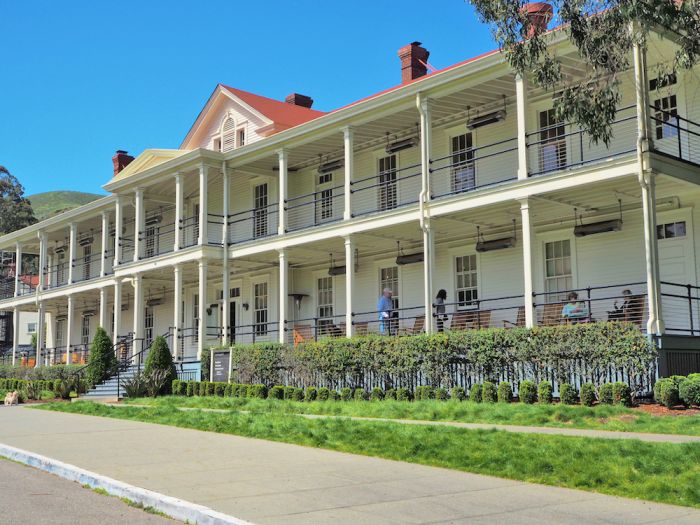 Columbia Hillen
Aside from its obvious historical ties, Cavallo Point Lodge is also linked to popular culture. It was home to both Starfleet Headquarters and Starfleet Academy in the Star Trek universe and was also used as the final pit-stop of 'The Amazing Race 2' reality TV game show. It also featured in the third 'Dirty Harry' film, 'The Enforcer' and was the finish line of the 'Escape from Alcatraz Triathlon.'