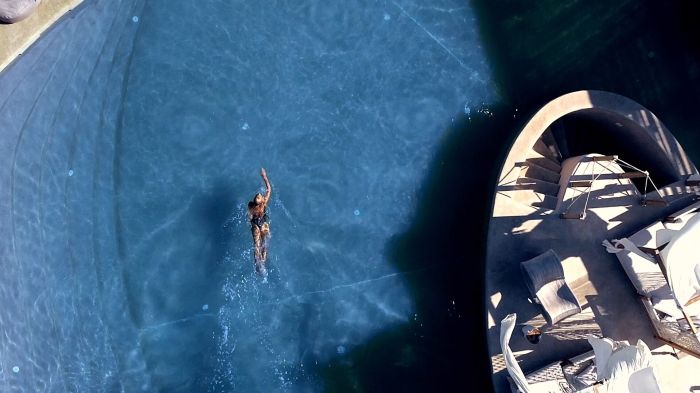 Image courtesy of SantAnna Mykonos
A perennial summer favorite of jet-setting sun seekers, the Greek Island of Mykonos has come to define the concept of high-end beach going for the modern traveler. With glimpses of white sand and turquoise surf at every hairpin turn, it goes without saying that the island isn't short on places to procure a sunbed and umbrella for the day. However with the opening of SantAnna, Mykonos' newest luxury beach club, the bar has been raised considerably on the island that has long set the beach clubbing standard for the rest of the world.
Aptly described as a "multi-experiential beachfront retreat," SantAnna distinguishes itself from similar venues by offering all of the amenities and luxuries of a 5-star, full-service beach resort; but just for the day, and for most guests, well into the evening. This is which exactly what the owners of the beach club had in mind when the idea of SantAnna began to take shape. According to Dimitris Christoforidis, the founder and creative force behind SantAnna, "our goal [was] to have days flow easily into nights. On this island, sometimes you'll leave your hotel in the morning for a day out and not come home until the next day. That's just Mykonos." While SantAnna is quintessentially Mykonian, its charms and allure go far beyond the expected beach scene and hedonistic nightlife that the island has become famous for.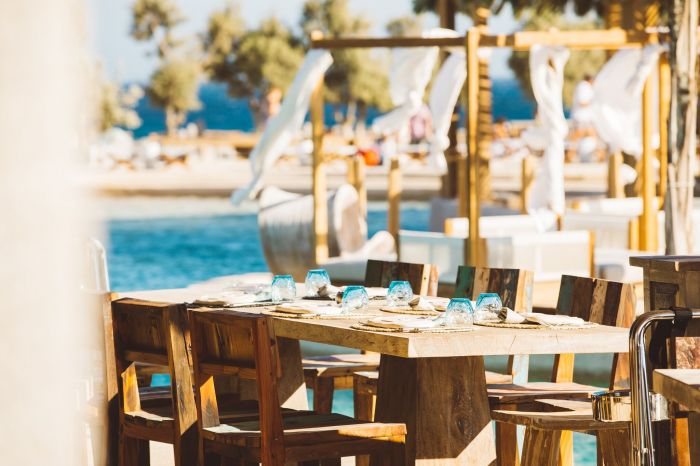 Image courtesy of SantAnna Mykonos
Designed by ASPA Design, one of Greece's most prestigious architecture firms, the property executes a seamless balance of classic Greek luxury and contemporary minimalism; all the while reflecting the natural beauty of the surrounding landscape. Artful use of custom-made textiles and locally sourced materials such as Cycladic stone pay homage to both SantAnna's roots and its environs. Situated on the exquisite southern coast of the island, at the center of the uber-chic and increasingly popular Paraga Beach, SantAnna offers guests the best of both worlds. As if its enviable position on the shimmering waters of the Aegean weren't enough, guests can opt to spend the day in and around SantAnna's breathtaking saltwater pool which covers 22,600 square-feet and holds an impressive 222,000 gallons of water. Holding the distinction of being the largest of its kind in Europe, the enormous serpentine-shaped swimming pool serves as the sparkling centerpiece of the multi-million dollar complex. "The biggest issue travelers to Mykonos would tell me about was their need for a beach club where they had privacy but could also be part of the scene,' says Christoforidis. With this in mind, the fully serviced pool is designed to feature plenty of cabanas and lounge areas for relaxation, and most importantly, privacy. The exclusive VIP pool islands, come complete with their own private subterranean suites. All of which are well-appointed with everything required for a refresh and a recharge before making your way over to the beach where you'll find plush full-service cabanas and sun beds. This lively stretch of white sand hugs the calm sea and creates the perfect balance for enjoying a post-swim, a people-watching session with your choice of libation and menu options from SantAnna's bars and renowned restaurants located just steps away.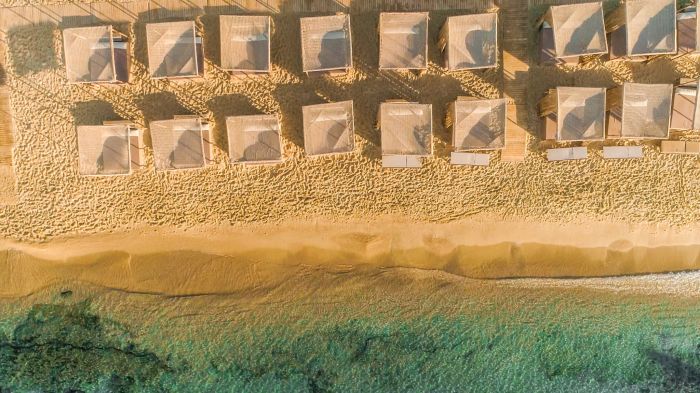 Image courtesy of SantAnna Mykonos
The selection of restaurant options at SantAnna is reason enough to make your way down to Paraga Beach for the day or evening. Christoforidis, a well-known restauranteur whose organic restaurant, Nice-n-Easy, is both an Athens and a Mykonos staple - has brought his years of knowledge and expertise into perfecting the ideal beach day experience for guests of his luxury beach club. "We want to offer an equally lively atmosphere but in a more laid-back, chic environment, not only for revelers but families, groups and single guests alike," says Christoforidis. At SantAnna guests can essentially curate their own experience with a diverse range of options. Guests can choose between several poolside top shelf bars, the new Cigar and Shisha Lounge featuring a wide range of choice Cuban and Dominican cigars as well as a hand-selected array of shisha available in various flavors, a Sushi and Raw Bar, featuring inventive combinations of Asian delicacies highlighting fresh local seafood paired with a top-shelf sakes, and SantAnna Restaurant which returns this summer with a new, elevated dining experience that offers guests a more personalized approach to dining. With a renewed focus on interactive menus, tableside preparation, personal chef interaction, and attention to chic details - such as a small olive tree brought to the table with cured olives ready to pick and eat and overwater hammocks lining the edge of the restaurant, allowing guests to indulge in a carefree swim before and after lounging directly above the glistening waters of the swimming pool.
The new Beach Taverna at SantAnna promises to be a real draw throughout the summer. The 80-seat dining venue, located within the brand new garden is beautifully set amongst an olive grove right on the sea where gypsets will revel in lounging on refined, white-washed furniture made from reclaimed wood, or sitting right on the sand while savouring meze-style dishes, featuring fresh, simple food from a delicious and creatively curated menu. "The concept is to have something light and authentic to share with your friends with a glass of wine and continue your beach experience," says Christoforidis. "With so many areas to relax in, guests tend to spend the entire day, so the Beach Tavern and Garden will fuel that desire."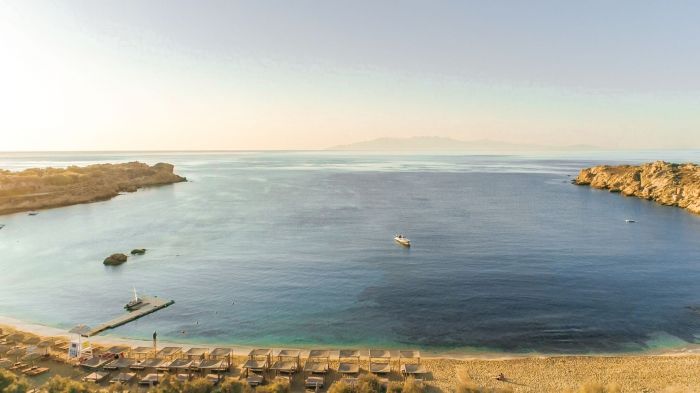 Image courtesy of SantAnna Mykonos
In addition to its restaurants, SantAnna will also host a number of cuisine-centric events that will make impress the palate of even the most discerning foodie. In collaboration with Volzhenka Caviar, this summer SantAnna will launch Mykonos' very first caviar bar. The pop-up caviar bar will incorporate SantAnna's eco-philosophy by offering a curated range of innovative caviar dishes inspired by regional Greek cuisine, demonstrating the delicacy as fresh and contemporary, perfectly suited to breezy poolside afternoons. Guests are invited to a tasting-menu lunch, with artisanal cocktail pairings accompanying each type of caviar, mixed by Beluga Vodka's award-winning bartenders.
New this year, SantAnna will launch the highly anticipated Wellness Project in collaboration with BeautyWorld by Despina Gavalas, allowing beach buffs to both look and feel their best with the help of spa and salon services. Known internationally as the Mykonian queen of beauty, Gavalas, brings her signature glam squad talents to SantAnna Mykonos with her sought-after techniques and exclusive skincare and treatment line. Known for her hotspot salons in Mykonos and Kifisia, the chic Athens suburb, past celebrity clients include a high-profile roster of jet-setting socialites such as the Kardashians and supermodel, Naomi Campbell. Complete with its very own on-site gym, spa and salon SantAnna makes sure that its guests can take care of all the essentials such as massage therapy, blow-outs, manicures/pedicures and more. After a day in the sea or a plunge in the pool, a blow-out is a must-do for a big night out. Fortunately, Despina and her team of make-up artists have you covered.
If a bit of health and fitness is in order, SantAnna's new wellness program offers guests the opportunity to practice morning pilates sessions, Vinyasa yoga, and fitness classes compliments of Miha-Bodytec, in addition to aqua fitness and personal training sessions all by appointment. The spa also offers a range of luxurious and healing body treatments. Our favorite, the "Aegean" is a signature body treatment using a rich blend of organic olive oil, pure Cretan salt, lavender and trace minerals that result in a gorgeous summer glow. Gentlemen have their own list of services including skincare accented by hot shaves and beard trimming.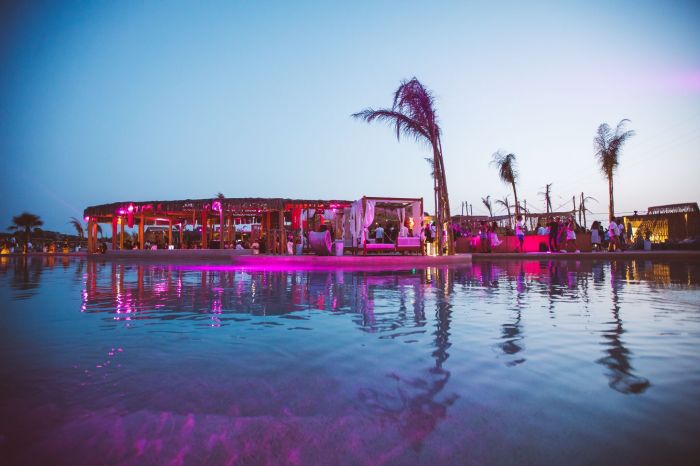 Image courtesy of SantAnna Mykonos
It wouldn't be a day in Mykonos without a night in Mykonos, and for that reason SantAnna keeps the beach party going well into the evening. SantAnna promises to take guests on a musical journey where their senses will be engaged throughout their stay and well into the night. Low-key ambient selections will be played throughout the morning and daytime then easing into a more up-tempo atmosphere as the evening warms up, transforming it into one of the most exciting entertainment venues in the Cyclades. SantAnna will host an all-star lineup of local and international DJs, on a daily basis, as well as a selection of live shows and interactive acts including including emerging artists Ayo & Teo, world-renowned Dutch DJ duo Sunnery James & Ryan Marciano, DJ Sam Feldt, house music icon Erick Morillo (July 12), Felix da Housecat (July 26), Magdalena (July 19 & Aug 8), Luciano (Aug 2), and the legendary Grammy-nominated Danny Tenaglia (Aug 16).
The only real way to get the SantAnna experience is to create one of your very own. So if your jet happens to set in the Greek Islands this summer, make your way to the shores of Paraga Beach and let Mykonos and the many pleasures of SantAnna work their magic.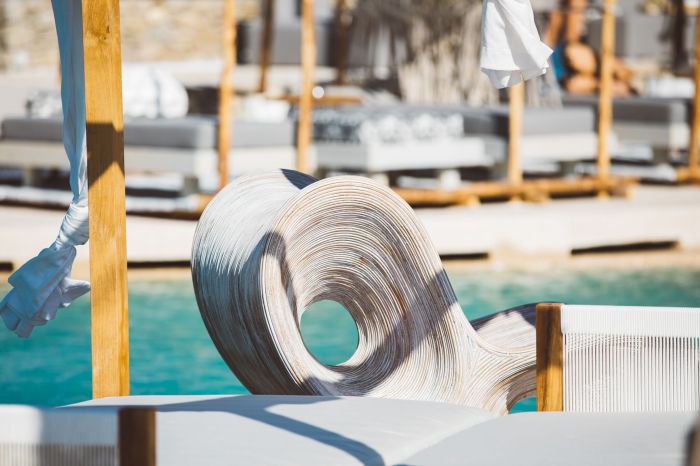 Image courtesy of SantAnna Mykonos
Details:
Entry to SantAnna is free, with special booking and pricing available during the season's major entertainment events. Prices for loungers start at 20 euros and go up to around 500 euros for the VIP islands. The beach club's concierge can also offer a range of bespoke concierge services, including island tours, private transport and helicopter services, private water taxis, golf carts and private security in addition to any other requests guests might require.
Getting There:
SantAnna, Mykonos, is accessible with daily flights from Athens and charter flights directly from all major European cities; daily ferries and hydrofoils have regular departures from Piraeus and Rafina ports in Athens. A private helicopter charter is a short 40-minute ride from Athens International Airport. Alternatively, a private boat can be booked as Mykonos port is just 94 nautical miles from Piraeus port in Athens. SantAnna is located at Paraga Beach on the southern coast of Mykonos.
For more information visit www.santannamykonos.com/ or call +30 6956762847 for inquiries and bookings.