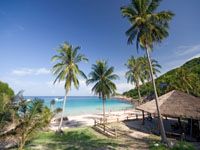 Exotic Destinations:
Renting a private island as a destination for a vacation or a special event is a move that definitively distinguishes contenders from pretenders for those driven to cruise the diamond lane of the upscale highway. What better way is there to show one's arrival then to rent a private world and invite your own citizenry to come and enjoy it? Although planning the logistics of such a move fall likely would land in the capable hands of a well-versed professional, doing a little research is recommended.
It is possible to obtain a better nightly rate by making reservations in weekly blocks instead of nightly. Many higher-priced private islands are set up to handle 25 to 30 guests, whereas the private islands with lower nightly rates and fewer accommodations are suited for family vacations and intimate gatherings.
Here a few choices and points to ponder when in the market for renting a private island.
Exclusive & Compelling Exotic
Believe it or not private-island vacation rentals are available for as low as $3,500 and more than $40,000 for an evening on a personal "fantasy" island. There is Sir Richard Branson's 74-acre Necker Island, and the Bahamas' Indigo Island for starters. Bring plenty of clams because a night on either island is around $50,000 nightly, including tips. Another extravagant private island is the Musha Cay Resort. It is a 150-acre private island that accommodates up to 24 guests in 12 bedrooms. It too can be yours for about $50,000 nightly.
Private-island rentals are available at lower rates as well. A night in a villa in Belize can be had for less than $2,500 nightly. This is not exactly roughing it, either, as guests stay in a two-story, two-bedroom estate with a butler, a pool and a breathtaking view.
There are private islands to rent around the world beyond tropical settings.
Unique Yet Affordable

Let your imagination go beyond the tropics. There are private islands for vacation rentals in the U.S., Canada, South America, Europe, Asia, Africa, Oceania, and many more surprising locations. Unlike most unique experiences, renting a private island can be affordable. There are many private islands for rent for lower than $1,000 weekly. Cedar Island in Ontario, Canada, offers hunting and fishing, swimming and boating, and hiking and sightseeing on a 10-acre oasis for $385 a week.

The Palagruza Island, which is a 104-acre island in Croatia, is a European island that is available at an unbelievably price. There are other private islands priced similarly in both France and Spain.


Culturally Stimulating Too

Did you know that there are approximately 60 islands on the River Seine around Paris or the Isle-de-France? One such isle is the Île de Chantemesle. It is rich with history related to both the country's development and affairs of the art community. The island is around 25 acres and has two villas on it. Painter Claude Monet completed two paintings while living in the neighborhood. Among the relics and preserved architecture is a church in the village of La Roche-Guyon that dates back to the 12th century.

Renting a private island can draw fanfare or eliminate it entirely at the discretion of the travelers. Those are as good as reasons as to explain why renting private islands is rising. Discover your personal island retreat today!

Although the thought of renting a private island may seem overambitious to many, there are in fact individuals who argue that the time and money spent on such an endeavor hardly constitute sacrifice. Everyone has his or her own concept of what luxury truly is and where it can be found. For some, it's a new pair of Jimmy Choo's. For others, a trip to the spa or a new Bentley can scratch the itch. Something is only as luxurious as one perceives it and the less attainable it seems usually adds to its luster. If spending lazy days on your own private island gives you that sense of complete unadulterated joy, then who is to argue with that?

For LxM James Rothaar

Necker Island

Necker Island

Necker Island

Necker Island

Necker Island

Necker Island

Necker Island

Necker Island

Necker Island

Necker Island

Exuma Indigo Island

Exuma Indigo Island

Exuma Indigo Island

Exuma Indigo Island

Exuma Indigo Island

Exuma Indigo Island

Exuma Indigo Island

Exuma Indigo Island

Exuma Indigo Island