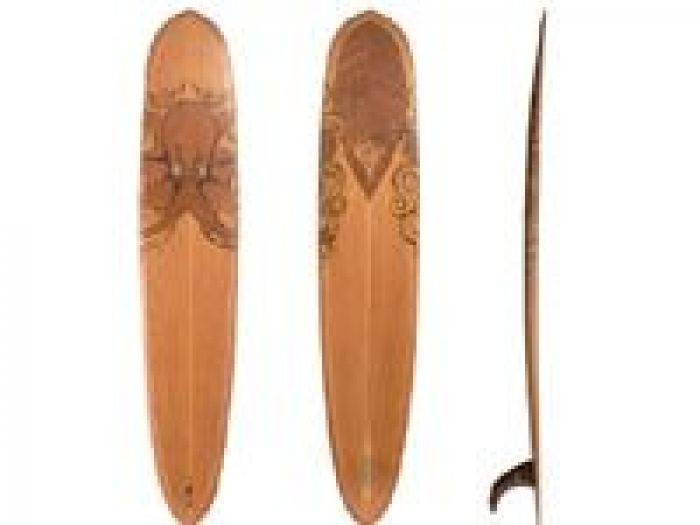 Luxury Surfboards:
Surfers will tell you that it is all about the waves. Of course, having a good board with the right aerodynamics doesn't hurt either. Now imagine hitting the swells with a handmade, thoughtfully engineered piece of "rideable art" crafted with beautiful mahogany and spruce, with birch, fiddle back and bird's eye maple veneers, that has been custom-built especially for you. The
RAYSKIN
handmade longboard makes this a reality.
In recent years, there has been a return to the art of wood boards rather than the dominant use of foam construction that has shaped the surfboard industry since the 1950s. The brains behind RAYSKIN were inspired to create works of surf art that are both functional and environmentally friendly, using a number of plantation woods to create custom boards with laser precision.
However beautiful it is, the RAYSKIN board is not just something to hang on the wall and admire. Technically, this is as good as it gets in terms of surfboard design and operation. The board gets a good amount of float and easily builds momentum in the water. After a quick bottom-turn, the board's concave will kick in and really launch you down the line. We're talking about a very stable and extremely stiff ride - surprising considering the board is hollow. A RAYSKIN surfboard also provides enough rocker to keep you from pearling on a late take-off, but you can still easily walk the nose.
Creating such a high level of performance, action and beauty comes with an equally impressive price tag. With a price point upwards that starts at $8,000 and averages $20,000, these luxury, custom-designed boards are considered to be the Rolls-Royce of the surf world. They are a must have for discriminating individuals who seek the absolute best life - and surfing - has to offer. The promise of the ultimate piece of surf art that also delivers an amazing ride is truly priceless.
RAYSKINS are available for purchase online with insured shipping to any destination in the world. These boards are a perfect gift for the surf lover in your life. Visit
www.rayskin.com
for more information.
The Luxe List product review editor Merilee Kern scours the luxury goods marketplace for new and innovative must haves. Product submissions accepted via e-mail at Merilee@JustLuxe.com.
- Merilee Kern
JustLuxé.com's "The Luxe List" Product Review Editor