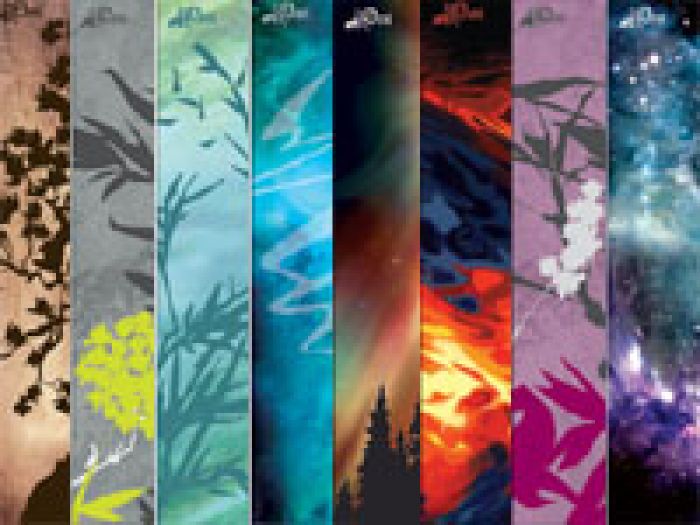 Shopping
: Spring has sprung, so it's out with the old and in with the new. Since this is the season to renew and refresh, I've rounded up some products that will help get you on the right track for the warmer and brighter month's ahead. These items will help you make some positive changes around the house and even fulfill some of those resolutions you promised yourself to keep.
An Special Mat-ter
It's time to get that bod beach ready with only a few months to spare, and nothing is more enjoyable and satisfying than yoga. Trade in that uninspiring yoga mat and jazz up your next session with a beautifully and colorfully designed Devi yoga mat. Founded in 2008 by yogi with her own Los Angeles-based practice, Devi Mats are for the avid yoga lover who likes to stand out in a crowded class with a high-quality artful accessory. Devi is a brand devoted to luxury and inspired by our surrounding environment. The goal was to create yoga mats that would make a connection between the person practicing yoga and the art work that symbolizes the spiritual and natural connection. The current mat collection has an "Elements" series (think Earth, Wind, Fire and Water) a "Universe" series (stars and other celestial beings), and "Natural Pop" (very artistic and spiritual). These inspiring yoga mats are priced at $99.95.
(www.DeviMats.com)
Get into Gear
Fitness-seekers can also benefit from apparel form and function with Gracie's Gear, a distinctive fitness line of innovative sports bras, long tanks, pants, shorts and hoodies. You'll stay calm, cool and collected in this smart and fashionable workout wear. The Power PouchTM sports bra and the long tank both have a zippered front compartment...perfect for all those items you don't know what to do with when you are exercising like your keys, gym card, iPod, and cell phone. Gracie's Gear uses moisture release transfer technology to keep the sweat and heat away. If that is not enough, Ultra Illuscent MaxTM is built in to ward off odor-causing bacteria. All these bells and whistles certainly don't get in the way of comfort and support. Wider straps, thick elastic under the chest, and a racer back design provide you with maximum movement. Items are priced from $33-$65.
(www.graciesgearandtraining.com)
Sunshine Solution
With spring comes sunshine, which means it's time to break out the SPF. La Mer has just introduced SPF 30 UV Protecting Fluid, which is a fantastic daily use product that provides broad UVA/UVB protection with skin treatment benefits. Lightweight and fast absorbing, the fluid uses gemstones, including tourmaline and Brazilian malachite, to enhance the formula's anti-oxidant process. Its Hollow Photonic Spheres create a flattering light effect, and a Smart Seaweed Ferment that helps protect skin against pH, temperature and humidity changes. Plus, its flawless finish and luxurious feel makes it great under makeup as it conditions and protects the skin. A 1.7 ounce bottle of SPF 30 UV Protecting Fluid sells for $65.
(www.lamer.com)
Smarten Your Baby's Wardrobe
Who says you have to be grown-up to be fashion-forward? Bubele Baby has introduced a truly innovative line of baby clothes that combine design and function into one designer package. Not only are these clothes adorable, but they are also comfortable and helpful in dealing with all those messy things that come with being a baby. All of these baby clothes have some pretty handy features, such as an attached neck roll to catch those dribbles and keep baby clean, a stretchable swaddle blanket, a patent-pending attached loop on the side seam of bodysuits to attach a pacifier or toy, and a specialized set of snappy loops that attach anywhere to keep that binky or toy within reach at all times. All the bodysuits and clothing are made from 100% combed cotton and are available in a range of colors and patterns. Prices range from $3 to $5 for plain or colored Snappies to $12 to $14 for short-sleeve or long-sleeve bodysuits.
(www.bubelebaby.com)
Spring Clean in Style
Who says your spring cleaning wardrobe must be drab? Royal Accessories wants us to think about cleaning in style. Dishwashing can become glamorous when using their custom embellished faux fur dishwashing gloves that work well for loading the dishwasher or doing light chores. Think about greeting your guests in a faux fur apron with a satin sash and rhinestone buckle. The company also takes other ordinary items, such as feather dusters, travel pillows and blankets, laundry bags, and "glams" them up with leopard print, pink satin, and other vivid patterns. For those who have pampered pooches, be sure to check out their pet line for your fuzzy "fashionistas." Products are priced from $20 to $100.
(www.royalaccessories.com)
DoubleUp Your Beauty Sleep
DoubleUps for Beds is the newest and smartest way to maximize your beauty sleep every night - even if you sleep alongside a "sheet hog" or "wiggle worm." This unique and patented split-sheet bedding line includes split-flat sheets and comforters so that each of you can feel free to move around without disturbing, or stealing sheets from, your partner. At the same time, the sheets are still connected by a foot-of-the-bed sew box. Even better is the fact that no one can tell the sheets and comforter are made this way because they appear seamless when the bed is made up. DoubleUp for Beds come in a variety of colors with thread counts that vary from 200 to 600 in Egyptian cotton, so you won't be compromising luxury or design for convenience and comfort with this product. Prices for individual sheets range from $7 to $100 while sets vary from $90 to $200 and comforters can cost up to $350.
(www.doubleupsforbeds.com)
Glove Love
Bionic Gloves are a new scientifically engineered glove designed by a leading orthopedic hand surgeon and marketed by Hillerich & Bradsby, makers of the Louisville Slugger baseball bats. Based on the science of ergonomics, the gloves feature an anatomical pad system that helps the user's hands increase their range of motion and strength while minimizing hand fatigue and decreasing calluses. Other unique features include better grip control and fabric breathability. The gloves are available for men and women for a number of popular springtime activities, such as golf, tennis, gardening, driving, fitness, baseball, equestrian, and racquetball. Prices range from $24.95 to $69.95. Youth gloves are also available for tennis and baseball, starting at $24.95.
(www.BionicGloves.com)
Travel Tech
With travel season upon us, jet setters busy are booking flights - long flights to take them to fabulous locales far and wide. But what to do with those long hours on the airplane? Thanks to a new device called iFlyz, hands-free entertainment during airline travel has just gotten easier. iFlyz has a handy suction cup on one end that grasps onto pretty much any electric device, such as an iPod loaded with video programming, and a clamp that affixes to the seat tray. The adjoining gooseneck allows iFlyz to bent to any angle or direction for better viewing. Calling itself the "in-flight personal media solution," iFlyz is a great product for those on the go who want something that is durable, compact, and lightweight to help them avoid juggling their electronic devices or hanging onto them for hours of discomfort. Don't resort to weird angles or silly inventions to hold your electronic device. This baby weighs only two ounces and works with iPhones, iTouches, iPods, Blackberrys, SmartPhones, and various brands of PMPs. At only $29.99, this is one of the best air travel products to come along in a very long time.
(www.iflyz.com)
The Luxe List product, service and travel review editor Merilee Kern scours the luxury marketplace for new and captivating "musts." Product submissions accepted via e-mail at Merilee@JustLuxe.com.
- Merilee Kern
JustLuxé.com's "The Luxe List" Product Review Editor
Devi Mats
Devi Mats
Devi Mats
Gracies Gear
La Mer
Buble Baby
Royal Accessories
Royal Accessories
Double Up
Bionic Glove
Bionic Glove
iFlyz