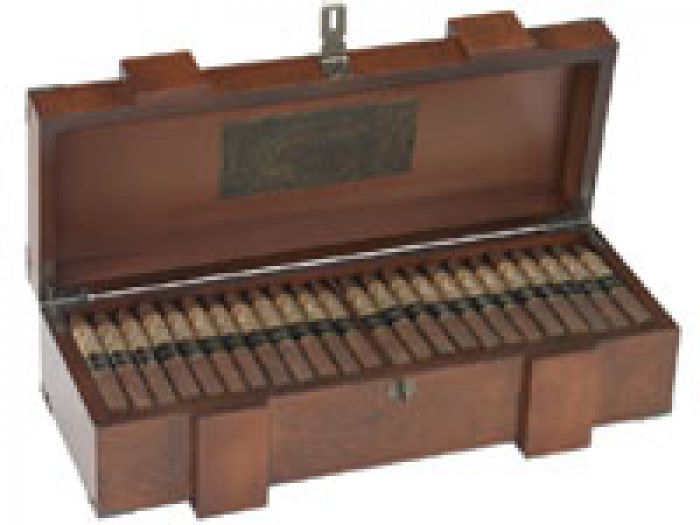 Luxury Leisure:
The mantra "quality over quantity" has been infused into all aspects of Gurkha Cigars. This belief and business model has enabled owner Kaizad Hansotia to nurture the Gurkha Cigar brand into the most sought-after smokes on the market.
What makes this particular story of success stand out is the journey that Hansotia took in order to get to where he is today. With zero experience in the tobacco industry, the young entrepreneur took a chance by purchasing this Gurkha Cigars while traveling in India, 20 years ago. The Miami-based businessman happened to stumble upon a gentleman rolling cigars and decided to buy the brand after hearing that enlightening and meaningful story of the brand's history, over a smoke and a scotch.
For just $149, Hansotia purchased his first Gurkha Cigar, named for the legendary Nepalese colonial soldiers who fought during Britain's rule of India; the brand has now grown to a valued 35 million today!

Confident in his role at his father's successful watch business, Hansotia had no aspirations of becoming a pillar in the tobacco industry, as the head of a premium cigar business. He chose to dole out cigars as corporate gifts to clients and colleagues until the demand for more forced him to reassess the financial potential the company held.


"Once clients began sending over purchase orders," says Hansotia. "I started to think that this could be a great opportunity to do something truly unique in the industry. I took a less is more approach to production by personally handling the quality control of our products to ensure that every cigar and package was held to the highest standard."

Drawing on his experience and background in the premium watch business, Hansotia designs the Gurkha cases to not only enhance each collection, but in as detailed and prized a fashion as the cigars themselves; each cigar is housed individually in frosted glass tubes, with gold caps, or boxes created with hand-carved wood, leather, or even lined with suede. Each box is crafted with the intention to be showcased as a work of art in an office or home; Hansotia never forgoes on luxury, offering only the best for his customers.

To coincide with the success of the past 20 years, Hansotia created something even more exclusive, for true cigar aficionados, with the new limited edition Archive 1887. With only 1000 handcrafted boxes made in the world, this limited edition 20th Anniversary edition has become the new coveted cigar in the world of high-end smokes. Priced anywhere from $10-$750 a piece, to $300-$15,000 per 20-cigar box, not only stars like Matthew McConaughey and Jackie Chan can be seen puffing away on these luxury smokes. Saudi princes, political leaders like Arnold Schwarzenegger and even athletes like Alex Rodriguez have been known to call in requests.

The key to a great cigar? "Well-aged tobacco," says Hansotia. "We search across the globe to find the rarest and most unique tobaccos for the best tasting cigars with full-bodied flavor."

Cigar connoisseurs and novices alike find Gurkha Cigars stand out amongst its competitors for the high-quality tobacco that Hansotia seeks out from all over the world, along with the detailing in the cigar wrapper that Hansotia himself spends numerous hours editing to perfection!

With the culmination of their 20th anniversary year, is there anything exciting for the brand in 2010?

"Of course," assures Hansotia. "There is always something new for the Gurkha customer to anticipate, as we are constantly exploring new ways to raise the bar and create the most opulent cigar. For instance, we will be releasing a box of cigars worth half a million dollars in early 2010."

A Gurkha cigar is not just a great smoke. The meticulous attention to detail that goes into every aspect of the cigar is a practice that has established Gurkha as the "Rolls Royce" of the cigar industry.

By Gilbert Gautereaux
President Justluxe.com