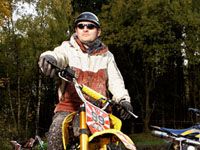 Leisure:
Some guys never grow up and a theme park in Germany celebrates them. Part of a rising trend of "manusement" parks around Europe,
Männerspielplatz
allows man-boys to play with grown-up toys.
Translated, Männerspielplatz means "men's playground" and is filled with all sorts of traditional male favorites. For an entire day, men (and women) can play on excavators, wheel loaders, caterpillars, Quad, ATV and other machinery.
Originally a temporary display, Männerspielplatz has become a permanent fixture for visitors to offroad, jackhammer giant boulders, shoot things with a bow and arrow, hang glide and more.
Other similar manusement parks have popped around Europe, including
Tanks-a-Lot
in the UK, where you can drive tanks over tiny machines and
Diggerland
, also in the UK, a fusion of amusement park and construction machinery.
With so much male testosterone, it's no wonder that
Trendhunter.com
describes Männerspielplatz as a "Disneyland for Dudes."