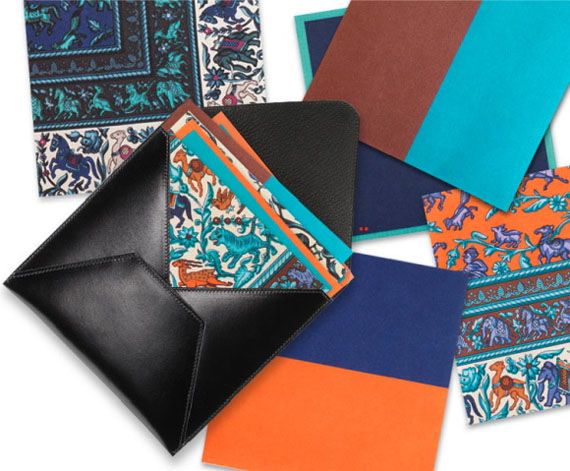 Luxury Accessories:
Famed French fashion and luxury goods house
Herm?s
is offering an eye-catching new origami set paying homage to its iconic scarf designs. The luxurious amusement features several sheets of origami paper in bright colors, adorned with scarf prints in various motifs on one side, and deep-hued Rothko-like color blocks on the other. The Herm?s scarf is more than a mere square of silk; itís the stuff of legend, worn by style icons such as Grace Kelly, Audrey Hepburn, Catherine Deneuve, and Jackie Kennedy.
The firm made its first scarf in 1937, and has since produced more than 2,000 different designs, many of them adapted to menís neckties as well. The envelope itself is designed in the style of a piece of folded origami paper, and echoes that of leather clutches Herm?s has offered in the past. Encased in a handstitched black saddle leather envelope and presented in a black lacquer box, the set is priced at about $750. Origami is a traditional folk art of paper folding which originated in 17th century Japan, which plays well to Herm?sí philosophy of the simple yet intricate in design.