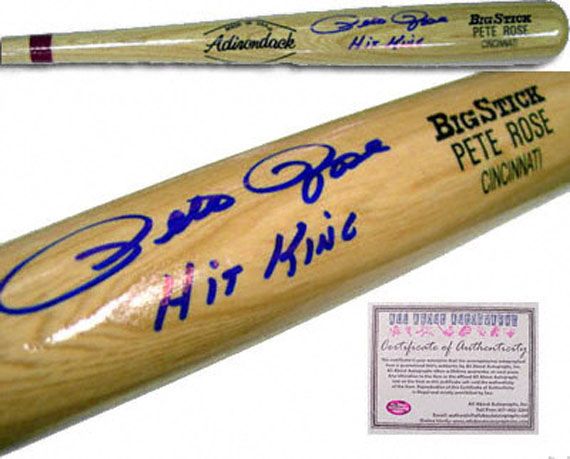 Leisure:
The baseball bat used by MLB's disgraced hit king Pete Rose, when he got his last official base hit, was for sale in an
online auction
. The auction ended July 9. While sports collectible insiders speculate that the bat used when Rose picked up his record-setting 4,256 hit could fetch more than $1 million, no bid has been made yet on the bat. The reserve on the item is $75,000. A bat used in a game by Babe Ruth, which sold for $1.3 million, is the most expensive of its kind sold by auction to date.
The Pete Rose bat is Lot 1 of the 13-lot sports memorabilia collection of Richard Angrist. The collection includes other game-used bats and game-worn jerseys of several of MLB Hall of Fame members. Autographed jerseys worn in a game by Jim Palmer, Willie Stargell, and Robin Roberts are available as well as non-autographed game-worn jerseys of Dizzy Dean and Roberto Clemente.

Pete Rose was banished from entering baseball's Hall of Fame in 1989 based upon allegations that he gambled on baseball games. Although Rose offered no admission of guilt for years and steadfastly denied betting on the outcome of baseball games, in 2004 Rose confessed that he did place bets on baseball games.