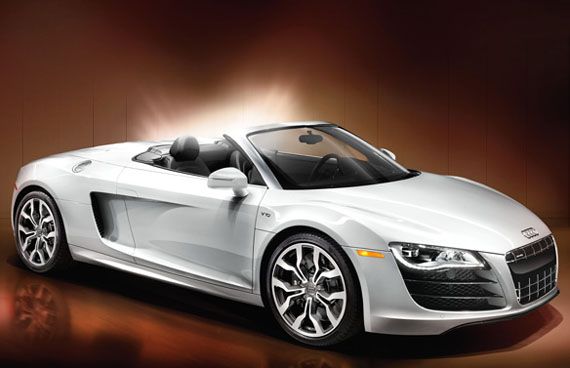 The
Audi R8
Spyder is the winner of the MotorWeek 2011 Drivers' Choice Award for Best Dream Machine.
The highly regarded automotive publication picks the best new cars and trucks from a consumer's perspective. It is the 30th year of the awards. In conjunction with the award, the dreamy Audi R8 Spyder will be featured in an upcoming episode of MotorWeek, which is scheduled to air this month on PBS and Discovery's HD Theater.

Among the contributing factors to the vehicle's appeal is its design. The same team that created Le Mans' winning prototypes for Audi also designed the R8 Spyder. The convertible's high-performance capability played a significant role as well. A 525-horsepower 5.2 FSI V-10 engine that accelerates to a top track speed of more than 196 mph and goes from zero to 60 mph in less than four seconds.

Specifically, Audi has reported the 3.7 seconds on a zero-to-60 test and 196.4 mph on the track. It is the same engine that is in the R8 LMS GTS race car.

Another number that is of great benefit to the Audi R8 Spyder is the retraction of the car's top. It fully retracts in 19 seconds. Additionally, the R8's top is designed specially with three layers of insulation so that it is more like a hardtop acoustically.

For more details, visit models.audiusa.com.