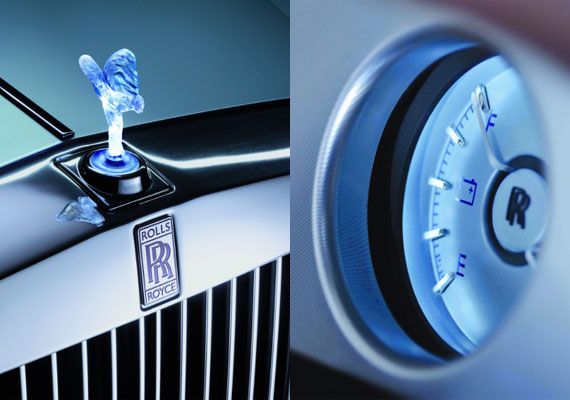 Ultra-luxury automaker
Rolls-Royce
Motor Cars confirmed the development of the 102EX over the past weekend.
The highly anticipated experimental vehicle is a one-off, fully electric-powered Phantom. The automobile, which is also known as the Phantom Experimental Electric (EE), will make its debut next week at the Geneva Motor Show.

The all-electric vehicle will be on tour this year, as Rolls-Royce sets out to gather as much information and feedback on alternative drive-trains for its next generation automobiles. The plan is an elaborate strategy designed to retrieve input from both the live tour and a specially designed online social media portal.

"We have engineered the world's first battery electric vehicle for the ultra-luxury segment," said CEO Torsten Muller-Otvos, speaking from the company's headquarters in Goodwood. "With this vehicle, we begin an exploration into alternative drive-trains, seeking clarity on which alternative technologies may be suitable to drive Rolls-Royce motor cars of the future."




Over the next year owners of Rolls-Royces as well as the general public and the media will get to test drive the 102EX at tour stops in Asia, Europe, North America and the Middle East. The objective is to determine the market's expectations of the ultra-luxury automobile brand in delivering fully electric-powered automobiles.

The firm is also ramping up efforts on the social media front with the launching of the website, ElectricLuxuxry.com. Rolls-Royce is hopeful that the SM-specific portal will serve as an open forum for conversations on electric-powered luxury automobiles. The "tweeting" of Twitter and "liking" on Facebook have already begun.

There are no plans to develop a production version of the car. The mission here is to initiate open communications with owners and stakeholders and explore the possibilities. This is among the most engaging effort to date in tapping social media for R&D purposes by such a prestigious and well-know brand.

"I must be convinced that any alternative drive-train we choose for the future delivers an authentic Rolls-Royce experience," added Muller-Otvos. "It must be a technology that is right for our customers, our brand and which sets us on a sound footing for a sustainable future."

The complete technical specifications of the 102EX will be made available next week. The 81st Geneva Motor Show runs from March 3 through March 13, 2011.

Via Rolls-Royce Motor Cars