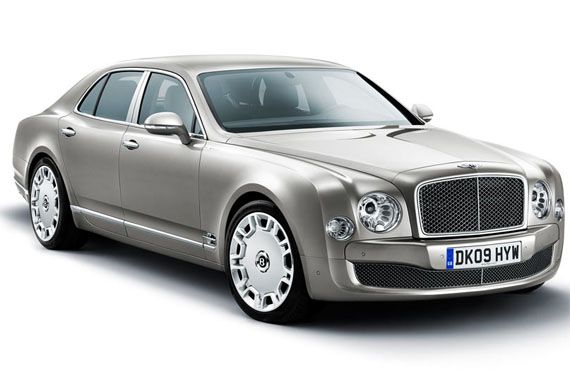 Photo Courtesy of Bentley Motors
The Luxe Video section of JustLuxe offers luxury lifestyle lovers a steady stream of videos that delve into the latest happenings and occurrences in a setting that is as entertaining as it is enlightening. Visitors experience both short- and long-formatted videos from world-renowned brands and recognized industry leaders. Here is a look at some of the featured automotive-related programs now playing in our Luxe Video section.

Steve Cropley on the Phantom Experimental Electric looks at Rolls-Royce's exploration in to the making of an all-electric vehicle for its affluent and demanding customers. Cropley talks about the current shortcomings of the technology and whether an all-electric vehicle could ever be an ideal fit for the company to plug into.



There is definitely more action than talking in Lexus LFA. This is an adrenaline-charged look at how the LFA Driver Development School makes owners better drivers of their V-10 supercar. Our executive editor, who actually did test drive an LFA months ago, still cannot shake off that frozen-face smile she wore upon exiting the vehicle after circling the racetrack.

Technology is making products smarter by the minute. While most of the attention goes to electronics, such as mobile phones, digital cameras, and those touch-screen portable computers, BMW presents its conceptualization of what is ahead quite demonstrably with The BMW Vision: ConnectedDrive. The automaker's vision on how to build a BMW that interacts with the world's most complicated machine, a human being, is a behind-the-scenes look on making that ultimate connectivity a reality.

If you are in the mood for a quickie, Bentley Mulsanne: The Spirit of British Motoring Lives On comes highly recommended. In less than a minute, the documentary-styled piece tells the story of the Boys of Bentley and how the stalwart automaker came to be what it is today. Who knew that those distinguished gentlemen were gear-heads at heart with high-octane petroleum running through their veins?

In the winner's circle: Did you know that Woolf Barnato, the major financier of W. O. Bentley's then-fledgling company, is the only driver in the history of Le Mans races to have a perfect wins-to-start ratio? Barnato won the 24 hours of Le Mans race three consecutive years from 1928 to 1930.