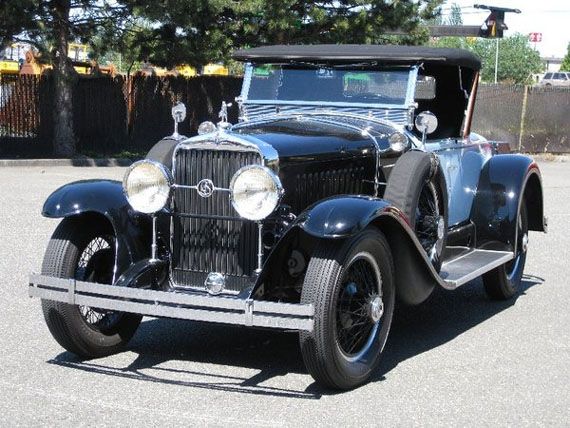 Photo Courtesy of LeMay-America's Car Museum
While the LeMay-America's Car Museum is not slated to open until May 2012, one of its classic automobiles recently competed in Italy's 2011 Mille Miglia - a road rally for vintage vehicles earlier this month. The museum's 1927 LaSalle 303 Roadster placed 325th in a field of 376. The antique automobile was among a select few American-made cars that were even eligible to run in this yearly race.
The vintage roadster is no stranger to special attention. It has been showcased at the Pebble Beach Concours de Elegance, the California Mille, the Detroit Auto Show, the New York Auto Show, and the Kirkland Concours de Elegance. International businessman Nicola Bulgari, who is an automotive enthusiast and an ACM board member, owns the sporty LaSalle.
Keith Flickinger, the owner of Precision Motor Cars, the company that manages Bulgari's
car collection
in the U.S., drove the 1927 LaSalle 303 Roadster along with David Madeira. Each car in the race had two drivers. Flickinger also is a member of the museum's board.
The Mille Miglia is a 1,000-mile road rally that runs from Brescia, Italy, to Rome and then back, while passing through Lombardy, Veneto, Emilia Romagna, the Marches, Umbria, Lazio and Tuscany. The event, which dates back to 1927, was originally an open-road endurance race. A 1933 Alfa Romeo was this year's winning entry.
The LeMay-America's Car Museum opens in May 2012. The Tacoma, Washington-based venue will be in a four-story, 165,000-square-foot facility, making it the largest automobile museum in the world upon its first official day of business.
For more information, visit LeMayMuseum.org.