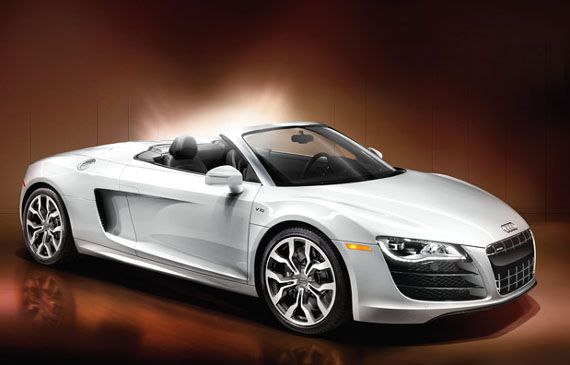 Photo Courtesy of Audi USA
Luxury automaker
Audi
will produce a limited edition Audi R8 GT in 2012. A total of 333 will be manufactured with only 90 available in the U.S. This is the first time the company has produced a limited edition production sports car. The unit number of each vehicle will be displayed on the gearshift. The base price for the 2012 Audi R8 GT is $196,800.
Overall, it is 180 pounds lighter than the R8 V10. The top speed of the limited-edition sports car is 198.84 mph. It redlines at 8,700 rpm and accelerates from zero to 60 mph in a stomach flopping 3.6 seconds. The car's 5.2-liter V10 engine has 560 horsepower and generates 398 lb-ft of torque. A six-speed sequential gearbox with paddle shifters makes it very responsive.
Carbon fiber elements used throughout the body reduce the weight of the new R8 GT. The weight of the car is less on nearly every component, and body part, including the battery, air intakes and braking system. It is very luxurious despite being designed for high performance. The car has an Audi-designed navigational system, automatic air conditioning and a superior sound system.
The 2012 Audi R8 GT features an electronic stability control system and energy-absorbing reinforcements in both the front and the rear. There also is a tire-monitoring system that ensures tire pressure remains steady.
While only 90 of the 333 vehicles are tagged for U.S. delivery, Audi did not provide the destinations for the remaining 243 vehicles to be made. For more information, visit
AudiUSA.com
.