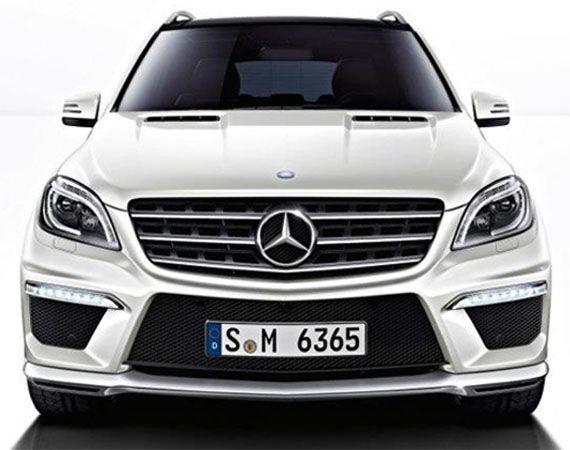 Photo Courtesy of Mercedes-Benz USA
The 2012 Mercedes-Benz ML63 AMG will make its debut this week at the 2011
Los Angeles Auto Show
. The German luxury automaker attributes the new vehicle's better performance and fuel economy to an upgraded AMG 5.5-liter V8 bi-turbo engine. The 2012 SUV's estimated fuel efficiency is improved by 33 percent, and the 518-horsepower engine is an increase of 15 horsepower over the 2011 model.
"Like its predecessors, the 2012 ML63 AMG sets new standards in terms of performance, exclusivity and an outstanding driving experience — plus the efficiency factor, which is acquiring ever greater emphasis at Mercedes-AMG," said Ola Källenius, chairman of Mercedes-AMG GmbH, in a prepared statement for the upcoming debut at the L.A. Auto Show. "As the inventor of the high-performance SUV, we remain true to the philosophy which we introduced, in 1999, with the 2000MY ML55 AMG, and continued with the 2007MY ML63 AMG."
Like all MBZ-AMG productions, performance and driving experience are at the center of all discussions. This super SUV accelerates from zero to 60 mph in 4.7 seconds and has a top speed at 155 mph. There also is an AMG Performance Package option available that shaves off one-tenth of a second off the zero-to-60 mph time, pushes the top speed to 174 mph, and increases engine power to 550 horsepower while fuel efficiency remains the same.
The all-wheel-drive 2012 Mercedes-Benz ML63 AMG features a seven-speed automatic transmission that provides three driving programs: sports, manual, and controlled-efficiency mode. For more information, visit
MBUSA.com
. For details on the LA Auto Show, visit
LAAutoShow.com
.