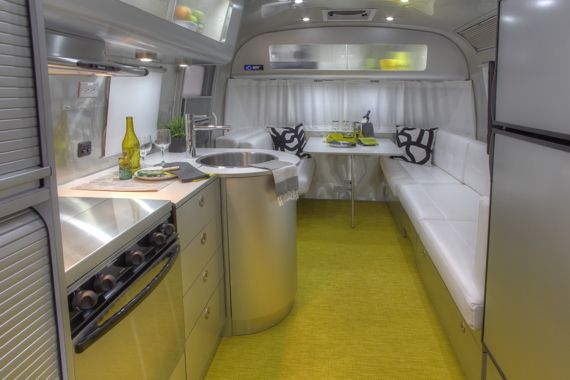 Photo Courtesy of Airstream
The latest
Airsteam
design concept made it's debut at the 49th annual National RV Trade Show in Louisville, Kentucky last week. The Airstream Sterling Concept Trailer designed by architect Christopher Deam is a sweet little modern home away from home.
The Sterling Concept trailer features anodized aluminum surfaces for the interior, bringing a touch of the icon Airstream's exterior look to the interior. What could have been monotone gets pepped up with bright yellow, woven vinyl flooring, white ultra-leather upholstery and midcentury Merimekko fabric used throughout the unit.
The countertops and roof lockers are edged with aluminum extrusions which match the aluminum interior skin and premium fixtures in the galley and lavatory. "Airstream is the ultimate object of design," said Deam. To see more, visit
AirStream.com
.
Airstream
Airstream Deam Concept Front to Back