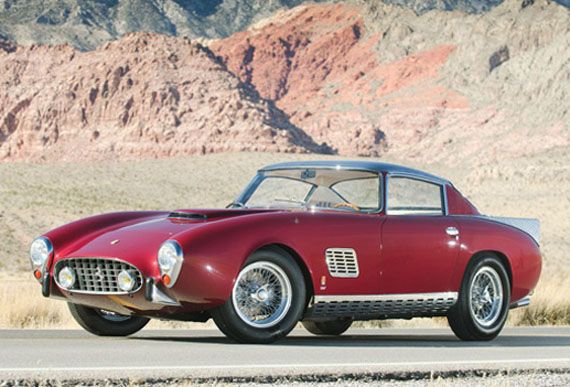 Photo Courtesy of RM Auctions
This year's running of RM Auctions' Automobiles of Arizona features six vintage automobiles with pre-auction, high-end sales estimates of more than $1 million. The annual event, which is held at the
Arizona Biltmore Resort & Spa
, is a two-day affair that draws significant attention from both enthusiasts and collectors worldwide. The auction begins on the evening of January 19, at 9 p.m. Eastern time. The second session opens the next day at 10 a.m. Eastern time.
A rare 1957 Ferrari 410 Superamerica Coupe is the vehicle with the greatest pre-auction sales estimate, as it is expected to sell for as much as $2.25 million. A 1959 BMW 507 Roadster and a 1930 Duesenberg Model J LWB Dual Cowl Phaeton share the second highest pre-auction sales estimates. The price range for both cars is $900,000 to $1.2 million.  
These Ferraris were made exclusively for friends of Enzo Ferrari, as only 34 Ferrari 410 Superamerica models were ever produced by the venerable Italian automaker. This car is the only one that Sergio Scaglietti, the man known as Ferrari's "maestro of aluminum," personally designed. Sadly, Mr. Scaglietti, at 91, died on November 20, 2011.  
The 1959 BMW 507 Roadster (above) also is a rare vehicle, as it is one of only 251 of the sports cars produced. In 1959, the supercar's price of $11,000 made it a coveted status symbol. Legendary entertainer Elvis Presley was among the elite who owned a high-performing 507. The vehicle accelerates to 60 mph from zero in a then-blazing 8.8 seconds and does a quarter-mile in 16.5 seconds.
The 1930 Duesenberg Model J LWB Dual Cowl Phaeton's DOHC, eight-cylinder engine metes out 265 bhp via its three-speed, manual transmission. While this vehicle was built to be the "world's finest car," it also happens to be a pioneer of muscle cars as well. For more information, visit
RMAuctions.com
.
See more upcoming
Car Shows & Auto Events