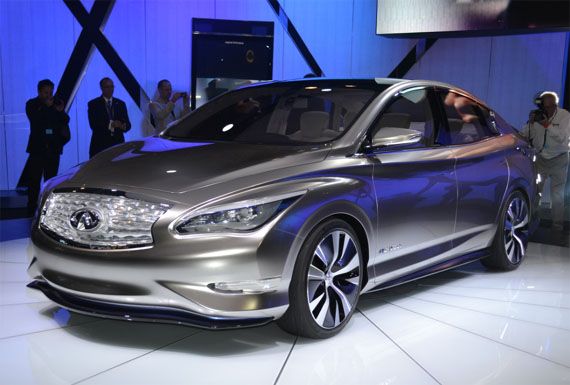 Photo Courtesy of Infiniti
It was an electrifying moment in the automotive industry last Thursday when the Infiniti LE Concept made its official debut to the media a day prior to the kickoff of
New York International Auto Show
(NYIAS) being held at the Jacob Javits Center.     


The press connected immediately with the all-electric, silver, five-seat luxury sedan. The event also clarified the company's mission to make the LE Concept a driving reality sooner than later. "Infiniti is well-positioned to deliver the objectives for a sustainable future, relying on our capable, hard-working and motivated team members around the world. We are a challenger," said Carlos Ghosn, president and CEO of Nissan Motor Company. 


Mr. Ghosn, who hosted the vehicle's debut, conveyed that the concept car, as-is, represents 85-percent of the look of the Infiniti all-electric model that will be available in 2014. I walked around it several times looking for a glitch in its deluxe appearance and found none. Inside and out, aesthetically, this vehicle has the style of a premium
luxury sedan
. Aside from it having no tailpipes and the words "Zero Emission" appearing on it thrice, it is possible not to even notice that this is an electric car.   
The vehicle's luxury extends to its functionality as well, as it has a hands-free, wireless charging system that just might rewire people's perception on recharging electric vehicles. The car can automatically park itself over its wireless charging pad.   


Despite using the same wheelbase of the Nissan LEAF, the LE Concept is a vehicle for an entirely different market sector. However, it is a safe speculation that the company is using what it learned from the LEAF to hedge its development of a sustainable luxury vehicle. This is only the beginning. For more information, visit
InfinitiUSA.com
.
I am an Infiniti EV Insider
Infiniti recently selected me to be an EV Insider, as it brings the LE Concept to the luxury auto market. I will be part of a panel of five EV Insiders who will attend several key events throughout the year. We will get together with the Infiniti management team to learn more about this exciting project as it unfolds.