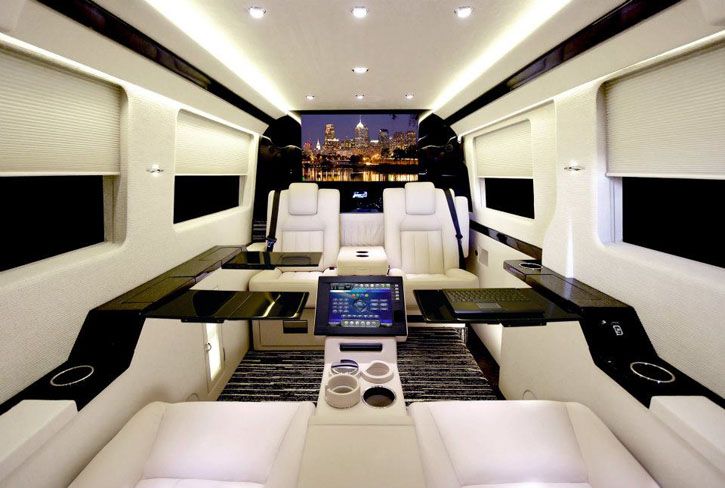 Photo Courtesy of Becker Automotive Design
These outwardly sedate vans with wildly elaborate interiors are the work of Becker Automotive Design. These vehicles with masterfully refurbished innards are the Becker
Mercedes-Benz
Sprinter JetVan and the Becker Executive Cadillac Escalade ESV.
The designing firm of these lavish vans, Becker Automotive Design, is an approved builder of vans for Mercedes-Benz. The vehicles interior is a conference room by day and the ultimate mobile play station by night. Each of the options available feature sophisticated electronics packages that include access to wireless Internet, integrated entertainment systems, and contemporary communication devices.
Harold Becker founded the company more than 35 years ago. The organization began as a special-services provider to various luxury car dealerships throughout the Greater Los Angeles area. High-end sound, security, and telecommunications systems were the outfit's original areas of expertise. Becker Automotive Design currently is working with General Motors to expand on its line of Executive Cadillac Escalade ESV models.
The creative customizer of vans has received numerous accolades and citations for its body of work from numerous media sources over it history in business.
The New York Times
,
USA Today
,
Motor Trend
magazine, and
The Robb Report
have acknowledged Becker automotive as a world leader in its field.
If A-list certification is substantive as well, many clients listed on Becker's wall of patrons are celebrities and dignitaries. There also are several corporations that are customers as well, including major entertainment companies. Becker JetVan prices range from $200,000 to $450,000 based on selected options. For more information, visit
BeckerAutoDesign.com
.