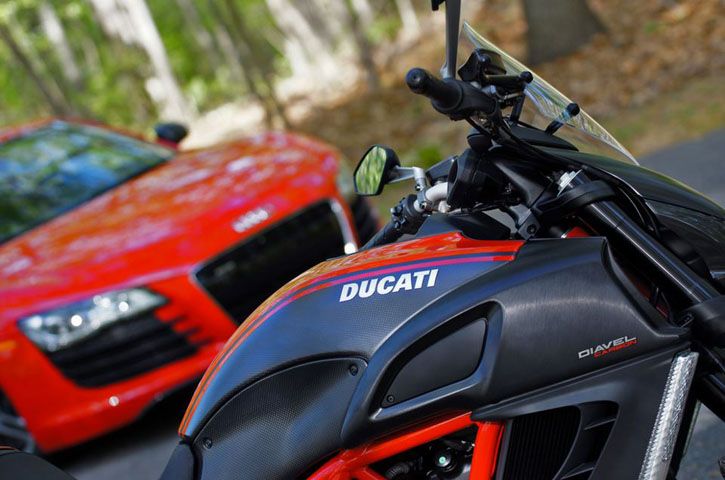 Photo Courtesy of Audi/Ducati
Audi AG is acquiring Italian sports
motorcycle
manufacturer Ducati Motor Holding S.p.A. from Invest Industrial Group. The supervisory boards of both companies have approved the acquisition. Ducati becomes the luxury automaker's "third pillar" in northern Italy along with Lamborghini and Italdesign Giugiaro.
"Ducati is known worldwide as a premium brand among motorcycle manufacturers and has a long tradition of building sporty motorcycles," said Rupert Stadler, Chairman of the Board of Management of Audi AG. "It has great expertise in high-performance engines and lightweight construction, and is one of the world's most profitable motorcycle manufacturers. That makes Ducati an excellent fit for Audi."
It is believed that Ducati's extensive know-how in lightweight construction offers great potential for Audi AG and the Volkswagen Group. "We must use the opportunities offered by globalization for Audi, and that's exactly what we're doing. Everyone at Audi is looking forward to working with our new colleagues from Ducati," said Audi AG Chairman of the General Works Council, Peter Mosch.
The company, founded by Adriano and Marcello
Ducati
in Bologna in 1926, has approximately 1,110 employees today. The firm, originally known as Societ? Scientifica Radiobrevetti Ducati, initially built parts for radios. The manufacturing of motorcycles began in 1949, and the firm has been involved in motorcycle racing for years. The company's racing efforts are in the MotoGP class of the Motorcycle World Championship and the Superbike World Championship.
In addition, the company just announced its plans to build the first Audi plant in North America. The exact location of the future plant, which will be built in Mexico, has not yet been announced. Production on an SUV model at the new plant is expected to begin in 2016. For more information, visit
AudiUSA.com
.