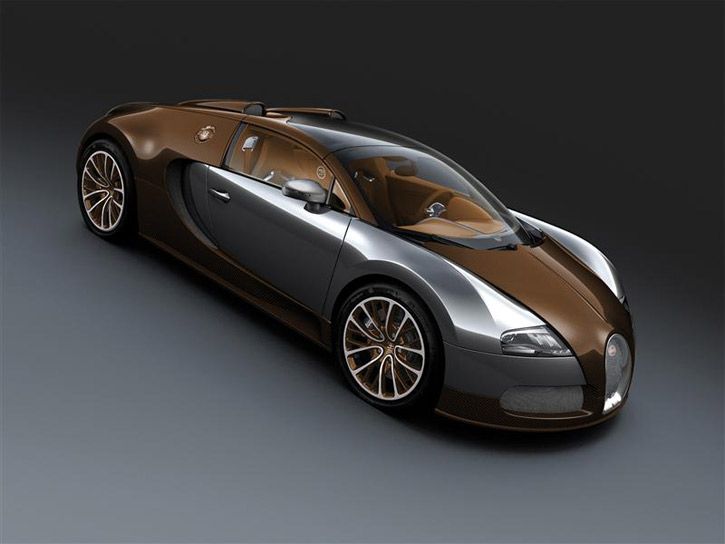 Photo Courtesy of Bugatti
Bugatti, famed Italian
luxury car
company has recently released the 2012
Bugatti
Veyron 16.4 Grand Sport Brown Carbon Fiber and Aluminum. The beautifully designed vehicle combines racing prowess with a refined design. The two-tone color scheme was chosen as a nod to 1920's and 1930's tradition, symbolizing the greatness the Bugatti family legacy has lent to sports car history. The newest edition features a mocha brown and aluminum color combination.
Despite its classical lines, the Veyron 16.4 employs only the most state-of-the-art technology, featuring a 16-cylinder four-wheel drive and a maximum speed of more than 400 kilometers per hour. With the ability to go from zero to sixty miles per hour in only 2.5 seconds and just 2.3 to return to complete stop, the Bugatti's newest family member dominates the super sports category. The interior of this
top luxury car
is outfitted with superior technology and network that is most commonly used in aviation.
The heart of the vehicle uses three data buses, of which 26 control devices are connected. This includes the electric windows, rear spoiler control, and GPS. Another feature includes a speech-controlled, hands-free mobile phone operation with integrated Bluetooth technology. The Veyron's superior intelligence can collect and report errors and system analysis directly to Bugatti from anywhere in the world, and its unfailing locating system ensures it will never go missing. Considering the nearly 2.3 million dollar price tag, that comes as a relief.
For more information visit
Bugatti.com
.