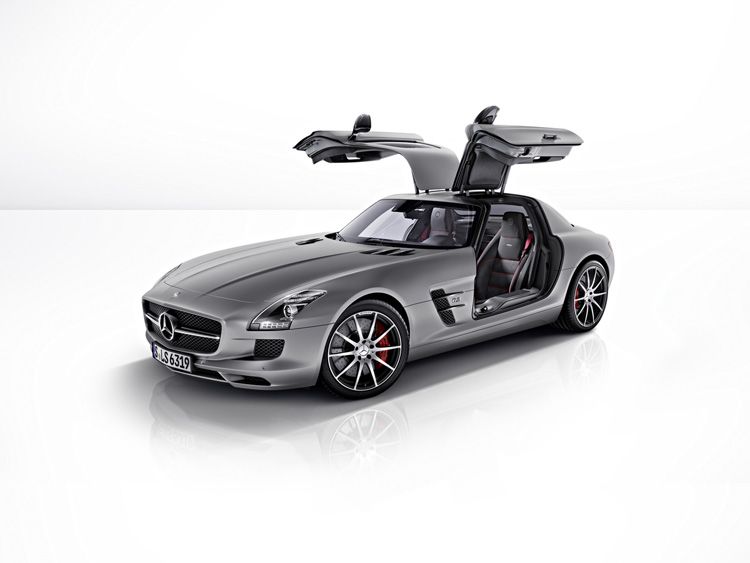 Photo Courtesy of Mercedes-Benz
Mercedes-Benz has always been on the forefront of
luxury vehicles
that combine sophistication with maximum power, and their new 2013 SLS AMG GT is no different. With a top speed of 197 mph, the new SLS AMG GT is an enhanced machine that highly elevates the driving experience. Being released as a Coupé and a Roadster, the SLS AMG GT will be made available in mid-November 2012.
Beautiful and sleek, the new SLS AMG GT has unique characteristics that can be found nowhere else. The darkened headlamp and tail light lenses, as well as the wing-shaped cross fins and star recess in the radiator grille given a high-gloss black finish, lend the high-class vehicle a rare athletic grace. There's even an additional "GT" featured on the trunk lid so that it can be immediately identified as the brand new model.
A high quality sporty design that supports the car's external appearance can be found within the interior. The sports seats are covered in a designer leather and the feature center sections are finished in Alcantara, with an embossed AMG crest on the head restraint. With the additional red seat belts, red trimmed floormats, and red contrast stitching throughout the vehicle, the SLS AMG GT is the epitome of luxury.
Aside from the obvious external beauty, the SLS AMG GT has a dynamic profile within. The standard maximum output of the AMG 6.3-liter V8 front mid-engine has been increased to a staggering 583 hp at 6800 rpm, and the maximum torque is steady at 479 lb/ft at 4750 rpm. With these brand new updates, the SLS AMG GT is able to yield a 0 to 60 mph acceleration time of around 3.6 seconds with an impressive maximum speed of 197 mph.
Due to the 6.3 liter V8, the SLS AMG GT is given impressive agility and responsiveness, making it even more stimulating to be at the wheel of. Reaction time has also been limited because of the newly developed gear change advents, making it significantly safer and quicker to shift gears within the manual transmission mode.
Also impressive is the "Sport" mode. Finely tuned as the optimum setting for unpredictable roads and routes, it lends increased suspension and makes the ride that much smoother. With the AMG Adaptive Performance Suspension, the SLS AMG GT reacts beautifully to fluctuations in road surfaces, with a tendency towards lower/softer damper force levels. The results make for the prevention of body roll and an enhanced contact with the road when driving in a more sport style.
For more information on the impressive SLS AMG GT visit
MBUSA.com