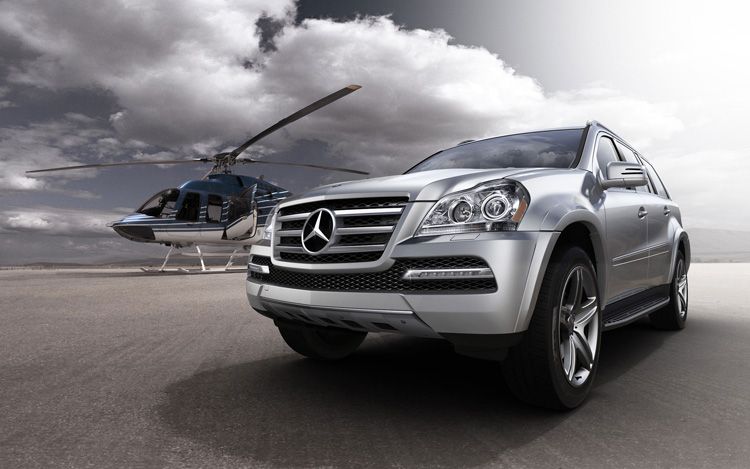 Photo Courtesy of Mercedes-Benz
The very first new-generation Mercedez-Benz 2013 GL-Class sport utility vehicles are being test-driven by U.S. Journalists this week and we're definitely jealous we weren't invited to try the
luxury SUV
out for ourselves. This new line marks some serious enhancements, including many new safety features, improved steering and handling, and cargo space flexible enough to fit your next Costco haul.
One of the new safety systems is called Collision Prevention Assist, which is basically a radar sensor that monitors the distance between the vehicle and possible collision opportunities. If the sensor picks something up it will pre-charge the brakes, and let you know with a warning beep and a flashing light on the dashboard.
Also included is Attention Assist, which is actually pretty impressive. According the Mercedes-Benz, falling asleep at the wheel causes more than 100,000 accidents a year in the U.S., so in attempts to cut that number down, they've created a system that will actually let you know when you're showing signs of drowsiness. Within the first 20 minutes of driving your new car, the system will essentially memorize your unique driving habits, so that when you start showing erratic steering corrections between 50 and 112 mph, the car will give an audible warning and flash a "Time for a Rest?" message with a little coffee cup icon. Mercedes-Benz is definitely going in the direction of more smart software and we love how much thought they've put into keeping the roads safe.
Related upgrades are the Active Lane Keeping Assist system, which will produce a rumble effect in the steering column if you begin drifting from your lane without flipping the turn signal on. It takes effect once you drive over 37 mph and is made possible due to a small camera in the windshield and a computer that studies the image, recognizing lane markings. If you don't listen to the alert, ESP braking kicks in to help the driver correct the car's direction.
If you've ever had a problem parallel parking, you're definitely going to be interested in the Active Parking Assist. Combined with the SUVs electromechanical rack-and-pinion steering (which offers fuel savings and gives better agility and handling), the Parking Assist feature kicks in when you're moving at less than 20 mph, telling the system to start an electronic search for a parking space. When a good space is found and the driver places the car in reverse, the system will ask you if you'd like to activate Parking Assist and assuming you do, it will initiate automatic steering while the driver controls the acceleration and braking. The feature can also help you to get out of tight spots too.
Aside from all of the great safety upgrades, the new GL-Class vehicle has everything in terms of appearance you could want. With sleek bumpers and front grille, LED technology in the taillights and daytime running lights, heated seats, a double-sized Panorama sunroof, and ambient lighting, Mercedes-Benz seems to have touched on everything. With so much room, seven adults can fit comfortably in the car, with the two seats in the third row able to be flatted electronically to bring lots of cargo space.
The 2013 GL-Class sport utility SUV has two gasoline V-8s and a diesel BlueTEC v-6, giving you plenty of power for whatever adventure you plan on having. The 4-wheel Electronic Traction System redistributes the torque to whatever wheels have the best grip of the road, even if it's only one, to make sure you get the most traction on any type of road condition.
The prices vary depending on which exact model you want but range from around $61,570 to $85,300.
For more information visit
MBUSA.com