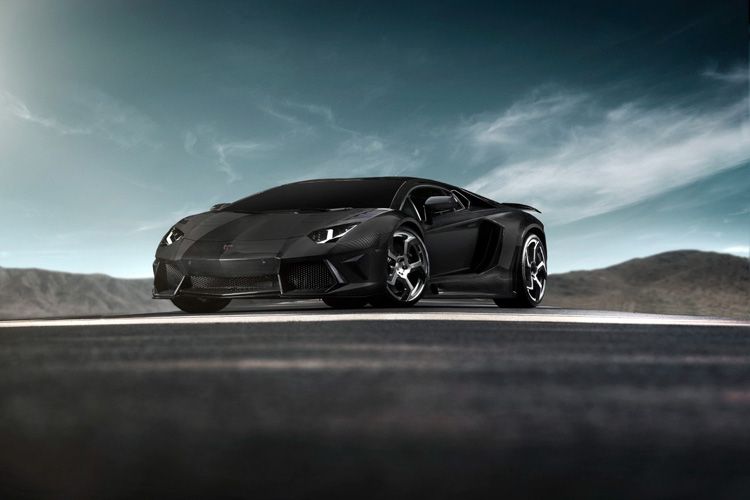 Photo Courtesy of Mansory
Earlier this year we got a peak at Mansory's specially crafted
Lamborghini Aventador
LP700-4, lovingly penned Carbonado, at the Geneva Motor Show, but now they've released more information and photos of the stunning automobile. The bright orange that we saw before has been traded in for a sleek black, giving the carbon weave a shining spotlight. With wheels that feature carbon fiber inlays, an output of a 6.5-liter V12 that's been enhanced to bring 754 horsepower and 553 pound-feet torque, and a top speed of 2220 mph, the Carbonado is definitely going to be on many wish lists. With only six made, you better have some connections to get your hands on one of these "Black Diamonds."
The Carbonado's exterior look is expertly designed. She looks like a machine built for dangerous car chases that thrill and seduce. While carbon is used in the original Lamborghini Aventador LP700-4 model, it is the main element throughout the body of this exclusive automobile. Mansory promises that the "aerodynamic design is produced with perfect surface finish using the prepeg autoclave method and then built seamlessly into the car."
We love the aggressive angles of the improved front body, as well as the air inlets the company put in to better the ventilation of the front coolers. Mansory also expanded the sides of the original Aventador model, giving the Carbonado 40 millimeters of extra width on the front axle and 50 on the rear. Fresh side sill sets were brought in to steady the airflow between the axles and bring in cool air to the braking system. The company gave the car a diffuser they integrated in with the rear apron which "stabilizes the rear at high speed and, in connection with the enlarged rear wing, produces contact pressure at the rear axle."
With such a neat exterior, Mansory had to make sure the power under the hood was just as impressive. According to the company, their customized "Black Diamond" has an improved optimized engine-management system, as well as better acceleration due to a higher quality exhaust system. The 12-cylinder launches the car from zero to 62 mph in only 2.8 seconds, which is made possible due to the 754 PS/555kW at 83,000 rpm and 750 Nm at 6,000 rpm.
To be honest, with the exterior and horsepower, the interior of this
luxury vehicle
could have the most basic of features and we'd be more than happy. However, that's not the case because this is the Lamborghini name after all and Mansory knows how to provide the best of customization. The seats are of treated leather, which extends to the dashboard and steering wheel. Also brought in are non-slip aluminum pedals and several carbon components.
The price of the Carbonado hasn't been released but if you have to ask...well, you know the rest.
For more information visit
Mansory.ch
.