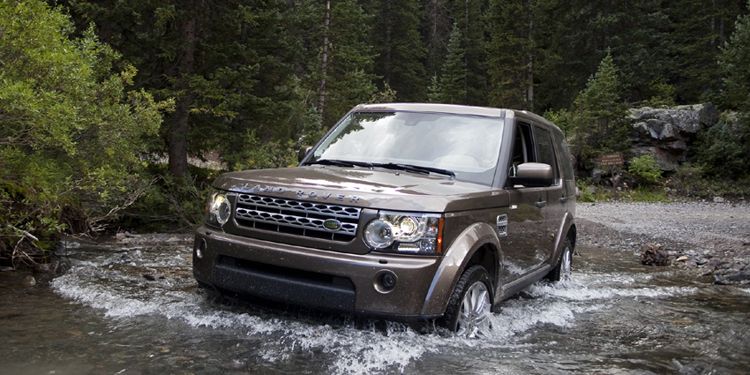 Photo Courtesy of Land Rover
We tend to get sucked into
luxury car ads
, buying into all the possible adventures we can have in dangerous terrain, knowing that in real life we'll probably just stick to the paved roads. With the return of its Adventures driving program, Land Rover is giving you the opportunity now to actually have those experiences yourself in their best off-road vehicles. Not only will you be able to speed over rugged terrain throughout the Moab Desert, you'll be put up at
luxury accommodations
to ensure you get a good night's sleep for another exciting day.
The program offers four and eight day driving adventures, designed for both experienced off-road drivers and beginners. It allows you to not only be a part of your very own commercial, but to also test the cars out (specifically the 2012 Range Rover, Range Rover Sport, and LR4) in crazy conditions to see if you want to bother buying one. Land Rover picked the perfect stunning desert landscape of Utah for your adventure, which you'll have alongside a professional driving instructor to make sure you don't attempt anything too crazy.
The Four Day Adventure is from August 24-27, 2012 and is priced at $4,500 for couples. Great for people with a time constraint, the four day program includes driving along the mesa's tough "staircase" and through "Hell's Revenge." Aside from all the driving, you'll be privy to dinners, lunches, and fine accommodations by Sorrel Ranch. Make sure to take your camera with you too because you'll have views of the Colorado River and Arches National Park.
The Eight Day is definitely for the more serious, priced at $13,000 for couples and running from August 27 to September 3, 2012. You'll start with the same experience as the shorter trek, but will also enjoy some activities in Telluride, Colorado, where you'll drive along the aspen-line trails. You'll stay at the Lumiere in Telluride Mountain Village, nearby many restaurants and shops. Since you'll be there during the Telluride Film Festival, the vacation will end with VIP tickets to the advanced Director's Review screening and a Mid Festival Gathering.
For more information visit
LandRover.com
.