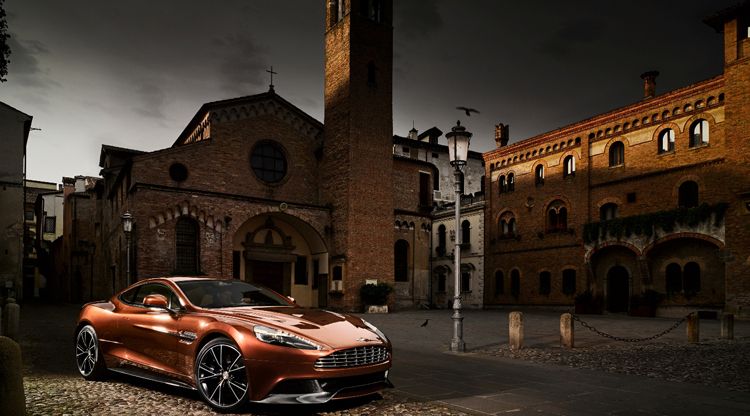 Photo Courtesy of Aston Martin
Aston Martin is one of the most sought after luxury car brands and their
2014 Vanquish model
is setting the standard for their future. Boasting enhanced capabilities, a revised 6.0-liter V12 engine, carbon fiber body, and renowned VH architecture, the beautiful car is finally getting ready for its big American debut. It will be a part of the world-renowned Monterey automotive week in California, taking part in many different events, and giving people a long-awaited chance to take a look at the sleek sports car for themselves.
The event will begin on August 15, Wednesday at McCall's Motorworks Revival, where the vehicle will represent Aston Martin's landmark design and engineering advances. It will move on to Quail: A Motorsports Gathering on August 17 and will appear at the Pebble Beach Concours d'Elegance on the 19th, as well as host guests at The Aston Martin Estate during the course of the weekend. If you happen to be one of those guests, you have panoramic views of Monterey Bay waiting for you, as well as an up close and personal look at the
luxury sports car
. Not only will you be able to take a look, guests will be privy to the inside scoop with Design Director Marek Reichman and participate in test drives of the luxury brand's award-winning sports car collection.
"We are very excited about the Moterey program this year and the opportunity to showcase Vanquish at a series of events which are now firmly established as some of the most captivating of the year for automotice enthusiasts from around the world," says Julian Jenkins, the Vice President of Aston Martin The Americas. "Along with our partners, we look forward to welcoming current owners, new customers and automotive enthusiasts to share in our celebrations at The Aston Martin Estate throughout the weekend."
Aside from the atmosphere and test drives, guests will be able to network amongst many different event partners, like
Davidoff
,
Louis Roederer
, and
Vizio
.
Vanquish is priced at $279,995 and first deliveries will hit America in early 2013.
For more information visit
AstonMartin.com