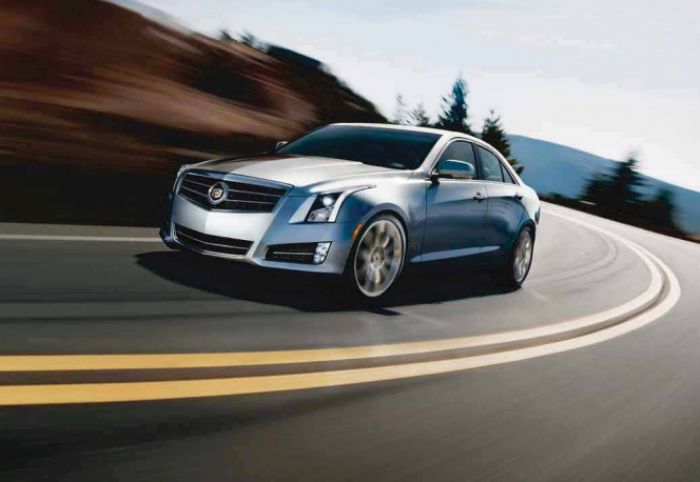 Photo Courtesy of Cadillac
On the heels of Cadillac's new advertising campaign for its ATS model, the results announced by Total Car Score in its comparison test of the 2013 Cadillac ATS will add to those efforts substantially. The new Cadillac ATS
luxury sedan
came out the top choice for 2013 entry-level luxury sedans in a three-car comparison with the BMW 3-Series and the Infiniti G models.
Entry-level luxury sedans are the less expensive models manufactured by high-end automakers. The sector is crucial to a brand's sustainability in the luxury market, as it often represents a buyer's introduction to a brand. It is vital first step to attaining long-term customer loyalty that automakers vie to secure.
"After getting hands-on driving experience during the 2013 Cadillac ATS road test, and then driving it back-to-back against the BMW 335i and Infiniti G37 Sport, we find it to be the most compelling compact luxury sedan on the market right now, and one of the automotive stories to watch in the new class of vehicles coming to market," said Karl Brauer, editor in chief of Total Car Score. "The [Cadillac] ATS has an overall edge versus the BMW 3-Series, and there is yet more distance between itself and other cars in the entry luxury segment."
Brauer pointed out that the BMW 3-Series has a razor-thin edge over its competitors in pure driving dynamics. He further stated that the Infiniti G is very compelling in performance, but its interior design, styling, and drivetrain refinement are dated.  
"However, the fact that the ATS has essentially matched the 3-Series dynamically, and is more compelling in terms of interior design, overall layout and technological interface, makes it feel like a more advanced car," said Mr. Brauer. "The ATS's 3.6-liter V-6 is attached to a brilliant transmission. It is exceptionally capable in its ability to downshift and up-shift at precisely the right moment, even without driver input."
The 2013 Cadillac ATS, which was unveiled during the opening ceremonies of the 2012 Olympics on July 27, is now available for sale in the U.S. Visit
TotalCarScore.com
to view the full report.
For more information on the 2013 Cadillac ATS visit
Cadillac.com