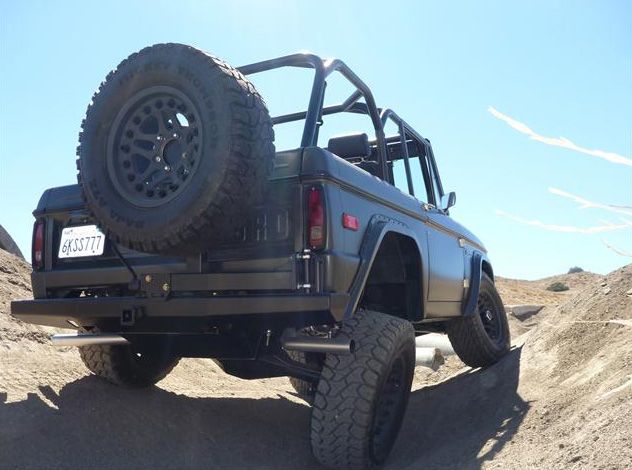 Photo Courtesy of Rocky Roads
If you've ever thought about getting yourself a customized
luxury SUV
, you may want to think about an early model Ford Bronco. As a leading voice in sales, service, and restoration of vintage Broncos for almost 20 years, Rocky Roads keeps a full stock of Early Broncos for sale, as well as a wide array of used and new parts. One of their more recent customizations is their Legend Ford Bronco, which features all brand new parts mounted to a completely restored vintage body.
According to Rocky Roads, the first Legend Bronco is their prototype, which offers "Laser cut CAD designed suspension components and Fox race shocks, [which combine] to create a unique One-of-a-Kind vehicle with a suspension system that is unparalleled in ride and performance." The Four-Linked suspension system offers more flexibility than anything that can be purchased in the current after market. Vintage Air conditioning has been integrated into the dash, and the original speedometer has been surrounded by a beautifully appointed aluminum dash bezel. One can find comfortable high back adjustable vinyl seating within The Legend.
"The team of engineers who designed & built this system have an extensive history of building and prepping top class championship winning Off-Road race vehicles. They even took part in the design and development of the new F-150 Race Raptor suspension system," says Rocky Roads, based in Chatsworth, CA. "They have tested the limits on countless builds in the past, and have now designed & built the most versatile suspension system that can be achieved on an Early Bronco without serious modifications. This Bronco is Bullet-Proof & Trail Ready."
If you're wondering why the company chooses to restore Early Broncos, it's because owner Shaun Bryant appreciates the car's timeless style and car-like handling. With its 9" Currie High Pinion rear end, Wilwood four-piston caliper rear disc brakes, and customzed Dana 44 front axle, The Legend is great for rugged terrain where you need a vehicle that can handle steep inclines & off camber angles. Considering it has an electric brake system and "Hutchinson Bead-Locked run flat rims & MT 17" ATZ tires," this souped up Bronco probably won't be giving you any braking troubles on those hills.
While Legend was designed for off-road enjoyment, it can also be used for everyday driving and has a unique look to its exterior with its charcoal grey matte finish. The prototype features a cut body with flared fenders, but the company is also offering it in an un-cut version.
With The Legend Bronco having just recently finished testing, the company can now install their new Legend 12" suspension system on any Early Bronco, which would only take them one month to complete from start to finish.
If you're interested in snatching up a Custom Vintage Bronco for yourself, or want more information on The Legend Ford Bronco (which starts around $95K) visit
RockyRoads.com
.