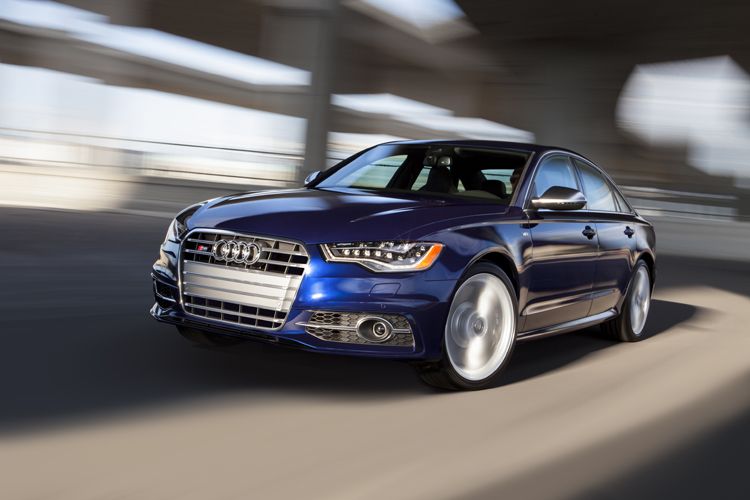 Photo Courtesy of AudiUSA
Instead of a
luxury car
review filled with vague specs, I want to give you something from the point of view of the average driver. Sure, Audi's 2013 S6's specs will come in at some point (like their 4.0 Turbo engine which gives a 0 to 60 mph jump in 4.5 seconds), but I'll also tell you whether it was actually comfortable to drive and how successful all those safety features really are.
I was able to drive the S6 for a whole weekend, testing it out on city streets, freeways, and windy mountain roads, and definitely enjoyed every minute of it. Even sitting hours in Los Angeles traffic became bearable without the need to participate in road rage, which is no small feat. First of all, the S6 has a beautiful exterior with sharp details. The Singleframe grill and stylized xenon headlights gives the car an aggressive look that fits the speed. The headlights also shine at wide angles and are able to pivot up to 15 degrees, which helps to illuminate the curves of dark roads. Even with the 5-spoke 19-inch wheels, chrome mirrors, dual exhaust, and added sills, the S6 is understated and sleek. It doesn't need to be overly flashy to prove its point, which is an idea Audi seems to encompass as a company.
Once you get inside, you're met with diamond stitch upholstery which was designed for the S Series cars. The pattern may not be for everyone but I loved the sophistication it gave. Plus, I found the seats to be far more comfortable than Audi's A series, which may have something to do with their twelve adjustment options. The cabin is pretty high-tech, as it has to be to compete in today's market, and features carbon fiber accents and user-friendly controls. Once you start the car, the eight-inch display screen rises from the dash, giving you access to everything from navigation (including Google Earth 3D maps) to Bluetooth streaming audio and a help guide that walks you through the car's controls and options. When you're tired of the screen being out, you can tuck it back away and access things like music and navigation through controls on the steering wheel, with a smaller display screen among the speedometer and engine information.
There's a touchpad in the center console that recognizes handwriting to make entering destinations and phone numbers easier. If you don't like the touch pad though, there's still a rotating knob that lets you select letters and numbers individually, although in the future the two may be integrated into one control. The car also acts as a Wi-Fi hotspot, which can handle up to eight passengers' electronic devices, so if you need to check your email immediately, you can just do so right from your car regardless of where you are.
Let's talk safety features. The S6 has a useful parking system that uses a rear view camera to keep you from backing into a pole or a small child. Once you throw your car in reverse the display screen will slide out and the music will cease, making sure that you're paying attention to what you're doing. If there's anything in your way, the car will give off audible and visible warnings. You can customize how you see your car on the display, whether you want a bumper view, overhead satellite view, et cetera. It will also show you the car's trajectory based on the turn of the tires, which comes in pretty handy when trying to squeeze into tight parking spots.
Blind spots can be a pain when driving on the freeway and knowing that, Audi has tried to make it easier on you with the rear view mirrors. Whenever a vehicle or bike is in your blind spot, a light will flash on the side of the corresponding mirror, immediately letting you know that you shouldn't drift over. There's also a sensor that will alert you to when you're moving in too close to the car in front of you, discouraging tailgating, and a night vision setting that picks up on body heat which will come in handy when avoiding critters in the road on dark, foggy nights.
Cruise control is pretty pointless in most cars, considering you rarely get to enjoy it for long without having to put on the brakes due to traffic up ahead, but with the S6 you pretty much get an autopilot setting. Using sensors, the cruise control will keep you a certain distance away from the car in front of you, automatically adjusting the speed to sync up with surrounding traffic. You can adjust the settings to decide how much space you want to keep between you and the vehicle up ahead. Other cars may have this feature but the neat thing about this cruise control is that if need be, the car will literally bring you to a dead stop. Now, just because the car pretty much drives itself doesn't mean you don't have to pay attention. Maybe when Audi comes out with the self-steering smart sedan you can start thinking about paying less attention but until then, keep your eyes on the road.
Aside from the many safety features, one of the things I was most impressed with was how smooth the 0 to 60 jump in 4.5 seconds is. You definitely feel the car hurtle forward but the change isn't jarring or uncomfortable at all. It manages to remain smooth, which could spell danger for all you speed demons out there. I hate to think of all the speeding tickets I would be sure to get owning this car; you just don't feel 100 mph like you do in an average car.
The 4.0 turbo engine, supporting by 420 hp at 5,500 rpm and a torque of 406 lb-ft at 1,400 rpm, can officially get you to 155 mph, which unfortunately I never had the opportunity to reach because I'm certain highway patrol was purposefully stalking me. The ride is incredibly smooth, the exhaust never interfering with the stellar Bang & Olufsen sound system (made up of 15 speakers - including two that appear from within the dash), instead providing a satisfying rumble beneath you.
All in all, Audi's S6 is definitely a sports sedan worth checking out and if you really like it, you may want to check out the S7 and S8. The base model varies from the one I drove, so if you want features like the Bang & Olufsen speakers, you'll have to pay a bit more but that shouldn't be a surprise to anyone. The base MSRP of the S6 is $71,900.