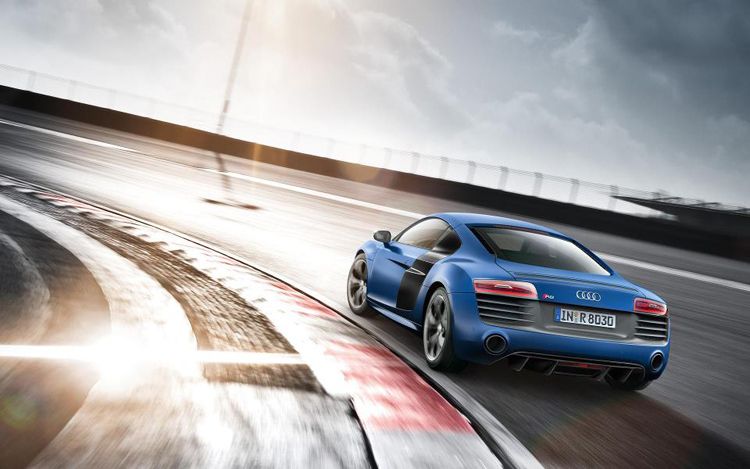 Photo Courtesy of Audi
Product placement is nothing new in literature, film, and television, and when it's done well it can influence the way the public views the product. The world of
luxury cars
has become one of the more successful types of entertainment branding because after all, the action star has to drive something in the latest blockbuster so why not have it be a Jaguar? Sometimes the branding is done so well that the company is forever linked to whatever artistic venue it's used in (think Aston Martin and James Bond). Now with the incredible popularity of the erotic novel "Fifty Shades of Grey" by E.L. James, Audi is definitely seeing an influx of attention for their classic line of luxury autos but the interesting part is that Audi had nothing to do with James' full support.
While there are other cars mentioned in the "Fifty Shades" trilogy (a Volkswagen Beetle, 2006 Camaro, and a Mercedes, for example), they couldn't hold a candle to the stature of Audi, who were center stage in the books that have become some of the fastest selling in history. According to Advertising Age, Audi didn't pay James a cent for her portrayal of their cars (all of which sexual deviant Christian Grey either owns or gifts to his submissive counterpart Anastasia), they didn't even know she was writing them into the story. Since the book actually began as a
"Twilight" fan fiction
story online, it makes sense that Audi didn't know the tie-in, or story, even existed.
Apparently the author doesn't even own an Audi herself, which may be the ultimate win for the German auto company. They've built their brand so well, selling their cars as the epitome of strength and grace, that people associate understated style and power with their company, which is why E.L. James envisioned Christian Grey as someone who would drive an R8 Spyder rather than a more flashy Lamborghini.
Whether Audi is actually seeing an increase in sales due to the books hasn't officially been determined, especially considering that the company has been having a fantastic run lately, but it certainly isn't hurting. Plus, there's a film adaptation coming up and there's no way Audi will miss their chance to get in on that.
Which luxury cars does Christian Grey drive specifically? Here's the short list, with one lonely Saab among the Audi's.
Audi R8 Spyder
The Audi R8 Spyder is one of Grey's favorite cars to drive, and I'm not really surprised. If I had daily access to an R8, I can assure you I wouldn't let it go to waste. The R8, like most of Audi's autos, features a subtle design that is sleek and intimidating. With a 5.2 Liter V10 engine under the hood, the car reaches 60 miles per hour after a mere 3.7 seconds and has a top speed of 196.4 mph. If you frequently have to race through the streets to avoid a tail, you'll be pleased to know that this Audi has FSI direct injection and a dry sump lubrication system that makes sure the engine stays lubricated under any driving condition. If you want one for yourself, you're going to have to cough up at least $210,000.
Audi A3
Christian Grey gifted his young girlfriend Anastasia an Audi A3 because her beat-up VW Bug wasn't safe enough. The car was mentioned a few times as being beautiful, safe, and easy to drive for a lady in heels. I'm not sure how many people choose their cars based on their Louboutin's but if you do, this car is apparently for you. The A3 may be smaller than the other Audi cars but it's still pretty roomy inside, featuring an S tronic dual-clutch transmission, quattro all-wheel drive, and a 35.1-foot turning radius. The 2.0-liter TFSI engine has a turbocharger that helps it reach 200 horsepower. It's pretty fuel efficient too, as you can travel 500 miles on the highway before having to gas up. You can expect to pay around $30,250 for an A3.
Audi Q7
Every emotionally damaged high-power businessman needs a luxury SUV, right? That's why Mr. Grey chose the Q7 for his off-roading needs. The Q7 gives you the choice between two supercharged gas engines and a turbocharged clean diesel V6 engine (which can tow three tons). The gas engine is a 3.0-liter V6 that gives either 280 or 333 horsepower, while the 3.0-liter diesel V6 can give you 28 mpg on the highway. The interior has plenty of cargo space even before you fold down the back seats, and features climate control that ensures everyone's comfort. With three rows of seats, the panorama sunroof extends down the roof of the auto, giving everyone in the car access to natural light. Prices start around $47,695.
Saab 9-3
As the only non-Audi car on this list, the Saab 9-3 Convertible was a gift to Anastasia from Christian after her precious A3 was used and abused. The branch away from Audi to Saab was an interesting choice, but this convertible is beautiful so it still fits. The image above is of the Independence Edition, which seems fitting for Christian Grey considering the car was supposedly limited to only 366 cars worldwide. It is a deep orange/red color and features grey interior with orange trim. The leather across the dash resembles carbon fiber - would have been a lot more impressive if it actually was carbon fiber - and has a super sport steering wheel. It's available with a 2.0-liter direct-injected turbo four-cylinder engine with 220 horsepower, and a 1.9-liter 180 horsepower turbo-diesel engine in Europe. The price of the 9-3 is around $46,080 depending on where you purchase it.
Photo Courtesy of Saab Facebook