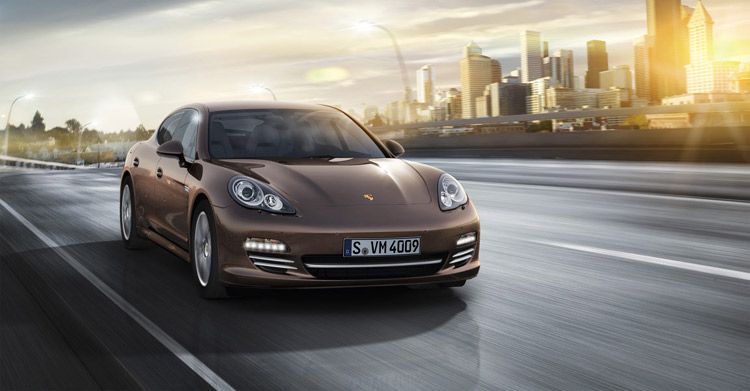 Photo Courtesy of Porsche
With eight powertrain versions on the market in North America alone (and a couple more sold overseas), one thing the Porsche Panamera didn't need was another model. But more variants is what Porsche does best, and so it has unveiled the new Platinum Edition.
The new trim level is distinguished by such special touches as platinum-tone metallic accents on the grille, rear diffuser, door mirrors, side vents and trunk lid. The uniquely-trimmed cabin features two-tone black and tan leather (one of our very favorite combinations, especially on European sportscars), plus a sportier steering wheel and specially-inscribed sill plates welcoming driver and passengers into the distinguished interior.
The package is available on the base Panamera, the all-wheel-drive Panamera 4 and (in overseas markets where it's offered) the Panamera Diesel. Ticking the Platinum Edition option box at your local Porsche dealership entails an approximately $4,000 premium over the respective models on which it is based, but for the extra fee, the Platinum model includes several features that would otherwise cost even more if specified separately.
These include the 19-inch alloy wheels from the Panamera Turbo, the Bose audio system and the xenon headlights, four heated seats and other items from the otherwise-optional Premium package.
The bottom line is that, for customers looking to buy a conventionally-powered (as opposed to turbocharged or hybrid) version of the Panamera, the Platinum Edition represents not only a stylish choice, but a sensible one, too. So long as you might consider an $80,000 luxury sports sedan (or four-door coupe, as Porsche would call it) a "sensible" purchase.