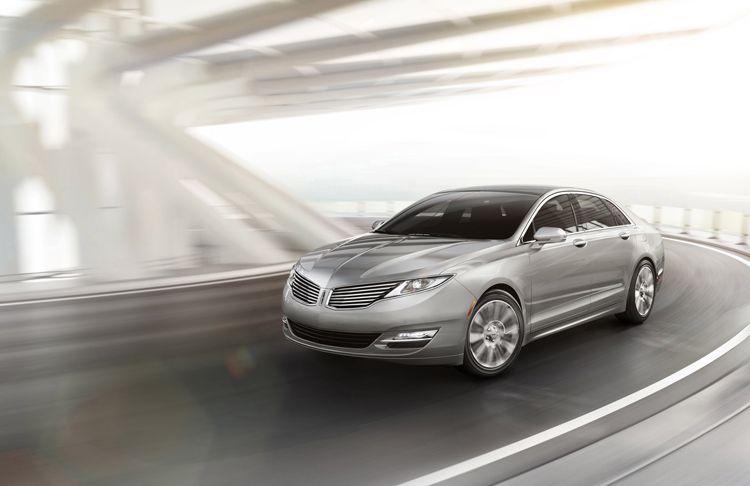 Photo Courtesy of Lincoln
We're pretty excited for December and not just because it's the epitome of the holiday season, but because it marks the release of Lincoln's brand new 2013 MKZ. The
luxury auto brand
plans on releasing the car with a starting MSRP of $35,925, shooting it to the top of our gift wish list. From the sleek exterior (especially the sweeping roofline) to the driving performance (like the adjustable suspension and the EcoBoost engine), this luxury automobile seems to have something for everyone.
The Lincoln MKZ has a full-width tail-lamp graphic that uses LEDs, which definitely adds to the overall sleekness of the model because even the trunk doesn't seem to interrupt the lines. The split-wing grill also adds to the look, by using the contours of the hood and headlamps to enhance the design. Even more beautiful is the panoramic roof, which is 15.2 square feet of retractable glass, giving passengers an uninterrupted view of the landscape. Whether you live in the busy city of New York or the forested land of Oregon, that glass roof is sure to make the drive amazing. Lincoln also assures that it's the biggest you can find among rival sedans.
The sweeping nature of the exterior extends to the interior, with a center console and display system that blend together. The design was inspired by the aquatic Manta ray, and it shows in the small choices made, like the way the controls lay flush against the console without interruption. The smooth interior is in sync with the Active Noise Control feature, which keeps outside driving noise to a minimum, and the 700-watt audio system.
New cars nowadays need to take safety and sustainability seriously, and Lincoln certainly knows that. Adaptive cruise control helps you stay away from accidents by alerting you when one is on the horizon. The feature even includes brake support if you don't react as quickly as your MKZ would like. Lane Keeping System helps keep you in your own lane and Blind Spot Information will let you know if there's a car beside you so you don't change lanes. Even the headlights are designed to help keep you safe, as they swivel to give you better visibility.
Many people think that in order to drive a Hybrid vehicle, they have to sacrifice appearance. You don't have to worry about that with the MKZ because it's also available as a Hybrid, without any additional costs added to your final price.
You should also know that Lincoln is taking part in a pretty amazing sweepstakes,
Mingle with the Masters
, which gives you all the opportunity to win exclusive access to the luxury world of cuisine, art, or fashion.
If you're a foodie you will probably want to choose to enter the culinary offering because it brings you the best food New York has to offer. You'll receive three nights at 6 Columbus, a Thompson Hotel, a private meal at
Le Cirque
where you can chat up the geniuses behind the famous restaurant, a $1,000 shopping spree at Whisk NYC, a culinary tour of the city, and more.
Photo Courtesy 6 Columbus, a Thompson Hotel
For the artistic folk, check out the art portion of the Sweepstakes which affords you an all-access VIP pass aboard a luxury yacht from
SeaFair
, cruising off the coast of Miami. You'll also get a private dinner with a prolific artist, and a three-night stay at Hotel Beaux Arts Miami, where you will be surrounded with rich culture and art experiences.
Photo Courtesy SeaFair
Followers of high fashion have a category too, where they will be wined and dined during Los Angeles Fashion Week, while staying at Andaz West Hollywood.
Project Ethos
will take you to an unforgettable after-party where you can show off your hair and makeup (which were done by your very own specialist), and there's even a $500 credit to a Luxury Spa by La Prairie where you can unwind and freshen up your skin.
Photo Courtesy Project Ethos
So, as you prepare for the holiday season rest assured in knowing that not only will you be bathed in gifts from your loved ones (we hope), there are some pretty exciting developments on the horizon. Your significant other may not give you a brand new 2013 Lincoln MKZ, but you can certainly gift it to yourself as a personal reward for a year well lived. You can maybe even drive your new car around when you reap the winnings from the Mingle with the Masters Sweepstakes.
Just make sure you enter by November 28, 2012!