Mila Pantovich View Profile

Lifestyle Editor | JustLuxe
James Bond and Aston Martin | From "Goldfinger" to "Skyfall"
Nov. 9th, 2012 | Comments 1 | Make a Comment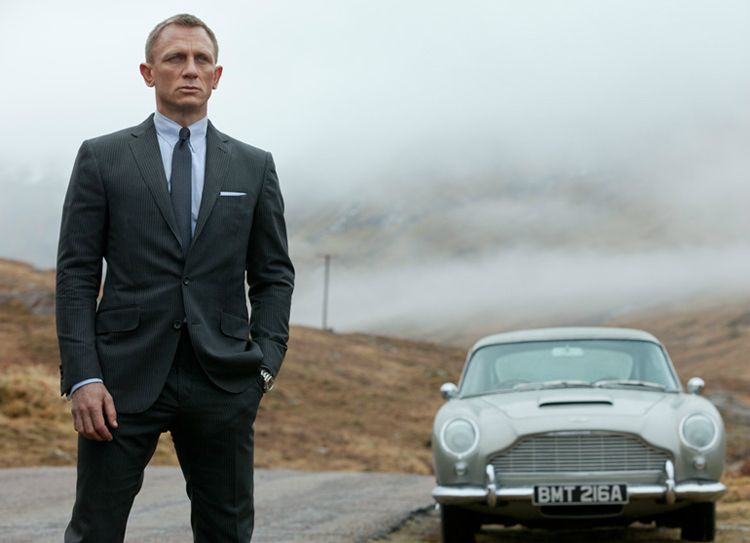 Photo Courtesy of 007 Official
The day you've been waiting for has arrived! "Skyfall" has been officially released in America. I know I'm not the only one that had been counting the days until I could immerse myself, once again, in the stimulating and nostalgic world of James Bond. With "Skyfall" you get everything you could ever want: fast-paced action, sex, smooth lines, 007 cool, a creepy villain, and of course, taunting shots of Aston Martin's beautiful
luxury vehicles
.
Ever since the Bond franchise took off in 1964 with Sean Connery cementing the iconic role in "Goldfinger", Aston Martin and 007 have been thriving from a mutually beneficial relationship. From the DB5 (which remains the classic representation of James Bond) to the DBS V12 (which broke a world record in "Casino Royale"), the MI6 agent has the life many of us dream of. Let's take a brief moment to remind ourselves of some of their relationship highlights.

1964 "Goldfinger" | 1963 Aston Martin DB5

Marking the beginning of their long relationship, Aston Martin and James Bond teamed up for the first time in 1964's "Goldfinger". Even though Bond drives a DB Mark III in the book, the 1963 DB5 was chosen for the film adaptation because, according to Aston Martin, it was their newest car at the time. The sleek vehicle was full of fancy gadgetry (which become synonymous with Bond's cars), like bulletproof windows, ejector seats, tire-slashing blades, revolving license plates, radar, and twin machine guns. When the world saw Sean Connery barreling through streets in this car, sales of the DB5 increased and together, Aston Martin and the 007 franchise took off.
Bond - "Ejector seat? You must be joking."
Q - "I never joke about my work, 007."

1965 "Thunderball" | 1963 Aston Martin DB5
The DB5 came back in "Thunderball" with even more new gadgets to impress. Not only was there a rear facing water cannon, there was a jetpack stored in the boot!

1987 "The Living Daylights" | 1985 Aston Martin Vantage
"The Living Daylights" came after an almost 20 year hiatus, with Timothy Dalton stepping in to play the coveted role of Bond. Helping Dalton look cool was the Aston Martin V8 Vantage, which was supplied to the producers personally by Aston Martin Chairman Victor Gauntlett. The film used both the Volante and Coupe versions, each with the necessary gadgets, including tire spikes, rockets, and outriggers.
Bond - "I had a few optional extras installed."

1995 "GoldenEye" | Aston Martin DB5
As the fifth actor to play 007, Pierce Brosnan took over for Dalton in 1995's "GoldenEye" and had the DB5 to help him make the transition. Included in the car this time around was a car radio that acted as a printer and a champagne cooler between the seats because nothing helps a high-speed chase more than a glass of bubbly.

2002 "Die Another Day" | 2002 Aston Martin V12 Vanquish
"Die Another Day" was Brosnan's fourth - and final - stint as the secret agent. Having the V12 Vanquish certainly helped carry him out of the franchise with an air of coolness about him. The Vanquish may have taken the tricks and gadgetry a tad too far though, as many fans and critics thought the cloaking device - which made it nearly invisible - was a bit over the top.
Q - "The ultimate in British engineering....Aston Martin call it the Vanquish, we call it the Vanish."

2006 "Casino Royale" | 2006 Aston Martin DBS V12
"Casino Royale" marked a big shift in the Bond franchise. Not only was Bond grittier and more brutal, marking a new attitude for a post-9/11 world, he came in the form of the blue-eyed, blond-haired actor, Daniel Craig. While many doubted his ability to do 007 justice, skeptics had to swallow their pride and admit that he just may be the best Bond since Connery. With Craig's debut came the impressive unveiling of the Aston Martin DBS, which also marked a significant decrease in the previous bells and whistles found in the other Bond cars. Instead of rockets and machine guns, this auto focused on performance, with a total output of 527hp.
"Casino Royale" also featured a very memorable scene in which the car was flipped and rolled seven times, marking a new world record. According to Aston Martin, the scene was actually filmed using a modified DB9 because the DBS wasn't quite finished. The film also featured an appearance by the DB5 that Bond won in a poker match, which was the first time two different Aston Martin models appeared in one Bond film.

2012 "Skyfall" | 1963 Aston Martin DB5
As you read earlier, the first time we saw the Aston Martin DB5 and Bond together was in 1964's "Goldfinger" and now they're back together again in the new "Skyfall". With 23 Bond films, this is the sixth appearance of a DB5, which is definitely seen as 007's most iconic and classic luxury car. Not only is "Skyfall" a fantastic film - which was much needed after 2008's "Quantum of Solace" - seeing the 1963 DB5 again warms your heart in a way you entirely expect, especially when you consider that it's used when Bond takes M up to Scotland in efforts of outsmarting the spooky Silva. Just don't expect the beautiful car to survive the film…this is James Bond after all.
Photos Courtesy of Aston Martin
Read More on
AstonMartin.com
You might like :
Luxury Car Brands
Finding the best in luxury can be a daunting task, which is why we've taken it on for you.
LET'S CONNECT LUXURY NEWS & MORE