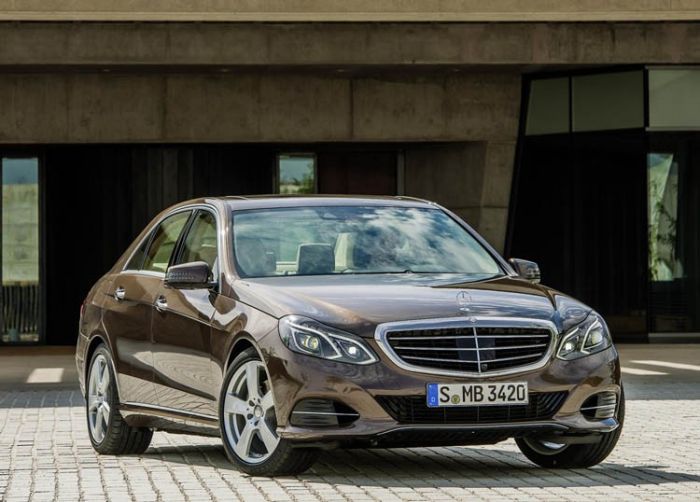 Photo Courtesy of Mercedes-Benz
If you're in the market for a mid-size luxury sedan, the Mercedes-Benz E-Class must be on your shortlist. It is in so many ways the benchmark in its segment, and now Mercedes has revealed a newly revised version — complete with a refreshed design, the latest in safety technology, and a variety of new engines.
Most obvious about the 2014 Mercedes-Benz E-Class is its new face, but rather than give buyers just the one choice, the German automaker has split the E's personality in two. On one hand is the Luxury model, which carries the traditional slatted grille capped by the company's signature three-pointed star hood ornament. On the other is the Sport model, which in addition to a retuned suspension and dual exhaust pipes at the back, gets a more prominent star in the middle of its grille like you'd expect to find on one of Mercedes' coupes.

One way or another, the grille is flanked by integrated headlamps — available as a first in its segment with full LED elements — that replace the four individual headlamps that have distinguished the E-Class for decades. The styling of the tail and sides have also been subtly updated.
Inside the cabin, you'll find the usual avant-garde luxury you'd expect of Mercedes. The new E-Class is outfitted with all its latest electronic safety systems, including Attention Assist, Distronic Plus with Steering Assist, Optimized Active Lane Keeping Assist, Brake Assist Plus with Cross-Traffic Assist, Pre-Safe Plus, and autonomous emergency braking. All told, eleven active safety systems make use of a new 3D digital eye to track road conditions and potential hazards under the German automaker's "intelligent drive" framework.
Arriving at dealerships in the Spring, the new E-Class will be available with four distinct engine options. The E250 BlueTec diesel replaces the outgoing E350 BlueTec and adds 4Matic all-wheel drive, the E350 is available in either rear-drive or 4Matic configurations, and the E550 4Matic tops the range with V8 power. There's also an E400 Hybrid, and a new E63 AMG high-performance model will arrive later. The 2014 Mercedes-Benz E-Class launches in sedan and wagon versions, with the coupe and convertible models carrying on unchanged for the time being.